The best hydration bladders 2023: water reserves for the trails
Our roundup of the best hydration bladders for convenient water access when hiking, running or cycling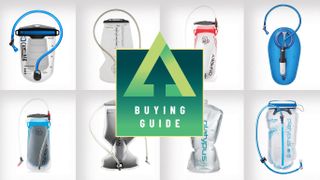 (Image credit: Future)
The best hydration bladders really come into their own during the hot summer months. Having regular and easy access to a reservoir of water is half the battle when it comes to tackling the trails during the warmer months.
If you've only got a water bottle that's stowed away in your pack, it can be tempting to wait until you start to feel thirsty to top yourself up. However, by this point it's too late in terms of your body performing to its optimum. The best hydration bladders and their handy drinking tubes allow you to take a 'little, often', which is the best approach when exploring the backcountry.
The best hydration bladders come in various shapes and sizes. Many are designed to fit specific hydration packs or daypacks, though most will happily slot into any backpack – especially as modern packs are designed with slots for the drinking tube.
We've taken to the trails all year round to test the very best hydration bladders, to bring you the sextet featured here – five backpack reservoirs and one base camp beast. We particularly like the bacteria-beating capabilities of the Platypus Big Zip EVO, which we rate as the finest hydration bladder of all.
We've found today's best prices for each bladder below, but if you're looking for a bargain then you might want to wait until Amazon Prime Day, which is expected to take place in July. We'll be rounding up all of this year's best Amazon Prime Day hiking deals, camping deals and Garmin watch deals, so stick with Advnture to make sure you get the best prices.
Best hydration bladders
Best standard hydration bladders
The best hydration bladder
Specifications
Sizes:
1.5L / 2L / 3L / Lumbar 2L
Weight (empty):
184g / 6.5 oz
Reasons to buy
+
Comes with shoulder strap clip
+
Guaranteed no taste
+
Bacteria-killing silver ions embedded
Reasons to avoid
-
Hose guide, handle and easy-grip slider are more things to get caught on a pack
Platypus's premium reservoir has loads of features that make filling it, drinking out of it and also cleaning and drying it user-friendly. The newest Big Zip EVO has twice the flow rate of past hydration reservoirs. The plastic slide that seals the reservoir goes on from either side and doesn't leak and a handle on the front of the reservoir provides a dry place to grip when filling. Silver ions embedded in the polyurethane reservoir kill mold and bacteria before they can grow, keeping the reservoir taste-free.
On test we loved how the drink tube disconnects from near the top instead of at the base, so that when our pack was full but our water bladder was empty, we didn't have to fumble around to get the reservoir out. It doesn't leak and it is easy to see if the valve is on or off. The center baffle prevents the reservoir from sagging as it empties, and helps prop it open when you are drying it out. Our favorite feature of this hydration system, however, was the new high-flow bite valve that's paired with a new larger drink tube.
2. Osprey Hydraulics 3L Reservoir Blue
The best hydration bladder for Osprey packs
Specifications
Weight (empty):
221g / 7.8oz
Reasons to buy
+
Easy to slide into a packed backpack
+
Bite valve locks
+
Magnetic clip
+
Hose detachment lets reservoir be extracted without removing the hose from the pack
+
Disassembles for deep cleaning
Reasons to avoid
-
Not as good flow as some other reservoirs
-
Harder to use a large reservoir in a small pack because of the stiffener
Built for backpackers, what makes Osprey's Hydraulics bladder special is the backer plate on the reservoir that keeps it from sagging as you drink, and which also keeps the set-up low-profile, so it didn't sag and feel lumpy against our backs. A handle on the reservoir allowed us to fill without getting wet hands. Plus, the sections of hose and bite valves come off when it came to deep cleaning. The reservoir comes with a magnetic clip to attach to a backpack's sternum strap that gives the magnetic bite valve a place to attach when it's not in use.
On test we really liked the stiffened back design, which let us slide the reservoir against the back of our packs. The locking valve is also excellent, preventing unexpected spills. The hose detachment point near the top of the reservoir let us remove the reservoir to refill it without pulling the hose from its routing through the pack back and shoulder strap.
3. Nathan 1.6 Liter Insulated Hydration Bladder
The best bladder for keeping water cool
Specifications
Weight (empty):
170g / 6oz
Reasons to buy
+
Trimmable hose
+
Keeps drinks cold in hot weather
Reasons to avoid
-
Doesn't prevent freezing
-
Bite valve doesn't lock
Nathan's 1.6 Liter Insulated Hydration Bladder keeps fluids 38% cooler than an uninsulated bladder, according to Nathan. The Hydrapack bladder has an hourglass shape that prevents sloshing when you're moving and after you've been drinking. The reservoir comes with a 36 inch / 91cm non-kinking drink tube that can be trimmed to fit.
On test the top slider was easy to open on this reservoir, making it quick to fill it and not too hard to clean. On sweaty summer hikes and bike rides, this bladder helped me drink more because the water was cool and delicious, not lukewarm, and hard to choke down. And, when used for cycling on longer rides, the 1.6 L size perfectly complemented a water bottle mounted on the bike. The bite valve has decent flow, but it doesn't lock, so spillage has occur if something presses against the valve.
Best bladder and filter system
4. CamelBak Crux Reservoir filtered by LifeStraw
The best reservoir with an integrated filter
Specifications
Weight (empty):
278g / 9.8oz
Reasons to buy
+
Wide mouth and good handle for easy filling
+
Excellent bite valve
+
Inline filter
+
Reservoir can be used with or without the filter when you know your water is clean
Reasons to avoid
-
Filter attachment is awkward
Important note: the CamelBak Crux Reservoir filtered by LifeStraw is currently only available in the United States. The CamelBak Crux Reservoir system is available elsewhere, and can be attached to the LifeStraw Flex. (The LifeStraw Flex is sold separately, and only available in the US). The standard CamelBak Crux Reservoir system is not safe for use with dirty water.
You can fill the CamelBak Crux Reservoir filtered by LifeStraw combination system with dirty water, because before you get to drink it, the water passes through two stages of filtration, thanks to the LifeStraw attachment. A hollow fiber filter removes bacteria, parasites and microplastics, while an activated carbon filter reduces taste, odor and chlorine. An anti-microbial technology inside inhibits bacteria growth in the reservoir and tube, and all components are BPA, BPS and BPF-free. Plus, for every unit purchased, CamelBak gives one child one year of safe drinking water.
We found that the wide-mouth reservoir and sturdy handle made it easy to fill this bladder from streams. The lid screws on tight, and it is tethered, so we were never in danger of losing it. CamelBak's self-sealing Big Bite Valve has the best flow of any bite valve sold, and it locks. The filter, which clips directly into the reservoir, can also be removed when your reservoir is clean, and you know your water is too, which makes the system extra flexible. The filter and reservoir pair with CamelBak's reservoir Gravity Kit to turn this system into one you can hang and use in camp for cooking, washing food and drinking.
Best water bottle bladder
The best bladder for stopping water from freezing
Specifications
Weight (empty):
30g / 1.6oz
Reasons to buy
+
Versatile
+
Compatible with other caps and Platypus's GravityWorks Filter System
+
Taste-free
Reasons to avoid
-
Hose and Push-Pull cap are both add-ons
One of the simplest and smallest large-capacity hydration reservoirs available, the soft and flexible Platy Bottle holds two liters and as you drink, it can be rolled or folded to take up less space in your pack. The bottle comes with a simple screw cap, but it's compatible with Platypus's Drink Tube Kit, GravityWorks Filter System and Push-Pull Cap too.
If you're a hiker who sometimes likes to drink out of a tube, and sometimes out of a bottle, the Platy Bottle 2L is for you. The large capacity bottle comes with a cap that we found sealed it securely during our tests, which makes this one of the best ways to carry extra water on long days on the trail, without always having a heavy and space-consuming bottle in your pack. We were also able to pair it with Platypus's Drink Tube Kit, which is sold separately, whenever we wanted to drink from a hose. In cold weather, used with the cap, the Platy Bottle won't freeze, unlike other hose-based hydration systems. It's also easy to carry on bikepacking trips, strapped to a seat bag.
Best large hydration bladders
6. Sea To Summit Pack Tap
Best bladder for campsite use
Specifications
Available sizes:
4L / 6L / 10L
Weight (empty):
192g / 6.7oz
Reasons to buy
+
Extremely light and compact
Reasons to avoid
-
Not hydration hose compatible
-
Hard to clean
While it's not a bladder for hiking, this is a great reservoir to hang up in camp to dispense clean water for all present. The Pack Tap is ultra-packable and foldable for storage, with Hypalon anchor points that we found made for easy hanging. Filled, the single-hand-operable self-shutting valve is convenient and doesn't waste water.
It's hard to find a vessel big enough to supply water for drinking, cooking and refilling reservoirs for a hiking party that's not too heavy and bulky to pack along. We found that the wine-box-technology Pack Tap took up almost no room in a backpack. It's foldable and comes in a variety of sizes. The cloth-covered mylar bag has one opening, and that's the fill port, which is also the pour port. The cap makes it easy to dispense a controlled stream of water, and when your thirst is quenched, a cover clips over the cap to keep the dirt out. On the downside, we found it quite difficult to clean.
Hydration bladder comparison table
Swipe to scroll horizontally
The best hydration bladder comparison table

| | | | |
| --- | --- | --- | --- |
| Bladder | RRP | Style | Sizes |
| Platypus Big Zip EVO | $40 / £35 | Standard bladder with hose | 1.5L / 2L / 3L / Lumbar 2L |
| Osprey Hydraulics 3L Reservoir Blue | $42 (US) / £42 (UK) | Standard bladder with hose | 2L / 3L |
| Nathan 1.6 Liter Insulated Hydration Bladder | $45 (US) / £45 (UK) | Insulated bladder with hose | 1.6L |
| CamelBak Crux Reservoir filtered by LifeStraw | $69 (US) / £69 (UK) | Reservoir with filter | 2L |
| Platypus Platy Bottle | $15 / £12 | Bladder bottle | 2L |
| Sea To Summit Pack Tap | $35 / £30 | Large bladder | 4L / 6L / 10L |
How we tested the best hydration bladders
We tested these hydration bladders by pairing them with a compatible backpack and taking to the backcountry trails or, in the case of the Sea to Summit Pack tap, the campsite. Each bladder was tested numerous times to assess any changes in taste and, if applicable, its ability to maintain the temperate of the water within. Towards the end of each test period, we gave each bladder a thorough clean to assess how easy they are to care for properly.
For more information, see How Advnture tests products.
How to choose a hydration bladder
For an ostensibly simple piece of kit, the best hydration bladder can be a very good friend when you're out on the trails – keeping you in good shape as you enjoy whatever adventure you're experiencing. After all, one of our main hydration tips is to drink often. A hydration bladder allows you to do just this.
The battle of water bottle vs hydration bladder shows no signs of abating, so it's worth taking a moment to think about the considerations around hydration.
So, without further ado, here are some frequently asked questions about hydration bladders and then several factors you should consider when buying...
Are hydration bladders worth it?
First of all, hydration is pivotal to performance regardless of what kind of outdoor activity you plan to enjoy. Dehydration will not only slow you down and make you feel rubbish but it can eventually lead to some pretty dangerous consequences.
How you hydrate is entirely up to you. Some people prefer to carry a water bottle in their hiking backpack or a soft flask or two in their hydration pack. If you're going to be going past a few mountain streams, taking a water filter allows you to fill up with clean water on the go.
Advantages of a hydration bladder are the ability to store large capacities of water, or any other runners' drink, and have it readily accessible thanks to the drinking tube. This allows you to sup a little, often, which is the best approach when hiking.
Should I get a 2L or a 3L hydration bladder?
Amounts up to 2L can usually be covered by taking a few soft flasks but once you get into longer adventures in the backcountry, taking more water becomes very useful indeed. The hydration pack you choose may dictate the size of your bladder but if not, read on...
A 2-liter bladder should be enough for most day hikes, even in the height of summer. It's perhaps a little excessive for running adventures, unless you're heading somewhere relatively remote and without easy access to streams and the like. When this is the case, having a large hydration bladder coupled with a hydration pack is really worth it. If you end up running out of water, you can always bring a filter along and fill up as you go. When it comes to the battle of hydration packs vs water purification, the ability to filter water rather than carrying a load is very desirable for fast and light adventurers.
A 3-liter bladder when full will weigh 3kg, so it's a lot of additional weight to take onto the trails. A larger bladder like this is useful if you're on a wild camping expedition or you're carrying water for yourself and others, such as the kids, for example. Also, if you know there won't be many opportunities to refill, then 3L will give you a little peace of mind.
Of course, you don't have to fill a reservoir right to the top, so for versatility, a 3-litre bladder will have you covered in more scenarios.
What is the best cold weather hydration bladder?
The Platypus Platy Bottle (number 5 on our list) won't freeze in cold weather, as long as you pair it with its cap and now its Drink Tube Kit.
What is the best hydration bladder that doesn't taste like plastic?
Our top-rated reservoir, the Platypus Big Zip EVO comes with a guarenteed 'no taste' and is the best hydration bladder than doesn't taste like plastic. The newest version also boasts twice the flow rate of the previous versions too. Just be careful not to drink too much too quickly and overhydrate!
Factors to consider
Here are 8 key factors to consider when buying on of the best hydration bladders...
1. Size
Get one with the capacity to match your adventures. A 1L reservoir or 500ml running water bottle won't cut it for a full-day desert adventure. Within reason, it's always better to carry too much water than not enough. So, if you're not sure if you should buy a 2L or 3L reservoir, go big (as long as it fits in your pack) – you don't have to fill it right to the top for every adventure.
Check out our guide to water for hiking: how much you need to carry.
2. Flow
If you're panting at the top of a gruelling hill hike or singletrack climb, you want a bite valve with high flow that doesn't take a lot sucking to get water into your mouth.
3. Mouth
A bladder with a wide mouth (or slider system) is much easier and quicker to fill when you're on the move. This can be particularly important in cold conditions (and you don't want to be fiddling around with water) and/or you're racing. They are also easier to clean.
4. Hang hook
You don't need to be Newton to know that, in order to work properly, a bladder needs to be kept relatively upright, with the hose at the bottom – they are powered by gravity as much as by sucking power. The best hydration bladders will have a hang hook at the top, and the best hiking backpacks and race vests will have a hoop for you to hang them from.
5. Taste
If you're sensitive to taste, opt for a reservoir that is taste free. Some reservoirs come with directions of how to get rid of reservoir taste, but you might want to invest in one with guaranteed no taste from the get go.
6. Lock
Although bite valves shouldn't release water unless you have them clenched in your teeth those without a locking system can seep somewhat.
7. Care
It's important to empty and dry your reservoir when it's not in use. Some have handy hang loops that make drying easier. To dry out your reservoir, blow air into the mouthpiece to empty the tube of water, then hang the bladder upside down with the tube inside to prop the reservoir open.
Always keep a box or bag of hydration reservoir cleaning tablets on hand. Use one a month or as needed to keep your reservoir fresh testing. (See also: how to choose a water purifier.)
8. Top tip
Regularly freezing your hydration reservoir will kill most germs and bacteria that can build up inside the bladder and hose.
All the latest inspiration, tips and guides to help you plan your next Advnture!
Vermont-based writer, photographer and adventurer, Berne reports on hiking, biking, skiing, overlanding, travel, climbing and kayaking for category-leading publications in the U.S., Europe and beyond. In the field, she's been asked to deliver a herd of llamas to a Bolivian mountaintop corral, had first fat-biking descents in Alaska, helped establish East Greenland's first sport climbing and biked the length of Jordan. She's worked to help brands clean up their materials and manufacturing, and has had guns pulled on her in at least three continents.