How to choose a running backpack
We go the extra mile to help you choose a running backpack that'll give you the fit and storage you need for long runs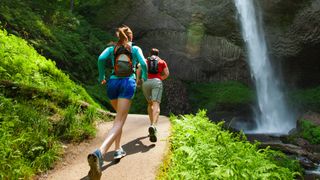 (Image credit: Getty Images)
Trail running has some obvious advantages over road running – there's that softer surface underfoot, the gorgeous views and of course the absence of cars roaring by as you gulp in deep breaths full of exhaust fumes. That said, road running is definitely lower maintenance, and even though you can ditch the hi viz gear for the trail, overall you'll probably need to carry more gear with you, which may even mean you run with a backpack for long distances. Running with a pack might not sound too appealing, but with our complete guide to how to choose a running backpack, we're confident you can find one that carries everything you need without slowing you down.
You definitely don't want to hit the trail in just any backpack. The best running backpacks are designed for fast-paced adventures, and boast comfortable harnesses to prevent them from bouncing around and a breathable design and fabric that allow you to breathe. They also need to have a decent amount of internal storage to carry your best waterproof jacket (and for fastpacking adventures, a bivy sack), a dedicated pocket and hook for your best hydration bladder and easily accessible pockets for storing things such as running gels and your phone.
So how do you choose a running backpack? It all depends on the length and nature of your adventure, as well as the conditions that you're expecting. Are you going on a a half-day run, a full-day run or a multi-day adventure? What will the weather be like? Will you need to carry more layers for thermal comfort? Are you carrying only for yourself or also for others?
The most important rule is to try a running backpack on before you buy (if you intend buying online, try to find someone else who owns the model you like and give it a test run). Also, when testing, do so with it packed as if you were on your intended mission. A weighted pack rides very differently from an empty one. While you're browsing, here are the different factors you'll want to consider.
Running vest vs traditional backpack
Most running brands now offer a 'vest' style pack, which in general is the preferred choice of runners for its form-fitting attributes and ability to better spread the load evenly and keep it closer to your body (and therefore better balanced). Basically, vests are more comfortable and are less likely to rub you up the wrong way and cause chafing, while traditional backpacks (where the cargo hold is not as integrated with the straps and waist belt) tend to have more movement, and therefore more risk of hot spots.
Volume
Obviously the longer the run, the more gear you need, and the bigger bag you need. It's a delicate balance, however, because you have to carry it all on your back, so try not to overdo the capacity limit or you'll be tempted to fill it all and quickly inflict more gravity woes on your knees, ankles and back.
Run packs and vests come in volume capacities of up to approximately 20L, before merging into 25-40L 'fastpacks', used for overnighting where the running pace decreases (sometimes to a fast trek).
Backpacks are better when the load creeps up into the 20L+ range for multiday self-sufficient runs and fastpacking adventures. There are some quality cross-pollinated packs that meld elements of vest design (more integration with the strapping system) with that of traditional packs (more cargo space).
Gender specification
Like lots of outdoor gear, running backpacks tend to come in gender-specific fits. Women's models will often position sternum straps differently to accommodate their breasts, and can offer a different form to the back and hip belts. These generalizations might not jive with your body proportions though, so we recommend trying them on rather than just choosing the one that matches your sex. Just avoid the lazy brands that simply take a pack, then pink it and shrink it before labeling it as a women's item.
Hydration capacity
Maintaining your fluid intake is obviously crucial on a long run, and the design of your vest or pack needs to make drinking regularly as easy as possible. There are different ways to carry water while running, and if you like to sip from a straw, your running pack needs to have a dedicated pocket with a hook for your bladder as wells as clips for securing the straw where you want it.
If you want to carry water bottles, you need to know if you want one or two bottles, and make sure the holders located where you need them. Usually, they are on the vertical shoulder straps but watch how high up they sit. It's good to look for pockets that have straps to secure the top of your soft flask or bottle and make sure they can hold the type of bottle you have (many can only hold soft flasks).
Storage pockets
The ability to easily and quickly reach and re-stow bits of kit – especially food supplies like gels and snacks – is very important. The harder it is to access snacks, the less likely you are to be bothered reaching for them to consume, and the more likely you will go into calorie deficiency and 'bonk'. Having zipped or elasticized pockets that can be used while still running, and don't require you to dislocate your shoulder to reach them, means you will be inclined to refuel more regularly and ultimately have a much better, energy-sustained run. Pockets and reachability are important – so try your backpack on and see how you go accessing and opening each pocket without taking it off.
Sometimes zippers can be tricky, but they also secure your gear much better, while elasticized stretch pockets are often more flexible in terms of capacity. The best bags have a mix of both where the use of each pocket is carefully considered and matched to the benefits of zip or stretch opening. Note that zippers often get clogged and jammed with sweat and moisture that has dried in between uses, so be sure to wash zips with clean water after each use. Nothing worse than a jammed zip with your munchies imprisoned on the other side mid-run! Zippers are also harder to open in cold weather (with frozen fingers or gloves on).
Waistbelt
Vests tend not to have or need, waistbelts, but larger multiday packs do. Be mindful of how they are constructed and fit around your waist. They can be prone to creating rub zones if not right for your body. Thicker bands are better than thinner ones, but they also can add weight to your bag. Waistbelts that have pockets can be handy for the aforementioned easy access stowage.
Tensioning straps
As with most components on a run bag, a balance between form, fit, function and weight is always a sum of pay-offs. Tensioning straps that help adjust and secure the bag to your body, and to best hold down the weight you are carrying, are important. But you also don't want flappy straps flying everywhere, nor components that can fail or break. Simple is best. Importantly, the better bags allow you to adjust and compress them as your cargo reduces. When your hydration bladder shrinks with water consumption or you take foul weather gear out, you need to be able to re-tension your bag so it doesn't start jiggling around on your back and become annoying, uncomfortable and chafe-inducing with more movement against the body. Ensure you try your pack on loaded up to varying degrees to ensure you can adjust for comfort at all capacities, big or small.
All the latest inspiration, tips and guides to help you plan your next Advnture!
Australia-based Chris mastered his outdoor gear reviewing technique as an editor of outdoor and adventure magazines, including Walk (UK), Outer Edge and Trail Run Mag (Australia), and as a contributor to the likes of Australian Geographic Outdoor, Wild, Adventure NZ, and Lonely Planet adventure titles. He mostly knows what he's doing. Apart from that time he was helicoptered out of the Bhutanese Himalayas. Or evacuated from the Australian desert to hospital. Or... well, let's say he tests his gear with gusto.