Why go backpacking?
Answering 'why go backpacking?' is tricky. What is it about deliberately denying ourselves the trappings of modern life that so appeals?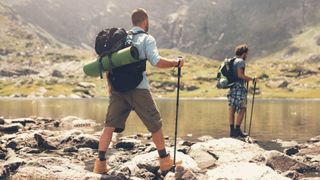 (Image credit: Getty)
It's not easy to answer the question "why go backpacking?" It's a uniquely weird pursuit among us humans. We spend thousands of years inventing all kinds of stuff to make life comfortable, and then a whole lot of us, quite willfully, turn our backs on central heating, coffee frothers and Netflix, and take off into the outdoors. That's the outdoors that many people reckon is cold, wet, insect plagued and short on roofs and cafes. The very definition of uncomfortable, in other words.
And then there's those of us who can't think of a better way of spending a few days, or even weeks, than by taking off on a backpacking trip. That's 'backpacking' in the North American sense of the word: a multiday trip on foot, carrying all you need on your back, with the idea of it being enjoyable whatever the weather, or however remote your destination.
When he was asked what jazz was, trumpeter Louis Armstrong growled: 'If you have to ask, you'll never know.'
Are the pleasures of backpacking the same - based on some innate 'woo woo' inner feeling that can't be explained?
I don't think so. I've spent a lot of time thinking about what I – and all those other people I know who also like to walk and sleep outside on a regular basis – get from heading off into the hills, where they are dependent on their skills and some lightweight and simple kit, to live fully in nature for a while. And I think that may be the key word: 'nature'.
Green Prescriptions
Not for nothing has the UK government just decided to make a £4 million investment in a post-COVID-19 pilot plan that will see doctors issuing 'green prescriptions – literally advising people to get out into nature, for the sake of their health.
Feeling at ease in the outdoors is something hardwired into our nature. It's where we come from as a species and, however deeply buried, we've all got our atavistic survival skills and ability to relate on a deep level with mountains, forests, coasts, moors… basically anywhere outside the built environment where most of us spend a lot of our time. That's why gorgeous wild landscapes appear in advertising for products and concepts that are far removed from such places – the ad people know these visions make us feel good.
It can seem like a paradox; taking yourself somewhere where you can potentially be very uncomfortable, and then, because you're carrying just the right amount of kit and have some basic skills, making oneself comfortable again. But outside.
Our modern world is defined by an unsettling mix of instant gratification, tempting distractions and deferred horrors and rewards. Things good and bad things are projected into the future – debts, dentistry, relationships, purchases, the big things in life. When you're out backpacking, even for a few days, you have to live in the moment. And that feels good.
You've forgotten the teabags? Bad luck. There's nothing you can do about it but accept you're going to be tea-less for a few days. Or go foraging for the ingredients for spruce tea or mint tisane. You might have checked the forecast, but you'll still get the weather you get.
Free air living
Numerous gurus talk up the pleasures of 'living in the now' and suggest all kinds of arcane exercises and methods for achieving this blessed state. But just walk off with your world on your back and you're there, fully in the now. Just like that. What could be more Zen?
Being in the outdoors is an entree into a simple life; good and bad things happen almost immediately. That's both refreshing and natural. Simple, though, doesn't mean that spending several days or a few weeks living from what you can carry on your back has to be a struggle. Quite the opposite. Nature doesn't need to be conquered or fought. It doesn't work. Nature doesn't set out to give you a hard time, and it doesn't fight back. If it feels like that, then you're actually trying to conquer something in yourself.
By the same token, you can really relax when you're backpacking. Not in a daft 'silly me, I forgot the tent,' kind of way, but as many Scandinavians do, in the spirit of 'friluftsliv', free air living, where good equipment and knowing how to use it turns the outdoors into an extension of your home.
Backpacking brings relaxation. That's a rare thing in a busy life, and it brings real rewards if you're walking with friends or family. It's very special to have undistracted time with those you love. And something very special indeed to reach that state of silent companionship when you've shared the same experience as someone else and there's nothing left to say because you already know what the other person is thinking. Conversations become both lighter and more serious – it's all paradox out there in the outdoors – when they take place at walking pace, or in the light of a campfire with a slug of whiskey in a mug and the stars above.
Walking alone is good too. You become your own friend – providing all the entertainment, laughs, resources and advice you need from some part of you that's rarely tapped into in our busy everyday lives. You know you've cracked it when you reach the point where you find yourself liking your own company enough to be quiet with yourself.
Some of my longest walks have been in the company of ghostly, literary companions. I walked across Europe from Munich to Paris in winter, with only a light sleeping bag and a tarp for shelter, sleeping out every night and cooking on a DIY tin-can spirit stove to follow the 500-mile route that Bavarian film director Werner Herzog had walked exactly forty years before. His book, 'Of Walking In Ice,' the account of his almost shamanic walk, was like having a companion to talk – and argue – with as I hiked. And there was time travel magic comparing his snapshot observations and the people and landscape he described even as I recognised an actual wood, or farmyard or a day of exactly similarly bad weather.
The god of small things
Here's another thing. Backpacking gives us an almost animist feel for things. Especially the things we decide to carry with us. Typically there will be few enough of them (backpacking is always a weight conscious exercise), and so each item – whether a mug, a sleeping bag, a map or a pair of socks – takes on a value and significance that we rarely have time or inclination to give to anything in our cluttered lives back in the busy world.
Most of us know that feeling of pitching up camp somewhere and setting out the basics of shelter, warmth, eating and drinking. It takes so little to make a cosy home in the outdoors. Some of my camping kit is so familiar that it's also my everyday kit; my titanium coffee mug and simple coffee sock is there every morning whether I'm indoors, or waking up in a cramped bivvy in a forest, or stretched out on a hilltop for a sunrise breakfast. It's beside me now, as I write this, bobbing on a small boat in Portland Harbour.
A few carried, familiar things that make the difference between comfort and discomfort – and sometimes between life and death – have been valued since the first people started using tools, carrying skins to sleep in, and a gourd or bark beaker to drink from.
That is something else about backpacking for several days; and without wanting to get too 'woo woo' about this, but one is in touch with a more elemental way of life, what we evolved into and have never lost however much the veneer of civilisation seems to hide it.
So why we do we head off backpacking? If you've done it you'll already know what it means to you. And for those who haven't, then try it and see how it feels. I guarantee that it will feel good. Differently good for each person. But good.
All the latest inspiration, tips and guides to help you plan your next Advnture!
After a wild childhood in west Cork, Jasper Winn began embarking on long cycles, walks, horse journeys and kayak trips across five continents – adventures he's decanted into books, magazine articles, radio and television documentaries. Keen on low-tech but good gear, Jasper is an advocate of slow adventures by paddle, pedal, saddle, boot and sail. He has circumnavigated Ireland by kayak and cycled across the Sahara. Twice. Having ridden north-to-south across Algeria he discovered the only way to get back was to turn round and pedal north again.