How to run an ultra: top tips for going beyond marathon distance
Fancy going further than 26.2 miles? Read on for our tips on how to run an ultra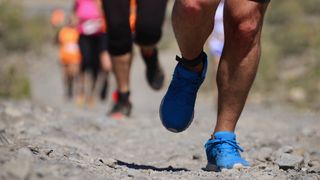 (Image credit: Getty)
Maybe you've run multiple marathons and you are looking for your next challenge. Or perhaps 26.2 miles of pounding a sealed surface never appealed, but you would like to test yourself off-road, on a longer distance route.
Whatever the case may be, thinking about how to run an ultra can be daunting. But your experience running your first will be so much better if you go at it with a solid plan and good preparation, physical and mental.
The running community defines an ultra as anything longer than a marathon – as we explain in our 'What is ultra running?' guide. Most, though, are at least 50k, or just over 31 miles, and this is the distance the majority of first timers will naturally begin with. But, of course, there are races without route options that extend to the 50-mile (80k), 100k (60-mile), 100-mile (160k) mark, and some are even longer.
The good news is, if you're already accustomed to training for marathons, a 50k distance won't demand much more of your time and energy. Here's how to run an ultra:
Nail your base
While a couch-to-5k type approach is a realistic program for shorter runs, unsurprisingly it's not a viable way to approach an ultra, when you need to be working off a much more established foundation. Instead, says coach Christy Scott, of Fitness on the Move, a good base before tackling an ultra program is to be running 20 to 25 miles (32 to 40k) per week, consistently, for eight to 10 weeks. She adds that you should have been running consistently for at least a year, and your weekly long run should be in the eight- to 10-mile (13 to 16k) range.
Get comfortable on dirt
If you're accustomed to running on roads but not trails (we've assessed the pros and cons of road running vs trail running) you need to get acquainted with different demands of the dirt a good while before standing on the starting line of your first ultra. Scott suggests finding a running partner or group that hits the trails regularly and allowing them to show you the way. Trail running is more forgiving on your knees, but can be harder on ankles. It also requires more concentration, as you follow serpentine singletrack through forest, and assess the trail up ahead for trip and slip hazards such as roots and rocks. Learn to recognize trail markers to help you avoid getting lost – if you're on a 'red' trail, for instance, you'll want to keep your eyes open for red blazes on trees. This can get tricky if you're also pointing your eyes on the ground ahead of you to prevent tripping over obstacles. But this is why you practice and hone your trail skills long before taking on your first ultra.
Get comfortable with slower
If you have only ever run on roads and are dialed into your paces, now is a good time to learn that trails and roads are not apples to apples. Your pace will be slower on trails and that's okay. Also, extra mileage means you need to pace yourself from the beginning, so you still have something in the tank for the final push once you get past the distance you're more used to running. An ultra course will likely have a lot more elevation and technical trail than you will encounter on a shorter run (race directors are sadists, and lots of participants in these events are masochists – it's the only explanation.) However, lots of ultra regulars are completely content to power-walk the hills, and then run the flats and the downs. There's no shame in this – better to be realistic during your first ultra and record a time than to get a dreaded DNF (Did Not Finish) next to your name. (Learn how to avoid bonking and DNFs in our guide.)
Sink into it, enjoy the beauty of your surroundings and accept that any ultra result you achieve will not come close to your road-running results on a pace-per-miles/kilometers basis. Conditions change enormously on the trails, depending on all sorts of factors relating to the elements, and that's all part of the appeal – if you're desperate to compare your performance to something, have a look at how other runners did on the same day in the exact same conditions.
Get your nutrition and gear sorted
You may be traveling slower, but by running extra distance, on more technical terrain, over a longer period of time, you are of course putting extra (or at least different) demands on your body than you do when you run for several hours on a road during a marathon. Start training in the gear you plan to use during your first ultra long before race day. If you plan to run with poles, train with poles (check the event allows them, and read our guide to the best trekking poles on the market). Start running while carrying a hydration pack (even if the length of your training run doesn't really require you to take extra water) with a lightweight jacket and snacks in it. Speaking of food and water – find out what your body needs on longer runs well before the date of the ultra, and what gels and bars agree most with your stomach. Do your research into the course and what is likely to be available at aid stations (but always take something extra, just in case).
Embrace the culture
The silver lining to all of this is that the ultra community tends to be far more laid back, welcoming and good fun than what you'll find in the road-running community, and a switch in ethos can be good for the soul.
All the latest inspiration, tips and guides to help you plan your next Advnture!
A US-based freelancer with a penchant for dirt, when she's not writing about the outdoors, Amanda is in it, running trails with two-legged and four-legged friends alike. You can find her work in the Washington Post, Outside magazine, REI's Co-op blog and many other outlets. Visit Amanda's website to read some of her latest pieces.