How to size trekking poles: a quick guide
We talk your through how to size trekking poles for your height as well as the terrain you're exploring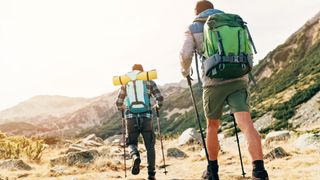 (Image credit: Getty)
The promise of using trekking poles on a hike is that they help you to maximize your efficiency, conserve energy, help avoid knee pain and allow you to keep your balance on uneven or slippery terrain, which sounds like a no-brainer. But there's a catch – in order to really get the most out of your trekking poles, they have to be the right length for you.
Fortunately, most of the best trekking poles these days are adjustable, but how do you know how long they should be? It's a little more complicated than just doing a simple equation, as beyond adjusting them to suit your height and body proportions, you're also going to want to change the length when you're going uphill and downhill, but don't worry – it's not that complicated. In this article, we talk you through how to size trekking poles so you can enjoy all the support you need on all terrain.
Even though there's a general formula for what length of trekking poles to buy, which we cover in our article on how to choose trekking poles, ideally you want to buy an adjustable set so you can make micro adjustments that take into account different body proportions, and different grades of terrain. What follows are some general tips for adjusting your poles, but of course the best length for you ultimately comes down to personal preference. If you end up with aching shoulders, a sore back, or not feeling supported, you'll need to reassess – trekking poles should make adventures easier, not more arduous.
Finally, when you're figuring out how to size trekking poles, it's a good idea to bring a permanent marker with you on the trail, so you can mark off exactly where you want to set your poles each time you pull them out of your backpack.
How to size trekking poles for walking on flat terrain
You can figure out how long you want your trekking poles to be for mostly flat terrain before you even leave the house. Just put on your best hiking boots, unfasten all the locking mechanisms on one trekking pole, and extend it out long. Now, stand up tall and hold the pole by the hand grip letting your arm hang by your side with your elbow bent to 90 degrees. Push up or down until you can hold the pole there with your elbow bent at 90, then secure the locking mechanisms again and set up the other pole to be the same length. Stride out for a bit on the flat to see how this feels – too long and you'll get tense shoulders, but too short and you'll hunch over –and adjust a little as necessary.
How to size trekking poles for walking uphill
Once you start climbing, you're going to want to shorten your trekking poles a bit to keep your elbow at roughly 90 degrees. This is so that it's easier to plant the pole in front of you uphill, then push down on it to take some of your weight as you step up. Your quads will thank you for this.
Start by shortening the poles by about three inches from the flat terrain setting and begin hiking uphill. Your arm will need to lift a little to plant the pole, but once you step up and your arm comes back by your side, it should return to that 90 degree position. You'll know if you need to shorten it more if you have to really stretch your arm up to plant your pole, which might happen if it's a very steep incline.
How to size trekking poles for walking downhill
When it's time to head back down, your trekking poles play a very important role in protecting your knees. They need to be long enough that you can easily plant each pole downhill in front of you to take your weight before you step. If they're too short, you'll be bending forward each time which isn't great for your back.
For a moderate downhill, extend your poles five inches from the flat terrain setting, and see how it feels when you start descending. When you plant your pole in front of you, your elbow should stay at about 90 degrees. If your knees still feel like they're doing all the work, or you have to bend forward to plant your pole, go longer still. In fact, for a very steep descent you might be looking to lengthen your poles by as much as nine or 10 inches.
How to size trekking poles for traversing
If you're traversing a hillside – also known as contouring a hill – and one foot is uphill from the other, you'll actually want your poles to be different lengths. Starting with your downhill pole, make sure it's long enough that you can use it with your elbow bent to 90 degrees and bear weight on it, then shorten your uphill pole so that your uphill elbow is also bent to 90 degrees. You may also choose to only use a downhill pole in this setting and fold the other one up in your backpack.
All the latest inspiration, tips and guides to help you plan your next Advnture!
Julia Clarke is a staff writer for Advnture.com and the author of the book Restorative Yoga for Beginners. She loves to explore mountains on foot, bike, skis and belay and then recover on the the yoga mat. Julia graduated with a degree in journalism in 2004 and spent eight years working as a radio presenter in Kansas City, Vermont, Boston and New York City before discovering the joys of the Rocky Mountains. She then detoured west to Colorado and enjoyed 11 years teaching yoga in Vail before returning to her hometown of Glasgow, Scotland in 2020 to focus on family and writing.