How to choose trekking poles: for day hikes, epic backpacking adventures, and everything in between
An explanatory guide on how to choose trekking poles for different types of adventure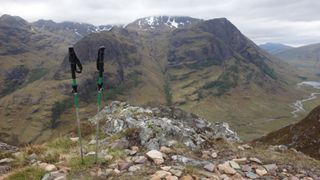 (Image credit: Kieran Cunningham)
The benefits of trekking poles are numerous, significant, and so well-documented that they need no reiteration here. But knowing how to choose trekking poles that will be best suited to your individual needs, walking style, and adventure type is another matter entirely.
Many hikers are apt to think that once you've seen one trekking pole, you've seen them all. However, far more goes into the making of the best trekking poles than you might expect, and – as with any piece of outdoors kit, whether it be a tent or pair of hiking boots – there are several factors, features, and attributes that will determine just how well any pair of poles will perform in the field, and how well suited they are to your anatomy and walking style.
How to choose trekking poles: features to consider
Length
With the right size of poles, your elbows should be at a 90-degree angle to the ground when the tips of the poles are placed beside your feet. With adjustable poles, achieving this angle is easily done, but it's worth bearing in mind when buying that poles are often sold in several sizes. If you are taller than 6 feet, you should look for poles with a max length of 52-55 inches, as explained in more detail in our guide on how to use trekking poles. If you're under six feet tall, then you'll be able to shorten any poles to the appropriate length, though it may be worth plumping for a shorter pair to save a few ounces in weight.
If you're buying non-adjustable, fixed-length poles, these are our suggestions for the ideal pole length:
Height Recommended pole length
5' and under 100cm (39 in.)
5' – 5' 6" 110cm (43 in.)
5' 7" – 5' 11" 120cm (47 in.)
6'+ 130cm (51 in.)
Shaft material
The two most common materials used in the shafts of trekking poles are aluminum and carbon fiber. Below, we've included an overview of each material's benefits and drawbacks:
Aluminum While cheaper, more durable, and less likely to break, these are typically much heavier than their carbon counterparts. Lighter models do exist, but the lower weight is usually achieved by using thinner material, which makes the poles more likely to bend under stress.
Carbon These are usually pricey and easy to break when snagged between rocks but can weigh as little as 8 or 9 ounces per pair. All of this makes them a good option for gram-counters but not the best bet for hiking in gnarlier terrain.
Grip material
Most trekking poles use one of three grip materials – rubber, cork, and foam – all of which provide something a little different as regards comfort and handling.
Rubber: This is the most durable material, absorbs vibrations nicely, and is usually found on cheaper models of pole. On the downside, it is a fraction more slippery than other materials and can cause blisters if you have sweaty hands.
Foam: This is the least durable of all three materials, but its softness and moisture-absorbing capabilities also make it the most comfortable and least prone to chafing.
Cork: While often used in heavier poles, cork grips are superbly comfortable. They're soft to the touch, soak up sweat, and absorb vibration better than either of the alternatives.
Locking mechanism
All trekking poles use locking mechanisms that prevent the individual segments of the pole from slipping while you're using them. The type of locking mechanism used, however, can have a significant bearing on the poles' practicality and convenience.
The three most common types of locking mechanism are:
Twist locks: These are adjusted and locked off by simply twisting two segments of the pole, which engages/releases an expander screw inside. While highly reliable, this style of locking mechanism can jam when clogged with dirt.
Lever/clasp locks: These are large, lever-like clips located above the lower two or three segments of the pole. The main benefit of this style of locking mechanism is that it's easy to operate, even with sweaty hands or where wearing gloves (see Best hiking gloves), and isn't prone to jamming (see twist locks, above).
Push-button lock: These locks are engaged by aligning a snap button on the lower segment of the pole with a hole in the subsequent section of the pole – when the button slides into the hole, the two segments are then locked firmly in place. While easy to use, this style of locking mechanism is typically used in poles with a limited adjustment range. On models that have multiple holes for more dialed-in adjustments, the main drawback is the constant whistling sound made by the wind passing through the holes – okay if you're a fan of panpipes, otherwise not.
Adjustable vs. non-adjustable
Benefits of adjustable poles:
Can be adjusted to fits users of different heights
Can be shortened for inclines and lengthened for descents
Locking mechanisms add a few ounces of weight
Benefits of non-adjustable poles:
Lack of locking mechanisms makes them lighter
Often feel sturdier and bend less than adjustable poles
3-part telescopic poles vs folding poles
Broadly speaking, these are the two main subtypes of trekking poles. Below, we've outlined the advantages and disadvantages of both:
3-Part Telescopic Poles
These have adjustable segments that slide inside each other when not in use. The advantages of this type of pole are as follows:
Pros
Wide adjustment range (usually 30-40cm)
Broken or damaged sections are easier to replace
Often available at a lower RRP
Cons
Dirt and grit can cause twist-lock locking mechanisms to jam
Collapse down to a smaller size when not in use
Folding poles
Folding poles have 3 to 5 sections that are connected to one other and held together by a length of cord inside the pole.
Pros
4- or 5-part poles fold up small enough to fit inside a backpack and even some of the best daypacks
Length adjustment is quicker because it's done with one lever only
Because each section of pole is shorter, the overall structure of the pole is usually more rigid
Cons
Limited adjustment range (usually <25cm)
Breaking or damaging just one section of the pole could make the pole irreparable
Antishock or not?
Antishock systems are additional springs located in the pole's expander that dampen impact when the pole is placed on the ground. Whether or not this add-on is desirable is largely a matter of personal preference, though there are a handful of arguments both in favor and against. On the plus side, antishock systems can reduce pain and fatigue in the wrists and elbows, particularly if you're hiking on hard surfaces (i.e. rock or paved trails) and on long descents. On the downside, antishock mechanisms add to the weight and bulk of the poles and the slight movement that follows contact with the ground isn't to everyone's liking.
All the latest inspiration, tips and guides to help you plan your next Advnture!
Former Advnture editor Kieran is a climber, mountaineer, and author who divides his time between the Italian Alps, the US, and his native Scotland.
He has climbed a handful of 6000ers in the Himalayas, 4000ers in the Alps, 14ers in the US, and loves nothing more than a good long-distance wander in the wilderness. He climbs when he should be writing, writes when he should be sleeping, has fun always.
Kieran is the author of 'Climbing the Walls (opens in new tab)', an exploration of the mental health benefits of climbing, mountaineering, and the great outdoors.