How to use binoculars – and choose the best pair for you
A complete guide to how to use binoculars when you're outdoors – and what you should be looking for when you buy them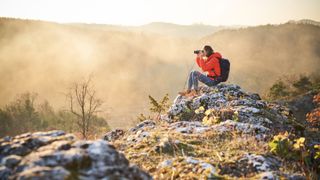 (Image credit: Getty)
Whether you're an experienced user or have just bought your first pair, it's important to know how to use binoculars. And if you're thinking of investing, you'll want to know how to make the right choice.
Here are all the questions you need to ask in order to make sure you buy the best binoculars for you – along with some top tips on getting the best from your bins when you head out and about with them.
What's your budget?
When considering how to choose binoculars, the most important thing is to identify how much you want to spend. Advances in optical technology mean that you don't need to invest a fortune to get great performance. Even well under the $200/£200 mark, you can find excellent binoculars that will meet the needs of most outdoor enthusiasts.
If you're looking for great value for money, it might be worth looking at traditional porro prism binoculars like the Kowa YF, which offer impressive performance but at a much lower price.
Newer roof prism binoculars are often more compact and look neater, but they do require more technology inside to get the light from the objective lens to your eyeball.
What are the options?
There are binoculars that are designed specifically for looking at the night sky, and these come with powerful magnification and large, light-gathering objective lenses, such as the Celestron Skymaster.
There are others that are aimed at nature watching, and these tend to have lower magnification, wide angle of view, and are lighter and easier to hold to get a stable image. If you have an interest in butterflies and invertebrates, then look for a pair that offer close focusing, ideally less than 2 meters, such as the Kowa BD.
And if you intend to use them while hiking, climbing, cycling, canoeing and wildcamping, you are ideally looking for something that is robust, such as the Bushnell Prime, or compact and lightweight, like the Opticron Explorer.
What do those numbers mean?
You will see two numbers next to the product name – these refer to the magnification and size of the objective lens (the glass at the opposite end to your eyes). So the Nikon Prostaff 8x42, for example, magnifies things eight times, and has an objective lens that is 42mm across.
Are binoculars with big magnification the best?
You might think that a bigger number here is always better, but the greater the magnification the harder it is to keep the image stable when you are holding the binoculars. At over 12 times magnification it becomes very difficult and you may well need to use a tripod. The sweet spot for most general use is between six and 10 times magnification.
Why is the objective lens size important?
The size of the objective lens determines how much light goes into the binoculars, so this will play a role in the brightness of the image. The larger the objective lens, the brighter the image should be. But it is worth noting that brightness of image is also a function of the technology used to bounce light around inside the binoculars.
The Celestron Skymaster features a magnification of 15 and has a huge 70mm objective lens that is used to collect as much light as possible from the night sky.
If you plan to use your binoculars for nature watching in low light, then you will want binoculars that can offer a bright image in these conditions.
What are the best binoculars for wildlife watching?
For bird watching, we think that a pair of binoculars around the 8x32, 8x42 mark are ideal, although a pair of 10x32 or 10x42 are also worth considering. A wide angle is useful to catch the action in flocks of birds or to find and then track fast moving species. Binoculars that deliver natural colors will help if you need to identify tricky species. If you have an interest in butterflies, bees and dragonflies, then look for a pair that offer a close focus of 2 meters or less.
What binoculars are best for outdoor adventures?
Smaller binoculars are easier to slip into a jacket pocket and carry on longer multi-day trips. If you are doing something more adventurous than carrying your binoculars from a car to a bird hide, then they need to be robust and durable. A lifetime or long guarantee is a good indication of the manufacturer's faith in their product.
How do I get the most out of my binoculars?
When you're thinking about how to use first binoculars, first of all you need to get familiar with the four points of adjustment on your binoculars. The first one to address is the central hinge. This moves the two eyepieces closer together and you need to adjust it until you get a clear, single image.
How do I focus binoculars?
You first need to compensate for differences between your eyeballs, using the diopter adjustment. This is often found under the right eyepiece and it offers a small slider and an adjustment scale marked plus (+) and minus (–).
To adjust this, first put a lens cap on the side of the binoculars that has the diopter setting. Then use the central focus wheel to focus the image for the other eye (this will usually be the left hand side). Then cover the opposite lens and use the diopter adjuster to now focus for the other eye. When you remove the lens cap, you should have a sharp image, if not simply repeat the process.
If you are watching fast moving objects, it's worth keeping a finger on the central focus wheel so that you can adjust as it moves across your field of view and gets closer or further away.
How do I adjust the eyecups?
You can also adjust the eyecups to position your eyes the correct distance away from the lens. This adjustment makes sure that you get the maximum field of view and do not lose any of the image at the edges. Additional micro-adjustments can be made by resting the eyepieces on your forehead and slightly altering the distance between your pupils and the eyepiece.
People who wear glasses will want to leave the eyecups down and need to look for binoculars that have a minimum eye relief of around 16mm. Any less than this and you will not get the full image with your glasses on.
How should I carry my binoculars?
Most binoculars come with a carry case and lens protectors that will help look after your investment. But if you are heading outdoors, you really want your binoculars to hand at all times. If they are in the bottom of your bag, and you see something interesting, the chances are it will have vanished before you get them out. So it's best to have them ready around your neck and with the lens caps off, or in a pocket and easily accessible.
Smaller, lighter binoculars are easier to carry, and you will also benefit from a wide, comfortable neck strap.
I want to travel fast and light: are they worth the weight?
Yes. Binoculars can open up the night sky on a wildcamping trip, give you better views of a climbing route as you approach a crag, and identify a landing point if you're kayaking across a lake. And even if you have only a passing interest in wildlife, they are guaranteed to boost your understanding and enjoyment of the natural world.
We often take our binoculars on cycling and running trips and they give you the perfect excuse to stop, take in the view and appreciate more of the natural world around you.
All the latest inspiration, tips and guides to help you plan your next Advnture!
Former Editorial Development Director for Lonely Planet, editor of Trail and BBC Wildlife magazine, and editor-in-chief of Trail Running magazine, Matt got the outdoor bug as a teen on gruelling UK Ten Tors events around Dartmoor. He has hitch-hiked to Egypt, cycled through India, enjoyed the delights of the High Atlas, slept on volcanoes while living in Central America, climbed in the Alps and tackled some of Scotland's really big routes, from Tower Ridge and the Cuillin to the Aonach Eagach. He's got a passion for butterflies and ukuleles. If you see him in a campfire situation… approach with caution.