51 runners survive tough, wild and remote trail race
'It is the hardest things I have ever done,' say eight-day competitors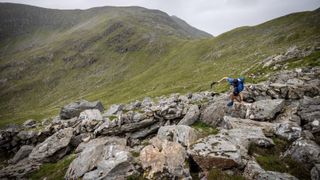 (Image credit: No Limits Photography)
It takes most people three weeks to complete a tough, long-distance hiking route, yet this month a determined group of race competitors aimed to finish in only eight days. Just over half the field were successful.
The supported challenge saw 51 of the 86 starters running the length of the 250-mile Cape Wrath Trail. The acclaimed route, which is not signposted, heads north from Fort William in the famous Highlands of Scotland to Cape Wrath, the most north-westerly point on mainland Britain.
A tough race in a wild place
Each day, the Cape Wrath Ultra runners were required to navigate routes of between 16 and 45 miles. The total ascent of the route is 36,800ft. There were no rest days.
They faced the full summer extremes of Scotland's notoriously fickle weather, from cold, wet and misty days to high temperatures and blazing sunshine.
Sleeping under canvas each night in campsites set up by race organiser Ourea Events, the competitors had few luxuries and also needed to cope with the notoriously fierce midge. Swarms of the biting insects invaded several campsites.
Main meals were supplied but then runners had to provide their own race food and snacks, as well as pack all their eight days of kit into one bag.
Highs among the hardships
Yet, there were also many highs for the runners, who came from across the world to attempt to race on the remote and wild Cape Wrath Trail, renowned as the hardest backpacking route in Britain.
With towering mountains, glens, forests and inland lochs on one side and the Atlantic ocean, which forms long-legged sea lochs on the other side, the Cape Wrath Ultra journeys through stunning scenery and untouched wilderness areas.
Many participants revealed the Cape Wrath Ultra it was the hardest thing they had ever done. Some 35 runners were forced to pull out due to injury or because they missed a cut-off at checkpoints or the daily finish lines.
Second time triumph for runner
In the end, it was race returner Ian Stewart, a running coach based in Scotland, who triumphed and reached the Cape Wrath Lighthouse in a total time of 50 hours and 29 minutes.
Remarkably, the next two places were taken by women, with Sally Fawcett and Lisa Watson, both from northern England, in second and third places in respective times of 52:56:23 and 53:25:10.
After finishing, Ian, originally from Yorkshire, said: "This was my second time at the Cape Wrath Ultra. In 2018, the last time the race was held, I was broken on day four. I pushed it too hard at the outset and I had to limp my way to the end.
"I wanted to return and to enjoy myself this time. I am very pleased with how this race has gone, although it was never about racing anyone else but about just having a good eight days of running. It has been my best eight days of running ever."
Sally was 2 hours 17 minutes behind Ian overall. She said: "I didn't go into the event to race but to enjoy myself. It was great to be able to run with Lisa on some of the days. We really motivated each other and we run at a very well-matched pace.
"It has been a brilliant week although it is the hardest thing I've done. It's the tiredness that has been compounded day after day throughout the week and the lactate I've had in my legs is like nothing I've ever had before.
"I really never expected to be first female and second overall."
Lisa, who turned 31 during the event, was equally enthusiastic. She said: "I wanted this week to be a holiday and to enjoy it and I have had that."
Lisa suffered with leg pain over the final few days of the race. She said: "It's a shame an old injury flared up and so I couldn't keep up anymore with Sally but it has been a lot of fun."
Runners overwhelmed by pain and adversity

Throughout the field of runners, including 21 women, most suffered physical and mental difficulties. Day after day they pushed through the miles on a mix of paths, trails, tarmac and also plenty of off-track heather, grass tussocks and bogs.
They suffered blisters, chafing, numerous muscles and tendon injuries, midge bites, over-heating, sunburn and dehydration. Emotions ran high and hit huge lows.
Several runners reported the Cape Wrath Ultra as being "far harder than the Marathon des Sables".
This is how some of the runners that made it to the end summed up the Cape Wrath Ultra.
Kevin Bisset said: "It is the hardest thing I have done without a shadow of a doubt."
Alasdair Meldrum said: "It was pretty tough and easily the hardest thing I have done. The back to back days have been hard."
Richard Lander Stow , another race returner, said: "I feel absolutely broken in every possible way but I am over the moon to have been Abel to finish stronger than the time before."
Ella Corrick, crying happy tears, said: "I am so happy. It is the hardest thing I have done."
Mike Brock said: "There have been so many ups and downs. The downs have been so low and the ups have been so high. There is no way you could repeat something like this. It has been so amazing. It has been something else.
"I can't believe it's done and I think it will take weeks to sink in and process."
Tzvetie Erohina said: "I am a bit broken so I am so pleased to have survived."
Kirsty Oliver said: "I feel really elated but absolutely battered. It is the hardest thing I have ever done in my life."
Paul Jarvis said: "There have been the highest highs and the lowest lows… but I am delighted to have finished."
Cath Bunn said: "It feels good now it's done but it was the hardest thing I have done. I thought it would never end but eventually it did."
Selina McCole said: "It was brutal. Absolutely brutal. It's for sure the hardest thing I have ever done and each day I didn't know if I would finish. I am so pleased I made it to the end. This race is harder than the Marathon des Sables."
The Cape Wrath Ultra 2022 is open for entries.
All the latest inspiration, tips and guides to help you plan your next Advnture!
Fiona Russell is a widely published adventure journalist and blogger, who is better known as Fiona Outdoors. She is based in Scotland and is an all-round outdoors enthusiast with favourite activities including trail running, mountain walking, mountain biking, road cycling, triathlon and skiing, both downhill and back country. Her target for 2021 is to finish the final nine summits in her first round of all 282 Munros, the Scottish mountains of more than 3,000ft high. Aside from being outdoors, Fiona's biggest aim is to inspire others to enjoy the great outdoors, especially through her writing. She is also rarely seen without a running skort! Find out more at Fiona Outdoors.