Appalachian Trail activity discouraged in 2021
Full-length thru-hikes and trail runs on the Appalachian Trail won't be recognized in 2021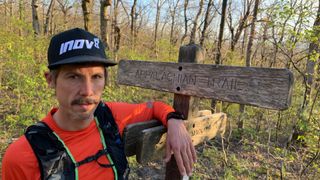 (Image credit: Brian Metzler)
Thru-hikers and endurance runners are being told to postpone plans to cover the entire length of the Appalachian Trail this year due to COVID-19.
The Asheville Citizen Times reports the Appalachian Trail Conservancy (ATC), the nonprofit that manages and maintains the mighty trail, made the suggestion because it feels the pandemic makes long-distance hikes unsafe until at least 2022.
The 2,190-mile trail stretches from Georgia to Maine and passes through 14 states. It typically takes four to six months to thru-hike the entire route, but only 25 percent of the 4,000 or so hikers who start the trail actually complete the full distance. The record for running the entire trail is 41 days, 7 hours, 39 minutes.
The ATC's regional director Morgan Sommerville says that as long as the pandemic continues, and while vaccines aren't yet widely available, the conservancy is recommending against long-distance hikes and runs on the trail.
The usual start date for those intending to hike the entire Appalachian Trail is mid-March to mid-April, so the announcement by the Appalachian Trail Conservancy helps people plan ahead. Most trail runners begin in June or July.
"Our advice, as long as the pandemic is raging and vaccines aren't widely available, and the CDC hasn't given us the all-clear signal, we're recommending that long distance hikes not be taken on the AT," Sommerville said. "We're concerned about the safety of AT volunteers, AT hikers, of the members of AT communities and of course ATC staff and staff of our federal partners."
Sommerville, who is based in Asheville, said roughly 2,000 thru-hikers have already registered. Those hikers come through the 71 miles of trail in Great Smoky Mountains National Park and reach Western North Carolina Appalachian Trail towns like Franklin and Hot Springs, in March and April, when they gather in large numbers to rest, mend gear and resupply.
Like in 2020, the organization is encouraging hikers to stay home to avoid spreading the virus, and won't recognize those who do hike as 2,000-milers.
In March 2020, the ATC released a letter asking hikers to "stay away from the Appalachian Trail." But the organization went a step further when it stated that: "The ATC will not recognize thru-hikes that continue after March 31, 2020 or for those who traveled through any areas that were posted closed when the hiker entered."

With Covid cases continuing to climb, the organization is still concerned. Sandra Marra, the ATC's president and CEO, discourages thru-hikers from hitting the trail.

"I think people should be staying close to home," Marra says. "And if they are outside, they should be masked. If they choose to do an overnight on a local trail, minimize any contact to and from the trailhead."

Harper's Ferry is the closest Appalachian Trail access spot for many in the Washington D.C. metro area and is a popular place for tourists and outdoor enthusiasts alike because of its magnificent views. The US Forest Service temporarily closed national parks and trails because of the coronavirus's spread but many opened back up in late-May 2020.

All shelters on US Forest Service lands (most areas between the southern terminus in Georgia and Shenandoah National Park in Virginia) remain closed, according to Forest Service officials.
Quarantines, testing requirements, or other travel restrictions or recommendations are currently in place for some or most visitors to Pennsylvania, New Jersey, New York, Connecticut, Massachusetts, Vermont, New Hampshire, and Maine, according to the conservancy's website.
They also stay at shelters in close quarters along the trail. The shelters don't allow for the CDC's COVID-safety guidelines, which include maintaining social distance of at least 6 feet from those who don't live in the same household and washing hands often with soap and water.
More than 430,000 Americans have died from COVID-19 since it first arrived in the country a year ago.
The Great Smokies are still issuing Appalachian Trail thru-hiker permits for those traveling through the park exclusively on the Appalachian Trail and beginning and ending their hike at least 50 miles on the trail outside the park, said spokeswoman Dana Soehn.
"All permit holders, regardless of the length of their trip or route, are currently permitted to sleep in tents outside the shelters to encourage physical distancing," Soehn said.
Last March, ATC President and CEO Sandra Marra issued a letter to all registered thru-hikers asking them to postpone their section- or thru-hike to minimize spread of the virus, and to especially stay away from the starting trailheads in Georgia, where thousands start in a "bubble."
No thru-hiker recognitions were awarded last year, Sommerville said, and none will be awarded in 2021.
"The rising number of COVID-19 cases continues to make long-distance hiking a potential contributor to the spread of coronavirus along the Trail and in Trailside communities. The best way to ensure you and others remain safe is to postpone your hikes," an announcement on the ATC website says.
"However, if you are planning a hike of any length in 2021, please reduce the spread of COVID-19 by preparing appropriately for your hikes."
All the latest inspiration, tips and guides to help you plan your next Advnture!
Brian is an award-winning journalist, photographer and podcaster who has written for Runner's World, The Times, Outside, Men's Journal, Trail Runner, Triathlete and Red Bulletin. He's also the author of several books, including Kicksology: The Hype, Science, Culture and Cool of Running Shoes. He lives in Boulder, Colorado, and loves to run, bike, hike, camp, ski and climb mountains. He has wear-tested more than 1,500 pairs of running shoes, completed four Ironman triathlons, as well as numerous marathons and ultra-distance running races.