Asics launches face mask made specifically for runners
Could the evolution of run-ready face masks offer a way back for events, social runs and club meets?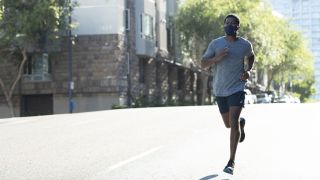 (Image credit: Asics)
Japanese footwear and sports specialists Asics has announced the launch of the Asics Runners Face Cover. This new face mask is designed specifically for runners, offering internal breathing space, while protecting others from infection as you exhale. It's also compatible with drinking on the go, and is made from a quick-drying anti-bacterial material they claim cools the air as you inhale.
Sounds amazing – but do runners, especially trail runners, need such a face covering?
The global Covid-19 pandemic has forced the cancellation of running events all over the world – not least weekly parkruns on all sorts of terrain – it has stopped all club running activities in most countries, and made running in some areas, including narrow trails in popular places, a controversial exercise.
So, could this mask offer a glimpse of what the near future looks like? Will this become part of our standard running kit, or even appear on the mandatory equipment list for races, to be worn at least on the start line? Never mind picking up souvenir Ts at the end of events, perhaps we'll soon all be receiving branded face masks, along with competitor numbers that detail individual starting times, long before race day.
But we're getting ahead of ourselves here. In all honesty, it's far too early to say whether any of this is likely, but the industry is starting to come up with solutions to the problems that beset us all.
What is the runners' mask like?
The new Asics Runners Face Cover has been developed at the company's Institute of Sport Science (ISS), in response to their pulse research revealing major concerns about how to run safely as lockdown eases. The institute's findings suggest 70% of regular exercisers in the UK have been avoiding certain routes or spaces, in order to maintain social distancing.
Made with over 30% recycled materials, performance, comfort, and protection is at the core of the face covering's design, according to a release from Asics. It continued: "The mask pairs cutting-edge design with innovative air vents that give runners the room to breathe comfortably, while preventing the spread of droplets. The masks antibacterial quick-drying material helps cool the air that reaches its interior and it even allows runners to drink water while running."
According to early reports, a mesh panel sits below the mouth, facilitating easier airflow without adding holes or vents in places that would let flecks of potentially virus-spreading saliva fly out during exercise. There is also a ridge at the front, which provides a bit of space in front of your mouth for easier breathing.
The fastening system has also been well thought through, with elasticated loops that fit over the wearers' ears and can be easily tightened at the back, for a secure fit on a range of different face sizes and shapes.
Many trail runners might think a mask is unnecessary for the kind of terrain where they train, but lots of people have to run through busy streets before they can hit the wilder ways, and some trails are tight and well-trafficked too. We feel that participants and organisers of running events and group runs might see the biggest benefit in these masks.
Available worldwide from mid-September, The Asics Runners Face Cover will retail at £35 in the UK, while US pricing is still being confirmed. To find out more about the mask and even get in the queue for when this product is available, check out the official Asics site.
All the latest inspiration, tips and guides to help you plan your next Advnture!
Author of Caving, Canyoning, Coasteering…, a recently released book about all kinds of outdoor adventures around Britain, Pat has spent 20 years pursuing stories involving boots, bikes, boats, beers and bruises. En route he's canoed Canada's Yukon River, climbed Mont Blanc and Kilimanjaro, skied and mountain biked through the Norwegian Alps, run an ultra across the roof of Mauritius, and set short-lived records for trail-running Australia's highest peaks and New Zealand's Great Walks. He's authored walking guides to Devon and Dorset, and once wrote a whole book about Toilets for Lonely Planet. Follow Pat's escapades on Strava here and instagram here.