The backpack that grows on trees
Fjällräven's innovative new Tree-Kånken daypack is made from wood, blazing a trail for more sustainable outdoor equipment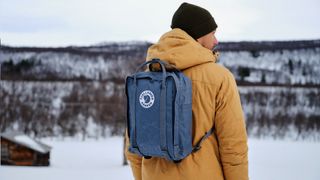 (Image credit: Fjallraven)
Would you go walking while wearing a wooden backpack? What about if it made your footprint considerably lighter? These are the questions being posed by Swedish outdoor brand Fjällräven, who have just released the Tree-Kånken – a pack produced using 'Pine Weave', a material made from timber.
Whether you regularly take on multiday backpacking adventures or just enjoy the occasional day walk, backpacks are a piece of equipment it is very hard to do without. Everyone needs a way to carry extra layers, food and drink, not to mention a few treats.
Sadly, however, the vast majority of backpacks are made from synthetic materials, which are generally highly durable, but frankly terrible for the planet, being made from fossil-based fabrics and often treated with dyes and chemicals that are awful for the natural environment that we all like to get out and explore. Such products are not only damaging to produce, they will also never fully biodegrade.
The Tree-Kånken, on the other hand, is made from a wood-based fabric called Pine Weave, which is sustainable and – ultimately – biodegradable.
Clever – but how do they do that? "In very short, wood chips are boiled down to a cellulose mass," explains Fjällräven's product developer Johanna Mollberg. "The mass then goes into the lyocell process, which is a sort of solvent-spinning technique. The dissolved cellulose pulp is pushed through spinnerets. It is finally washed, dried up and spun into yarns. The yarn is then woven into a plain weave and coated with a mixture of PU and wax to prolong the lifetime of the fabric and make it more durable than existing lyocell fabrics out on the market."
And, in case you're wondering, the wood is sourced from a cultivated and certified forest just outside Fjällräven's hometown of Örnsköldsvik in northern Sweden, and never from virgin forests.
The new pack is made in the heritage style of the original and iconic Kånken, first released in 1978, but it has been enhanced with several new funky features.
With a carry capacity of 16 litres it is intended for everyday use and more relaxed day hikes in reasonable conditions, and the brand claims the bag can be used across three seasons. It has two side pockets for water bottles, and an invisible (but large) front pocket with a zip. Clever innovations of the new pack include straps at the bottom for a picnic rug, towel or yoga mat, and loops on the back that have been positioned so you can hang a light and put a bicycle D-lock through them for ease of carry. There are also reflective elements, for extra safety when walking or cycling along lanes and roads in poor light.
The main compartment opens fully, and it is large enough for jackets and packed lunches. A foam 'seat pad' slides into a pouch at the rear, to make sure the contents don't press into your back, and this can easily be extracted so you can sit on it, to prevent your backside getting damp or uncomfortable.
Available in a series of non-offensive colours that are sympathetic to the outdoors (maple yellow, lichen green, new-moon blue and charcoal grey), this certainly looks like a classy pack. Does it perform well in the outdoors? We're currently trail testing one, so check back here for our verdict. So far, so good – no splinters and first impressions are positive.
We're certainly excited about the future potential for this exciting material, and keen to know whether it will be expanded across the Fjällräven collection. "We have learnt a lot while developing Pine Weave, much of which we will take with us moving forward," explains Johanna. "We have some exciting ideas in the works right now."
The Tree-Kånken is available now for $115 (US) / £120 (UK) / €130 (EU).
All the latest inspiration, tips and guides to help you plan your next Advnture!
Author of Caving, Canyoning, Coasteering…, a recently released book about all kinds of outdoor adventures around Britain, Pat has spent 20 years pursuing stories involving boots, bikes, boats, beers and bruises. En route he's canoed Canada's Yukon River, climbed Mont Blanc and Kilimanjaro, skied and mountain biked through the Norwegian Alps, run an ultra across the roof of Mauritius, and set short-lived records for trail-running Australia's highest peaks and New Zealand's Great Walks. He's authored walking guides to Devon and Dorset, and once wrote a whole book about Toilets for Lonely Planet. Follow Pat's escapades on Strava here and instagram here.