Britain's biggest common carp could smash official records
This 64 lb common carp is predicted to break the official British carp record.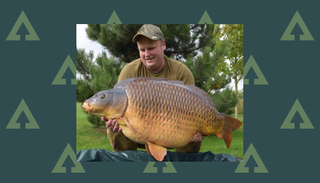 (Image credit: Angler's Mail)
Welcome to Advnture, the new home of AnglersMail.co.uk
Known as Tarka, the huge common carp came from RH Fisheries The Avenue syndicate in Shropshire.
This is the former home of the controversial mirror carp Big Rig, which went 71 lb 4 oz but was rejected by the UK Record Fish Committee as it was artificially grown to near record weight. That fish has since died.
Tarka is the second biggest known carp of any kind alive after Captain Jack was caught at 68 lb 5 oz at Cambridgeshire's prolific Holme Fen. Captain Jack's captor 'Bill' didn't want any publicity or desire to claim the British record.
The official record carp is The Parrot from Berkshire's Wasing Estate at 68 lb 1 oz but that sadly died this year.
Tarka the common carp is still growing
Tarka's lucky captor Mike O'Neill landed the giant common in a superb brace with a 46 lb 11 oz mirror. He certainly proved that effort pays off as he only had one carp last season.
RH Fisheries boss Rob Hales commented: "I think this fish will go on and reach 70 lb in the next two years. It was only 30 lb five years ago and is still growing.
"It's a male fish we bred ourselves and has been in the lake about seven years and is only caught twice a year and then seems to disappear.
"It was last caught at 60 lb 4 oz by Luke Edwards last winter and soon after at 59 lb 12 oz but not seen since," he added.
The Avenue also showed it could produce other future 60 lb-plus giants with two mid 50s banked within a week. Carl Sharp matted the Black Scar mirror at 55 lb 10 oz and John Lee a 54 lb 12 oz common.
All the latest inspiration, tips and guides to help you plan your next Advnture!