Britain's No.1 barbel hotspot to be destroyed
One of the best fishing spots will be lost to anglers after the controlling club accepted defeat in their long legal battle.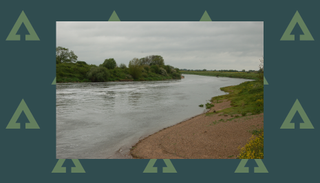 (Image credit: Angler's Mail)
Welcome to Advnture, the new home of AnglersMail.co.uk
Iconic peg 1A at Cromwell Weir, on the Collingham AA stretch of the River Trent in Nottinghamshire, is one of the best barbel venues in Britain. Many anglers rated it as THE No.1 spot.
It will be buried under concrete following final approval of Barn Energy Ltd's plan to generate hydroelectric power from the weir. Peg 2 and possibly peg 3 will also be lost to angling.
Collingham AA chairman Russ Jones had this to say about the situation surrounding Cromwell Weir and its fishing…
"We have been fighting a legal battle for nearly three years, but we have now reached a point where there is nothing more we can do, having exhausted every avenue," said Russ.
"The original plan received planning permission from the local council, but Fish Legal helped us challenge the decision in the High Court, as the environmental impact wasn't considered.
"Experts then came down to look at the possible impact on bats in trees and water voles on the banks, but when it came to fish, the company used out-of-date statistics from 15 miles downstream, at Dunham Bridge, which were totally inaccurate for the weir (Cromwell Weir).
"They even stated that there weren't any lamprey present, even though it was only this year that the Environment Agency stopped licensing fishing for them from here.
"Nobody came to talk to us, the controlling fishing club, but the EA still accepted the environmental impact report, and the company's revised plan to build two turbines, rather than three, has now been approved.
"Frankly, the EA has sided with the builders, and no one has backed us or the fishing. We lease the fishing rights from the Canal & River Trust, as it owns the weir, but it did nothing to support us.
"We have yet to be given a start date for the building work, and our licence expires in March.
"We are fully booked until then, and have taken advance bookings for next season without taking payment. We haven't been told when we have to stop fishing.
"We've been taking group bookings for pegs 1A to 9, charging £100 for 24 hours, and demand is huge, producing a good income for the club."
Cromwell Weir barbel worries
Russ and other anglers fear for the furture of barbel stocks in Cromwell Weir and nearby.
He explained: "Our main concern is that barbel breed in the vicinity, but flows in the river could be affected by the changes, especially in summer, as they are planning to raise the weir when the river is low, so that electricity can still be produced.
"This system will reduce the flow into the weir pool to perhaps a trickle, encouraging weed growth.
"While the whole stretch at Collingham is good for barbel, the 1A swim on Cromwell Weir really is phenomenal.
"When the National Championships were held on the Trent, it was always won from 1A, and it is almost guaranteed to produce a bag of doubles.
"Many anglers have caught PBs from there, including former Olympic athlete Dean Macey, who broke his twice.
"I'm sure it will be seen as a sad day by barbel hunters everywhere," Russ concluded.
The £60-a-year club is full, with 350 paying members, and there is a waiting list to join.
Reaction to Cromwell Weir hotspot loss
Barbel Society chairman Steve Pope said: "It's a bit of a loss, but the river along there is full of fish, and things in fishing always change, so I think we should be optimistic about the future.
"While it is true that you can catch barbel after barbel from 1A on the right tactics, swims further down are also prolific, and hopefully the club will continue to rent out ten swims, starting from peg 3 or 4.
"I have a number of bookings there next season, and I will still be happy to go on that basis, as I have probably had several hundred doubles along the stretch," Steve added.
Well-travelled barbel ace Jerry Gleeson said: "After so many other rivers have gone down the pan after these hydroelectric things have gone in, it's a shame that they're still installing them. They're an environmental disaster.
"Two stretches of my local river have seen fish populations crash once they are up and running.
"Cromwell Weir is unique in that it throws up huge catches for people, day in, day out, and it would be a crying shame if we were to see a crash in fish numbers in what can only be described as the country's best bit of river."
All the latest inspiration, tips and guides to help you plan your next Advnture!
Running from 1964 until 2020, Angler's Mail was the UK's leading weekly magazine devoted to coarse fishing, telling readers everything they needed to know about which fish to catch, where to catch them, and what kit they needed to do it. Now, loads of the magazine's expert advice can be found on Advnture.com, as a helpful resource for angling newcomers and experts alike.