Popular Hawaii hiking trail slated for removal
By Julia Clarke
Honolulu's mayor approves a unanimous vote to remove the Haiku Stairs, a popular illegal hiking spot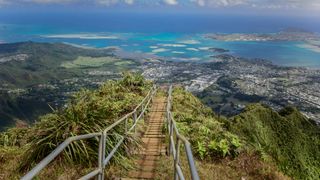 (Image credit: Majicphotos)
The Honolulu City Council has voted unanimously to remove the popular Haiku Stairs permanently, ending over 30 years of illegal hiking in the beauty spot.
The Haiku Stairs, often referred to as the 'Stairway to Heaven', are a steep climb of almost 4,000 steps that wind through Oahu's 2,800ft tall Ko'olau mountain, providing what many consider to be the best view in Hawaii.
The steps were originally constructed during the second World War by the US Navy as a means to access secret communications facilities and were opened to the public for hiking after the war. They started to become crowded and subject to vandalism, reportedly following a cameo in hit '80s TV show Magnum, PI, and were subsequently closed to the public in 1987.
However, the Haiku Stairs have remained popular with hikers, tourists, Instagrammers and Youtubers seeking the illegal thrill of climbing into the clouds and breathtaking views despite the $1000 fine for trespassing on the land, which is owned by the Board of Water Supply.
Honolulu Mayor Rick Blangiardi approved a $1 million plan to dismantle the stairs citing the inadequate resources of the residential neighborhood which houses the stairs as well as environmental concerns and public safety issues – there have been some 40 rescues made by the Honolulu Fire Department in the past ten years.
Should the plans go ahead, the stairs will be removed in 2022.
Julia Clarke is a staff writer for Adventure.com. She is an author, mountain enthusiast and yoga teacher who loves heading uphill on foot, ski, bike and belay. She recently returned to her hometown of Glasgow, Scotland after 20 years living in the USA, 11 of which were spent in the rocky mountains of Vail, Colorado where she owned a boutique yoga studio and explored the west's famous peaks and rivers. She is a champion for enjoying the outdoors sustainably as well as maintaining balance through rest and meditation, which she explores in her book Restorative Yoga for Beginners, a beginner's path to healing with deep relaxation. She enjoys writing about the outdoors, yoga, wellness and travel. In her previous lives, she has also been a radio presenter, music promoter, university teacher and winemaker.
All the latest inspiration, tips and guides to help you plan your next Advnture!
Thank you for signing up to Advnture. You will receive a verification email shortly.
There was a problem. Please refresh the page and try again.