Visit Hawaii Volcanoes and see why it's the most spectacular national park on the planet
Visit Hawaii Volcanoes National Park to experience a living, constantly changing environment that is so much more than a walk in the park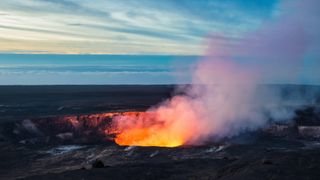 (Image credit: Getty)
Visit Hawaii Volcanoes National Park and you see why few things in nature inspire as much primal sense of awe as witnessing the raw power of a volcano. In fact, you can witness not one, but two of the most famous volcanoes on Earth. Kilauea is one of the world's most active volcanoes in historical times, and Mauna Loa is the largest shield volcano on the planet. It is these two volcanoes that make up Hawaii Volcanoes National Park, which was established in 1916 to preserve the rough natural diamond that is the southern part of Hawaii Island, the largest island in the Hawaii archipelago. Then again, 'preserve' might be the wrong choice of word here, as those two extremely active volcanoes have been reshaping and transforming the land around them almost continuously.
Kilauea has been erupting almost constantly since 1983, in what is called an effusive eruption, which is a non-explosive type of eruption. Instead of a big ash plume with massive amounts of tephra released into the air, Kilauea and Mauna Loa release hot, dense, flowing lava out through multiple cracks and craters around the park, which flow like rivers of burning, melting rock. These rivers often end up flowing into the ocean, where you can witness dramatic displays of the lava meeting the cold seawater, resulting in massive plumes of steam as the burning-hot lava instantly boils the water it comes in contact with.
It goes without saying that all visitors to Hawaii Volcanoes National Park must take extreme care when traveling there. The park's website is frequently updated with current volcanic activity, which can and often does result in closures of one or more parts of the national park. The reason is obvious – the entire park is directly on top of two big volcanoes, and new fissures can open up almost anywhere within it, often with little notice. Any safety notices must be adhered to without fail because careless visitors can easily find themselves in danger if they don't – indeed, there are recent examples from 2018 and 2019 where tourists who ventured into closed-off areas were seriously injured.
There is a variety of activities available to park visitors. This includes a crater rim drive tour, which incorporates a stunning view from an overlook point at Kilauea, various hiking routes and programs, and even classes where you can learn many skills mastered by Hawaii natives and learn about the rich history of Hawaii and its people.
For more articles like this, sign up for the Advnture newsletter and get a FREE World's Greatest National Parks ebook.
The end of a 35-year-long eruption
Kilauea is one of the most active volcanoes on Earth. In fact, it erupted almost continuously from 1983 to 2018. In 1990, it destroyed a town, and in 2018 there was a big spike in activity, resulting in the destruction of Vacationland Hawaii and a small community named Kapoho. However, in August 2018, after perhaps its most violent phase in decades, the eruption ceased and was declared over in December 2018. Despite the lull in activity, you can rest assured that won't last forever, and that Hawaii Volcanoes National Park will continue living, breathing and constantly reshaping itself.
All the latest inspiration, tips and guides to help you plan your next Advnture!