Hiking boomed in the US in 2020, says report
New data analysis shows a huge surge in hiking participation last year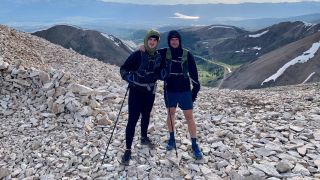 (Image credit: Brian Metzler)
When Americans faced the reality of Covid-19 lockdown restrictions and recommendations to avoid crowded scenarios last year, they opted to hit the trails for exercise and escape.
Hiking saw explosive growth in the US in 2020, according to a joint report released on February 12 from the AllTrails trail navigation app and RunRepeat.com data analysis site.
RunRepeat.com analyzed more than 7.9 million activities logged on the AllTrails app since January 1, 2016, and found some interesting results. Among the key findings they discovered that the number of hikes logged in 2020 was up 171.4 percent compared to 2019 and the number of individual hikers increased 134.7 percent compared to 2019. Plus, on average, the number of hikes logged per user (HPU) jumped by 52.1 percent in 2020 compared to the total for the entire four-year span from 2016–2019.
The data analysis covered 1,363,204 unique users and 7.9 million hikes between January 1, 2016 and December 15, 2020. The study considered hikes that lasted at least 10 minutes in duration, but it removed trail running activities in which participants were moving faster than 5 miles per hour.
Participation trends
Last year saw big changes in the hiking world. With most gyms closed and no running races available, hiking increased dramatically in 2020. The AllTrails app reported a huge spike in the number of hikes recorded, the number of users hiking and the number of hikes per user.
The biggest change in 2020 was the sheer volume of people hitting the trails. The number of logged hikes was up 171.4 percent compared to 2019 (4,713,654 vs. 1,737,029).
When comparing 2020 to the previous four years combined (2016-2019), 2020 was still up 46.7 percent (4,713,654 vs. 3,213,700).
The number of individual hikers also skyrocketed. In 2020, 134.7 percent more hikers hit the trails in 2020 vs 2019 (950,733 vs. 405,087). That's a 12.8 percent increase from the combined total of 2016-2019 (950,733 vs. 841,548).
Not only were more people hiking in 2020, but the pandemic-stricken year also saw an increase in hikes per user (HPU), with hikers logging 52.1 percent more hikes in 2020 (4.96) than between 2016-2019 (3.26) combined.
HPU was up 15.6 percent in 2020 compared to 2019 (4.96 vs. 4.28), and up 32.1 percent compared to 2018 (4.96 vs. 3.75).
Covid-19 effects
Although there were more hikes logged and more hikers logging activity in 2020 than ever before, early on in the lockdown (April 2020) saw a lot of drastic changes in hiking behavior.
When comparing April 2020 to April 2018 and April 2019, hiking was actually down. The average monthly hike time was down by 11.9 percent, and calories burned per month were down 8.7 percent.
Hikes were getting easier, too, as the average elevation gain per month decreased by 22.4 percent in April 2020. Oddly though, people seemed to be moving quicker in April 2020, whether to save time or for other motivations, the average moving pace was actually 8.4 percent faster in April 2020 than April 2019.
What it means
After the end of April, there was a big a rebound in hiking time, calories burned and elevation gain with thousands of participants recording more hikes than ever before. However, hikers were still logging less total time, burning fewer calories and climbing less elevation than they were pre-pandemic.
More hikers are logging more hikes than ever though, presuming new hikers started, and continue, to hit the trails throughout this pandemic, and these new hikers are moving faster than ever over the past few years.
Aside from the increase in popularity in hiking, various news reports also suggested there was an increase in hiking injuries and other hiking-related problems.
All the latest inspiration, tips and guides to help you plan your next Advnture!
Brian is an award-winning journalist, photographer and podcaster who has written for Runner's World, The Times, Outside, Men's Journal, Trail Runner, Triathlete and Red Bulletin. He's also the author of several books, including Kicksology: The Hype, Science, Culture and Cool of Running Shoes. He lives in Boulder, Colorado, and loves to run, bike, hike, camp, ski and climb mountains. He has wear-tested more than 1,500 pairs of running shoes, completed four Ironman triathlons, as well as numerous marathons and ultra-distance running races.