Mmm, donuts... See the incredible moment a family of bears entered a California home for a snack
Monrovia family startled as furry, uninvited guests made themselves at home – and not for the first time!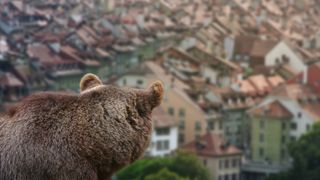 (Image credit: Getty)
Startling footage has emerged of a bear and her cub breaking into a family home in Monrovia, California, and helping themselves to donuts that were left on the top of a counter. The bears had entered by removing the screen of an open window.
The footage was captured by homeowner Alice Taylor, who managed to stay calm and assess the situation.
"I was just trying to figure out how do we get them out," Taylor said to abc7 (opens in new tab). In other circumstances, she said that she'd have made noise straight away to scare them away. However, in this instance, she was initially "a little hesitant" as she wasn't sure if they'd feel trapped and agitated in the confines of her kitchen.
Eventually, she started making banging sounds and the bears left the same way they had come in.
Incredibly, this wasn't the family's first encounter with bears in their own home. Taylor's son had previously come face to face with a bear in his bedroom. Taylor told abc7 that "he was lying in bed and he heard heavy footsteps."
Bears are common in Monrovia and they are part of the reality of life in the region. Taylor goes on to say that the locals are "accepting of our bears," which are embraced by the community. An an example of this acceptance, locals can expect to find their trash cans knocked over occasionally. She says: "there are certain things that go with having bears in the community."
Bear safety
According to the National Park Service, most bears are only interested in protecting food, cubs, or their space. Bear attacks are rare (opens in new tab), but they do happen and can lead to serious injuries or even death.
Alice Taylor did the right thing in this case. Firstly, she kept calm and she didn't run. Confident that the bears had an escape route, she then made lots of noise, which scared the mama bear and the cub away.
For more tips on how to avoid close encounters, and how to stay safe if you get too close for comfort, see our guide what to do if you meet a bear.
Alex is a qualified Mountain Leader, adventure writer and content creator with an insatiable passion for the mountains. A Cumbrian born and bred, his native English Lake District has a special place in his heart, though he is at least equally happy in North Wales, the Scottish Highlands or the European Alps. Through his hiking, mountaineering, climbing and trail running adventures, Alex aims to inspire others to get outdoors. He is currently the President of the London Mountaineering Club, training to become a Winter Mountain Leader, looking to finally finish bagging all the Wainwright fells of the Lake District and hoping to scale more Alpine 4000ers when circumstances allow. Find out more at www.alexfoxfield.com (opens in new tab)
All the latest inspiration, tips and guides to help you plan your next Advnture!
Thank you for signing up to Advnture. You will receive a verification email shortly.
There was a problem. Please refresh the page and try again.