UK National Park bosses consider car ban
By Julia Clarke
Officials from the UK's Lake and Peak District National Parks are weighing a ban on tourist cars from next summer in efforts to manage congestion and pollution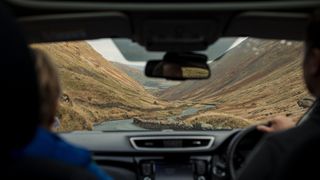 (Image credit: Dean Hindmarch)
Tourist cars may be banned from some of the most popular parts of the UK's Lake and Peak Districts next summer as National Park officials balance the demands of increased visitation with their commitment to climate change.
The Lake District sees 19 million visitors arrive by car each year who are eager to breathe the fresh air and cover some of the best walks in the country, but in doing so are inadvertently contributing to congestion and pollution. This is at odds with National Parks UK's October 2021 statement announcing their intention to achieve net zero carbon emissions by 2030.
Richard Leafe, chief executive of the Lake District National Park, told the Guardian that the situation there is reaching a tipping point, with domestic visitation surging during the pandemic, and they are considering closing access to tourist cars to spots such as Great Langdale and Wasdale, where free shuttle buses were trialled last summer. Access would remain open to locals, buses, bikes and, of course, people travelling on foot.
Unlike in the US, UK National Parks are unable to limit visitation via gated entryways, which complicates the situation, according to Leafe.
"The UK's National Parks are very unusual in that they are living, working landscapes – people's homes and workplaces."
However, solutions are being considered including enforcing premium pricing for parking close to popular spots, as has already been implemented in Wales for those who wish to hike Snowdon. In the Peak District, proposals include a hail-a-ride bus service and bike carriages on local rail services, which proponents say will also make the area more accessible to those who don't own cars.
"National Parks are cherished in the UK, they're part of our cultural identity. If we can inspire even a small percentage of our visitors to think about some of their lifestyle choices while they are enjoying the benefits of being in our amazing landscape it will make a difference," says Leafe.
Elsewhere in the UK, a free shuttle bus service is being piloted next year in Loch Lomond & The Trossachs National Park in Scotland, where parking price increases are also being considered.
Julia Clarke is a staff writer for Adventure.com. She is an author, mountain enthusiast and yoga teacher who loves heading uphill on foot, ski, bike and belay. She recently returned to her hometown of Glasgow, Scotland after 20 years living in the USA, 11 of which were spent in the rocky mountains of Vail, Colorado where she owned a boutique yoga studio and explored the west's famous peaks and rivers. She is a champion for enjoying the outdoors sustainably as well as maintaining balance through rest and meditation, which she explores in her book Restorative Yoga for Beginners, a beginner's path to healing with deep relaxation. She enjoys writing about the outdoors, yoga, wellness and travel. In her previous lives, she has also been a radio presenter, music promoter, university teacher and winemaker.
All the latest inspiration, tips and guides to help you plan your next Advnture!
Thank you for signing up to Advnture. You will receive a verification email shortly.
There was a problem. Please refresh the page and try again.