LEJOG on: brutal record-setting runs along the length of mainland Britain
Carla Molinaro broke the women's Land's End to John O'Groats record last month, while endurance runner Dan Lawson is trying to set a new fastest time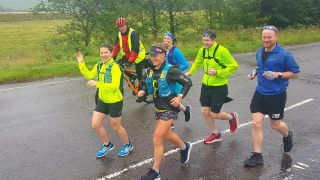 (Image credit: John Bennie)
Last month adventure athlete Carla Molinaro ran from the very southern tip of Cornwall to the extreme northern point on mainland Scotland in 12 days, 30 minutes and 14 seconds, taking 10 hours off the female Guinness World Record for the famous Land's End to John O'Groats challenge.
And, as we write, ultrarunner Dan Lawson is midway through his second attempt to set a new overall record for running the full length of Britain, battling high temperatures and heavy rainfall as he goes.
Covering a minimum distance of 820 miles (1,312km) and known by the acronym LEJOG (or JOGLE, depending on which way people elect to go) the route is challenging enough for cyclists, let alone runners.
"God! It was so much harder than I thought it would be," Carla conceded after completing her record-setting run, which she completed 10 hours quicker than the previous female fastest time. "I have done multi-day events before but this was another level. It was brutal!"
While cyclists can roll along busy A roads in relative comfort, the same cannot be said for runners, who must choose their route carefully to ensure their safety. The route most commonly taken by runners is 874 miles (1,398km).
"I ran on trail for about 20km the rest was on the roads," Carla told us. "My joints were fine, it was the soles of my feet that were very tender from the hard surface. And I destroyed my quads in the first two days as Devon and Cornwall are so hilly."
Carla, who has represented Great Britain at the 100km World Championships and competes for Team Massmart, an elite woman's running team based in South Africa, was joined by other runners all along the route, including the current record-holder, Sharon Gayter, who ran with her in Cumbria.
Footcare and shoe choice was a crucial consideration. "I used the Hoka One One Clifton 7," said Carla, who began planning her epic in April, at the start of lockdown. "I used the normal fit for the first two days and then swapped to a wide fit. I then swapped my shoes and socks over at lunchtime each day."
As we write, Dan Lawson has just crossed the Firth of Forth and reached Perth, Scotland, having left Land's End on 6 August. Supports say he is looking strong, as he attempts to run between 80 and 100 miles per day in a bid to beat the widely recognised record of 10 days 2 hours set by Richard Brown. The official record is actually held by Andi Rivett, who claims to have run the route in 9 days, 2 hours and 26 minutes, but this time has been disputed.
Dan – a gold medal–winning 24-hour runner at European and World-Championship level – has made an attempt at the record before. In 2018 He ran north to south and was on course to beat Rivett's record, until the brutality of the challenge caught up with him. This time around he is going south to north, with the prevailing wind, and has his sites set on the Richard Brown record (although he's not ruling out pulling an all-nighter at the end, if Rivett's contested time is in his sights.
Dan, who is running in pre-loved clothing and shoes, is the co-founder of ReRun, a community project that strives to extend the life of running clothing and shoes, and discourages free event T-shirts, throw-away culture and wanton consumerism in the industry, and he is urging people to stop shopping for the duration of his run. You can follow his progress here.
UPDATE On Sunday 16 August Dan Lawson arrived in John O'Groats, 9 days, 21 hours, 14 minutes and 2 seconds after leaving Land's End. This beats Richard Brown's 25-year-old widely recognised record of 10 days, 2 hours and 25 minutes. A petition is currently in circulation to get another time – 9 days 2 hours, set by Andi Rivett in 2002 but widely disputed – removed from the Guinness Book of Records and replaced by Dan's new time.
All the latest inspiration, tips and guides to help you plan your next Advnture!
Author of Caving, Canyoning, Coasteering…, a recently released book about all kinds of outdoor adventures around Britain, Pat has spent 20 years pursuing stories involving boots, bikes, boats, beers and bruises. En route he's canoed Canada's Yukon River, climbed Mont Blanc and Kilimanjaro, skied and mountain biked through the Norwegian Alps, run an ultra across the roof of Mauritius, and set short-lived records for trail-running Australia's highest peaks and New Zealand's Great Walks. He's authored walking guides to Devon and Dorset, and once wrote a whole book about Toilets for Lonely Planet. Follow Pat's escapades on Strava here and instagram here.