Lost dog rescued by walkers in snowy mountains after 2 weeks missing
The stranded Golden Retriever was carried for several hours over snow and ice to be reunited with her family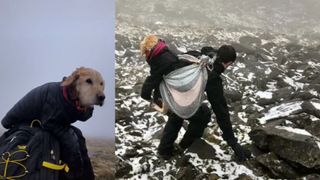 (Image credit: jeanfrancoiswillem/TikTok)
We love a good news story and this one left us feeling warm inside on a freezing cold February day. Two walkers found and rescued a dog in Ireland's Wickow Mountains on the weekend. The dog, called Naoise (pronounced Neesha), had been alone in the snowy mountains for two weeks before she was found by chance.
The two dog rescuers, Ciara Nolan and Jean-Francois Bonnet, were out for a walk when they spotted Naoise. "It was a very bad day," said Jean-Francois on East Coast FM's The Morning Show (opens in new tab). "It was cold, snowy, windy and the visibility wasn't great. We were almost at the top when my girlfriend Ciara screamed 'there is a dog, there is a dog', and the poor thing was curled up against a rock. She was petrified, freezing cold. She didn't have the energy to bark or stand."
The couple wrapped the dog in warm clothes and carried it back down to safety. "We tried to get her to walk, she couldn't stand," said Jean-Francois. They used a scarf to attach Naoise into a backpack, to make the four or five hour walk back to the road.
Naoise's owners could not believe the news when they got a call from Ciara, saying that she had their dog. Erina O'Shea Goetelen and her family had lost two dogs in the Wicklow Mountains, who were off a lead and bolted when they saw a deer. Although one dog was found after a few days, they had given up hope on Naoise after two weeks.
Mount Anville Secondary School in Dublin tweeted about past student Ciara's rescue efforts:
Well done to Ciara Nolan past pupil of 2006, who, along with Jean Francois Bonnet rescued a dog called Naoise, on Lugnaquilla last Saturday. Naoise, had gone missing two weeks earlier in the mountains. After a fortnight missing, the owners are thrilled to get her back. Great news pic.twitter.com/SnLMgwcd67February 8, 2021
Apparently, the eight year old Labrador had lost one-third of its body weight while on the mountain, and had developed dermatitis, but has been improving since her return home. She is "doing well, wagging her tail here now" said Ms O'Shea Goetelen, but isn't quite ready to go back out for more walks yet.
An adventure writer based on Dartmoor, England, Emily is an active member of Mountain Rescue and a summer Mountain Leader, but loves all things adventure – before her third birthday she had lived on three continents. Founder of Intrepid magazine, she works to help break stereotypes about women in the outdoors. Her expeditions have included walking all Dartmoor's 119 tors in a single two-week outing, cycling to Switzerland and back, and riding the Rhine from source to sea.
All the latest inspiration, tips and guides to help you plan your next Advnture!
Thank you for signing up to Advnture. You will receive a verification email shortly.
There was a problem. Please refresh the page and try again.