Enjoy the great outdoors with National GetOutside Day
Ordnance Survey is encouraging us all to ask someone out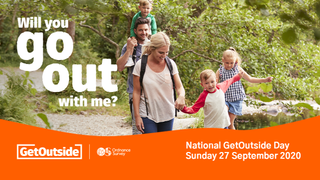 (Image credit: Ordnance Survey)
One of the few things we can say with certainty in this most unusual, unpredictable and tumultuous year is that it is better – and even more healthy than ever – to spend more time outside than in. Happily, then, we can report that, whatever else might be cancelled, National GetOutside Day (opens in new tab) will be happening once again this year, on Sunday 27 September 2020.
The annual event – now part of the Great British Week of Sport (opens in new tab), launched this year – is a concept driven by the UK's mapping agency, Ordnance Survey (opens in new tab). The idea is simple: seize the day, as summer segues into autumn, and get outside for a walk, a ride, a run, a paddle, a skip… whatever you want to do. But do it outside.
If you need some inspiration, Ordnance Survey's free GetOutside app (opens in new tab) is full of ideas and suggested routes, arranged and searchable by location and by activity type. The OS Maps app (opens in new tab) is another great place to head in order to start planning an outdoor adventure in the great British outdoors, where you can breathe freely and there's unlimited space to keep socially distant.
For more information about what the day entails, check out some of the GetOutside action from last year (opens in new tab).
"Obviously it's going to be a little different to previous years, but the one thing that hasn't changed, is the importance of being outside for our own physical, social and mental wellbeing," says Ordnance Survey's Liz Beverly. "The outdoors is a safe a place as any right now, so we're making it our mission to encourage everyone to get outside safely…following government guidelines of course."
"Celebrating National GetOutside Day is an ideal opportunity for us all to reassess our lifestyles and think about whether we have got the balance right," Beverly adds. "With government guidance changing all the time, this year is not about organising big events or encouraging others to join group gatherings. It's about staying safe, having fun, getting a good dose of fresh air and perhaps finding some of the paths less trodden.
"For some of us we may feel safer doing this on our own, for others this may be in a family bubble or inviting a friend to join us. The Great British outdoors has so much to offer, so let's make sure that everyone knows there's something and somewhere out there for us all to enjoy."
To get involved, visit the Ordnance Survey (opens in new tab) website, sign up (opens in new tab) and let them know what you have planned (which means you can also enter into a draw to win the 'Ultimate Adventure Bundle' (opens in new tab) from OS, which features a set of family jackets from Craghoppers, a brand new Land Rover Explore R phone, a 12-month OS Maps subscription, a GB picnic blanket, a Great British Adventure Map, a Badminton, Tennis and Volleyball set for the whole family to enjoy, plus GetOutside camping mugs and GetOutside t-shirts.
Writer, editor and enthusiast of anything involving boots, bikes, boats, beers and bruises, Pat has spent 20 years pursuing adventure stories. En route he's canoed Canada's Yukon River, climbed Mont Blanc and Kilimanjaro, skied and mountain biked through the Norwegian Alps, run an ultra across the roof of Mauritius, and set short-lived records for trail-running Australia's highest peaks and New Zealand's Great Walks. He's authored walking guides to Devon (opens in new tab) and Dorset (opens in new tab), and once wrote a whole book about Toilets (opens in new tab) for Lonely Planet. Follow Pat's escapades here (opens in new tab).
All the latest inspiration, tips and guides to help you plan your next Advnture!
Thank you for signing up to Advnture. You will receive a verification email shortly.
There was a problem. Please refresh the page and try again.