New global trail running championship series announced
The UTMB World Series will bring the world's top runners to Chamonix in France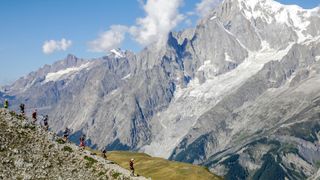 (Image credit: Ultra-Trail du Mont-Blanc)
The world of competitive trail running will be getting a lot more sophisticated next year.
The Ultra-Trail du Mont-Blanc (UTMB), one of the world's premier trail running races since its inception in 2003, is creating a new global championship series that will conclude with the UTMB World Series Final in Chamonix, France. And to pull it off, the French UTMB organization is partnering with the US-based Ironman Group that operates a similar international series for triathlon that culminates in a global championship in Kona, Hawaii, every year.
The original UTMB race, a 170 km competition around the Mont-Blanc massif through parts of France, Italy and Switzerland, grew quickly into one of the world's premier trail running races. Through the years, additional race distances were added to create a weeklong trail running festival that drew as many as 7,500 runners and thousands of spectators in each of the 10 mountain villages on the course. But each of the races was increasingly hard to enter as the global demand surged as trail running grew in popularity.
Starting in 2022, the new UTMB World Series will bring together many of the world's top trail running events that will serve as qualifiers for new championships in three key distances – 50 km (31 miles), 100 km (62.1 miles) and 100 miles (160.1 km). Those distances will align with the UTMB's heralded OCC 50km, CCC 100 km and UTMB 100-mile races that culminate in Chamonix every August. (The other races in the UTMB festival – the 42 km MCC, the 119 km TDS and the 300 km PTL – will remain unchanged outside of the UTMB World Series.)
Entry to the UTMB World Series Finals in Chamonix can only be achieved by participating in a UTMB World Series qualifier event or one of the new UTMB World Series Majors, a series of three yet-to-be-unveiled continental championships in the Americas, Europe and in Asia/Oceania.
The top 10 male and top 10 female runners in each of the 50K, 100K and 100M categories at the UTMB World Series Majors will win a place for the next edition of the UTMB World Series Finals race of the same category in Chamonix, along with the top three men and women in each of those race categories at the global series of UTMB World Series qualifiers.
"I view it as a healthy step forward as our sport moves into a prosperous future," says US trail runner Dylan Bowman. "UTMB has always been the gold standard in event production and the UTMB World Series will bring an elevated race experience to trail runners around the world. Quite simply, trail running changes lives. I view this is an opportunity to bring that gift to more people, while staying true to the spirit and culture that makes the sport so special."
The previous Ultra-Trail World Tour, which the UTMB organization had assembled over the past six years as a points series with dozens of international races, will be terminated after 2021. The new UTMB World Series will be based on respect and inclusivity for people, protection of the environment and a solidarity of the trail running community, says Catherine Poletti, President of UTMB Group and co-founder of the UTMB race along with her husband, Michel Poletti.
"After 18 years of history that has seen UTMB become known around the world, it has become a brand that not only carries the sporting values of trail running but also fundamental human values," she says. "More than ever, we want to share this with as many people as possible and allow everyone to participate in an event organized in the same spirit – and with the same quality standards – as the UTMB Mont-Blanc."
The full calendar of 2022 UTMB World Series races will be announced later this year, but it will include hundreds of races. So far, the confirmed events include Val d'Aran Pyrenees (opens in new tab) (Spain), Thailand by UTMB (opens in new tab) (Thailand), Panda Trail (opens in new tab) (China), Gaoligong (China), Tarawera Ultramarathon (opens in new tab) (New Zealand), Ultra-Trail Australia (opens in new tab) (Australia) and Mozart 100 (opens in new tab) (Austria).
The UTMB organization admits it will rely on the Ironman Group to help build and grow the UTMB World Series, especially in North America. In addition to triathlons, the Ironman Group also owns and operates numerous trail running races, mountain bike races and road running races.
"I think a big part of the power of what we're trying to do is, is to take advantage of the unique capabilities that both organizations have," says Andrew Messick, president and chief executive Officer for The Ironman Group (opens in new tab). "I think that what we're looking to do is to, while working with the Polettis to define the standard of what constitutes an amazing transformative life-altering trail running experience, is to use our capabilities to either create or find races that we think have the ability to capture that ineffable trail running experience."
Elite international trail running athletes expect to benefit by way of additional exposure, prestige and structured competition the series is expected to bring. While prize money has not been included in most big trail running races around the world, there is likely to be a prize purse in the new UTMB World Series Finals.
"UTMB Mont-Blanc is already the race everyone wants to be at because of its quality," says Japanese runner Kaori Niwa, who place fourth in the women's race at the 2017 UTMB and won the women's division at the Oman by UTMB race in 2019. Now we have the opportunity to experience UTMB-quality races around the world. I am so excited to have more UTMB races, especially in Asia with this new UTMB World Series."
Some runners and race directors have expressed concern about the quasi-monopolization of the sport, but many are encouraged by the possibilities the new arrangement could bring.
"I am really excited about the UTMB World Series and the evolution of our sport," he says. "I hope the Series will create a competitive racing platform for elite trail runners to showcase their talents and get the recognition they deserve."
All the latest inspiration, tips and guides to help you plan your next Advnture!
Brian is an award-winning journalist, photographer and podcaster who has written for Runner's World, The Times, Outside, Men's Journal, Trail Runner, Triathlete and Red Bulletin. He's also the author of several books, including Kicksology: The Hype, Science, Culture and Cool of Running Shoes. He lives in Boulder, Colorado, and loves to run, bike, hike, camp, ski and climb mountains. He has wear-tested more than 1,500 pairs of running shoes, completed four Ironman triathlons, as well as numerous marathons and ultra-distance running races.
All the latest inspiration, tips and guides to help you plan your next Advnture!
Thank you for signing up to Advnture. You will receive a verification email shortly.
There was a problem. Please refresh the page and try again.