New recreational trail traverses New York
Empire State Trail spans 750 miles, connecting 200 breweries across the state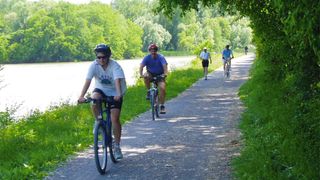 (Image credit: Empire State Trail/State of New York)
After nearly four years of planning and construction, the Empire State Trail has opened as one of the longest multi-use state trails in the US.
The three-pronged trail spans 750 miles across the state of New York, stretching from the southern tip of Manhattan to the Canadian border in the both the northern and western parts of the state. The north-south section runs from New York City to Lake Champlain and is bisected by the east-west segment that follows the Erie Canal between Buffalo and Albany.
The new recreational trail was developed to provide a safe and scenic pathway for New Yorkers and tourists to experience the state's varied landscapes. Roughly 75 percent of the route is comprised of off-road trails ideal for trail running, hiking, cycling, cross country skiing and snowshoeing.
The Empire State Trail is expected to draw 8.6 million residents and tourists annually.
"Nearly four years ago, we announced plans to build the Empire State Trail and I am excited to announce it's been completed on time and will open on New Year's Eve," New York governor Andrew Cuomo said. "There's no trail like it in the nation. Not only does it provide an opportunity to experience the natural beauty and history of New York, but it also gives New Yorkers from every corner of the state a safe outlet for recreation as we continue to grapple with the Covid-19 pandemic."
The Empire State Trail connects the popular Hudson River Valley Greenway, Champlain Valley and Erie Canalway Trail while providing access to numerous parks, waterways and other natural escapes, including Buffalo State Park, Fort Ticonderoga, and the Montezuma National Wildlife Refuge. The state launched a website with an interactive map of the Empire State Trail as well as a list of activities available for both on and off the trail.
In an attempt to further help with the grappling of the pandemic, state officials have partnered with roughly 200 craft breweries within a 10-mile proximity of the trail to create the Empire State Brewery Passport – meaning not only can you walk across the state, but you can also expect sufficient access to beer along the way.
The trail is open year-round and between residents and tourists is expected to draw crowds of almost nine million annually, which makes it sound like the kind of thing you'd generally try to avoid during a pandemic, though it is entirely outdoors (obviously) and 750 miles leaves plenty of room for social distancing.
"The Empire State Trail is a testament to Governor Cuomo's vision to make New York State an unmatched destination for outdoor recreation," said Erik Kulleseid, commissioner of New York State Parks. "Everyone from the most experienced long-distance cyclists to family groups with children will enjoy this pathway. People can take a quick bike ride or walk close to home, or they can plan a multi-day adventure to take them from one end of the state to the other."
The Empire State Trail joins several other completed or under-construction long-distance trails across the US that are contained entirely within a state's borders, including the Buckeye Trail (1,444 miles, Ohio), California Coastal rail (1,200 miles, California), Ice Age Trail (1,200 miles, Wisconsin), Iditarod Trail (1,025 miles, Alaska), Florida Trail (1,000 miles, Florida), Mountains to Sea Trail (1,000 miles, North Carolina), Idaho Centennial Trail (883 miles, Idaho), Arizona Trail (825 miles, Arizona), Oregon Desert Trail (730 miles, Oregon), Finger Lakes Trail (558 miles, New York), Bay Area Ridge Trail (500 miles, California) and Colorado Trail (483 miles, Colorado).
All the latest inspiration, tips and guides to help you plan your next Advnture!
Brian is an award-winning journalist, photographer and podcaster who has written for Runner's World, The Times, Outside, Men's Journal, Trail Runner, Triathlete and Red Bulletin. He's also the author of several books, including Kicksology: The Hype, Science, Culture and Cool of Running Shoes. He lives in Boulder, Colorado, and loves to run, bike, hike, camp, ski and climb mountains. He has wear-tested more than 1,500 pairs of running shoes, completed four Ironman triathlons, as well as numerous marathons and ultra-distance running races.