Nine run relay of 1000 miles in just a week
By Fiona Russell published
Pyllon Endeavour 2021challenge raises awareness and funds for Scottish mental health charity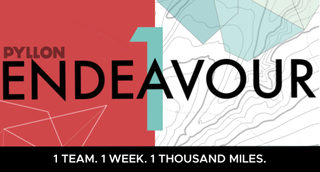 (Image credit: Pyllon)
A team of nine ran a continuous relay over just one week to complete more than 1000 miles. Pyllon Endeavour 2021 raised awareness and funds for mental health charity, SAMH.
Organiser Paul Giblin, who is the founder of Pyllon (opens in new tab) coaching, said: "We knew it would be harder than it looks on paper and we all had some low points, particularly after doing one of the late night or early morning shifts, but we were determined to finish the whole week.
"We actually passed through 1000 miles and 100,000ft earlier than expected, however we felt it was important that we still contributed to the great platform and community support we'd built and we wanted to raise as much awareness about mental health as we could."
The team has so far raised more than £6000 for SAMH, the Scottish Association for Mental Health.
Pyllon Endeavour 2021 took place during the third week in January. Paul explained: "It's widely understood that the third week of any year is the lowest time for many, with depression and anxiety at a high.
"If you add to that the continued lockdown conditions and Covid fear, we feel it's especially important to offer signs of hope and humanity returning.
"As we all know too well, many people suffer mental health problems without ever asking for help.
"We wanted to run to support our local mental health and wellbeing charity SAMH. They do incredibly important work and we hoped to raise awareness of what they do, as well as funds. SAMH offers support to people who are struggling with their own mental health."
1000-plus miles run locally
The team of nine included Paul, Graham Connolly, John Connolly, Marco Consani, Chris Cowley, Grant MacDonald, James Stewart, Robert Turner and Kaz Williams.
They ran 168 miles as a non-stop relay. The total over the week was 1188.6 miles with an elevation gain of 120,372ft, which is more than four times the height of Everest.
The runners remained in their local areas so as to stay within the Scottish Government Covid-19 pandemic restrictions guidelines.
They reached their target of 1000 miles with a day still to go. Paul said: "It was a successful week and it all went really well.
"The commitment from the whole team was steadfast from the first midnight miles. We chose to run beyond 1000 miles, not because we needed to or were still running with smiles on our faces, but because we said we would.
"It gave us another day to connect with people, another opportunity to make a better choice and to run alongside every pain, grievance and shred of shame that we are often too scared to acknowledge.
"As well as our relay team a community of runners donated to our charity partner and also ran some support miles. In fact, they ran more than 5000 miles collectively over the week."
It's still possible to donate at Just Giving (opens in new tab).
Fiona Russell is a widely published adventure journalist and blogger, who is better known as Fiona Outdoors. She is based in Scotland and is an all-round outdoors enthusiast with favourite activities including trail running, mountain walking, mountain biking, road cycling, triathlon and skiing, both downhill and back country. Her target for 2021 is to finish the final nine summits in her first round of all 282 Munros, the Scottish mountains of more than 3,000ft high. Aside from being outdoors, Fiona's biggest aim is to inspire others to enjoy the great outdoors, especially through her writing. She is also rarely seen without a running skort! Find out more at Fiona Outdoors (opens in new tab).
All the latest inspiration, tips and guides to help you plan your next Advnture!
Thank you for signing up to Advnture. You will receive a verification email shortly.
There was a problem. Please refresh the page and try again.