President Biden restores protections to three beloved National Monuments
President Biden has reversed Trump's damaging decision to cut protections for three national monuments, preserving their precious ecosystems and cultural heritage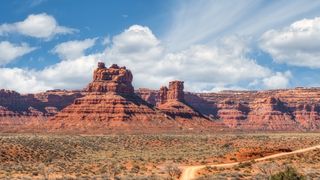 (Image credit: Mint Images)
President Biden has restored National Monument status to three beloved sites after their environmental protections were stripped by Donald Trump during his presidency.
On Friday, Biden signed proclamations to re-establish and increase the protections of Bears Ears and Grand Staircase-Escalante National Monuments in Utah and Northeast Canyons and Seamounts Marine off the coast of New England.
"These protections provide a bridge to our past, but they also build a bridge to a safer and more sustainable future," said Biden. "One where we strengthen our economy and pass on a healthy planet to our children and our grandchildren."
A National Monument can be either an area of land or a historic area that has been given permanent protection by the president through the use of the Antiquities Act. According to the National Parks Service, which manages Monuments, National Parks are areas set apart by Congress because of some outstanding scenic feature or natural phenomena, whereas monuments are areas reserved because they contain objects of historic, prehistoric, or scientific interest. Monument status ensure these areas and their resources are preserved and protected from development.
Bears Ears National Monument is a 1.35 million acre area of land in Utah, south of Moab. Having been declared by President Barack Obama in 2016, Donald Trump swiftly reduced the monument by 85 per cent a year later, making it the US's largest public lands protection downsizing in history.
Bears Ears is appropriately named due to two orange rocks that distinctively stick out above a meadow, resembling those of bear's ears. It is an area that indigenous tribes have traded for centuries, and is the only national monument erected out of the support of Native Americans.
The Grand Staircase-Escalante National Monument is also in southern Utah, closer to Zion, and was afforded National Monument status in 1996 owing to its massive geological phenomena that features high plateaus and deep slot canyons and was home to ancestral Fremont and Puebloan tribes.
Trump reduced both Monuments with a view to allowing easier access extract resources. Oil and gas drilling was the primary focus of changing the protected status of this land. Overall, around two million acres of land previously protected under these two monuments lost their protected status. Nearly 40% of the climbing and walking areas within Bears Ears became vulnerable, but now lovers of the outdoors will be able to don their hiking boots and explore this treasured terrain on foot once again.
Northeast Canyons and Seamounts Marine are about 130 miles off the coast of New England and includes four underwater mountains and three deep-sea canyons. Biden reinstated protections here and imposed new limits on commercial fishing in the area.
In an official statement, The White House said the move "is fulfilling a key promise and upholding the longstanding principle that America's national parks, monuments, and other protected areas are to be protected for all time and for all people."
All the latest inspiration, tips and guides to help you plan your next Advnture!