President Biden to review President Trump's Bears Ears National Monument changes
By Ryan Dabbs
President Biden is expected to reverse predecessor's decision to significantly reduce the national monument during his tenure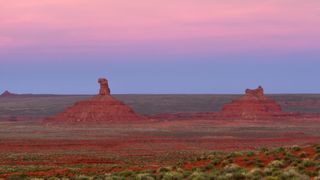 (Image credit: Getty Images)
Bears Ears National Monument is a 1.35 million acre area of land in southeast Utah. Having been declared by President Barack Obama in 2016, Donald Trump swiftly reduced the monument by 85 per cent a year later, making it the US's largest public lands protection downsizing in history.
Bears Ears is appropriately named due to two orange rocks that distinctively stick out above a meadow, resembling those of bear's ears. It is an area that indigenous tribes have traded for centuries, and is the only national monument erected out of the support of Native Americans.
Trump reduced Bears Ears National Monument, as well as the Grand Staircase-Escalante National monument in the same region, with a view to allowing easier access extract resources. Oil and gas drilling was the primary focus of changing the protected status of this land.
Overall, around two million acres of land previously protected under these two monuments lost their protected status. Nearly 40% of the climbing and walking areas within Bears Ears became vulnerable, including Hart's Draw, Valley of the Gods, and parts of Indian Creek.
The Biden-Harris administration's Plan For Tribal Nations, however, indicates that this decision will most definitely be reviewed:
"As President, Biden will take immediate steps to reverse the Trump administration's assaults on America's natural treasures, including by reversing Trump's attacks on the Arctic National Wildlife Refuge, Bears Ears, and Grand Staircase-Escalante.
"[President Biden] will provide tribes with a greater role in the care and management of public lands that are of cultural significance to Tribal Nations."
The Grand Canyon Trust have also been encouraged by Biden's inauguration and Plan For Tribal Nations.
"We're committed to supporting increased Indigenous influence over the management of 'public lands,' which are really ancestral lands, and we're excited about the leadership Native nations can bring to collaborative management at Grand Staircase-Escalante and other cultural landscapes.
"The future for Bears Ears and Grand Staircase-Escalante looks much brighter."
All the latest inspiration, tips and guides to help you plan your next Advnture!
Thank you for signing up to Advnture. You will receive a verification email shortly.
There was a problem. Please refresh the page and try again.