Mountain runner claims new record on Colorado's 14ers, misses an entire peak
Mountain runner Erin Ton announced she had set a new women's unsupported record on Colorado's 14ers, but failed to mention she hadn't done them all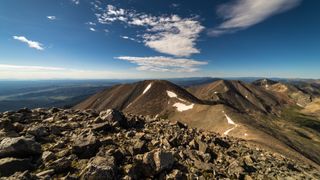 (Image credit: nick1803)
Over the last two weeks of July, tenacious 25-year-old mountain runner Erin Ton sprinted to the top of 57 of Colorado's 14ers, peaks over 14,000 feet tall, in a breathtaking effort intended to smash all previous records. On July 30 in an Instagram post, the Colorado athlete announced that she had succeeded in her goal to set a new women's self-supported 14er speed record, covering 365 miles and 159,356 feet of elevation gain in 14 days, 10 hours. A most impressive feat indeed.
Except there was one problem – Colorado has 58 peaks over 14,000 feet, not 57. Due in part to logging her progress on Strava, it quickly became apparent to her followers that Ton had skipped over Culebra Peak in the Sangre De Cristo mountain range in southern Colorado.
On August 1, two days after her final summit on Capitol Peak near Aspen, she admitted she had left out Culebra, claiming she had done so intentionally because the peak is on private property. It is one of eight Colorado 14ers that are on privately held land, but the only one she missed. The omission has set off a firestorm of debate amongst mountaineers who have levelled both criticism towards Ton for what appears to be a deliberate transgression regarding setting a Fastest Known Time (FKT), and praise for what is still undoubtedly an athletic coup.
On June 15, a month before her epic quest began, Ton posted in the Colorado 14ers.com forum announcing her FKT intentions and asking for help securing a permit.
"I'm not usually the most active on this forum, but I'm coming on here to announce that this July I plan on attempting to set a women's self-supported 14er speed record," she writes.
This would entail surpassing both the longstanding women's speed record set by Danelle Ballengee in 2000 as well as the unsupported FKT set by Daniel Hobbs in 2020, where the Minnesota athlete finished all 58 14ers in 14 days, 17 hours, 33 minutes. Ton's post to the 14ers.com revealed she was aware that she needed a permit for Culebra, and that getting one might pose a problem for her:
"I'm wondering if anybody has a Culebra reservation that they might be willing to sell? I have a couple other connections who will most likely be able to get me access to the land, but a reservation as backup would be helpful. I have a history with Cielo Vista ranch and they do not like me to say the least, so there's no guarantee even a reservation would work. Plus, I have an ethical dilemma with charging people $150 to walk up a hill and some of the other practices they engage in on the property."
The history she's referring to is a trespassing charge dating back to 2020 when she attempted a summit without a permit and was escorted off the property. The owners of the ranch claim charges were ultimately dropped and there's no evidence she would have been denied a permit if she applied for one. The practices she mentions including allowing hunters to stalk bighorn sheep on the land. She concludes her post by writing that she intends to include Culebra in her mission.
"I feel obligated to climb Culebra for the purposes of keeping the record consistent, but I'm mostly doing this for myself and to see how fast I can climb them all in a self-supported fashion."
Instead, however, Ton quietly decided to leave the mountain out of her attempt, everyone noticed, and as a result the runner's astonishingly impressive feat is not logged on the Fastest Known Times website as an FKT – for now, Hobbs still holds that record. Ton has proposed a new ABC category for 14er FKTs, standing for "All But Culebra," but for now it seems her omission has cost her the recognition she clearly sought.
All the latest inspiration, tips and guides to help you plan your next Advnture!
Julia Clarke is a staff writer for Advnture.com and the author of the book Restorative Yoga for Beginners. She loves to explore mountains on foot, bike, skis and belay and then recover on the the yoga mat. Julia graduated with a degree in journalism in 2004 and spent eight years working as a radio presenter in Kansas City, Vermont, Boston and New York City before discovering the joys of the Rocky Mountains. She then detoured west to Colorado and enjoyed 11 years teaching yoga in Vail before returning to her hometown of Glasgow, Scotland in 2020 to focus on family and writing.