Hiking 14ers: how to stay alive when you're bagging peaks
Hiking 14ers is an exhilarating mountain pursuit in the summer, but carries extra risk and requires special preparation for safety and success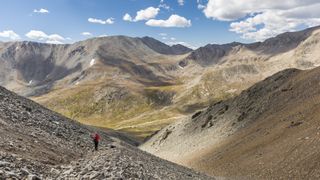 (Image credit: Will McKay / Aurora Photos)
Peak bagging at high elevation is an exhilarating mountain pursuit, but hiking 14ers also requires extra special preparation and caution to keep you safe. It's also one to save for the summer – but that doesn't mean you can't start planning a trip now.
Even if you're a regular hiker, you should never just throw on a pair of trainers and head up a 14er unprepared. Hiking at high altitude affects different people differently and means more extreme weather conditions, and it can be easier to get lost once you're up above treeline.
In this article, we set out not to scare you, but to impress upon you the risks of hiking 14ers, and provide you with some tips to approach hiking 14ers safely. After all, hiking a 14er safely provides a fun and exciting challenge and will deliver the best views around from the summit.
What is a 14er in hiking?
A 14er is simply the common term for any mountain over 14,000ft tall. A general rule is that a summit must have at least 300 feet of elevation above the lowest contour line encircling it to qualify, but even this rule varies from state to state which is why you will see different numbers depending on your source.
Using the 300 foot rule, there are generally thought to be 96 14ers in the United States. The vast majority of them are in Colorado which clocks in with a whopping 53 14ers spread out over 12 different mountain ranges across the state, while Alaska comes in second with an impressive 29, including America's highest peak, Denali. California is home to 12 14ers while Washington state has just two.
Is it hard to hike a 14er?
Generally speaking, yes, it is hard to hike a 14er. Climbing California's 14ers often requires technical climbing and scrambling to get to the summit require climbing whereas Colorado's range from moderate hiking on well-marked trails to deadly knife edge ridges requiring ropes. Though the different routes span all the different hiking difficulty levels, they all pose a certain level of challenge that you don't experience hiking at lower elevations, mostly due to the rocky terrain and unpredictable, extreme conditions.
Are 14ers dangerous?
Hiking in and of itself carries some risk, from weather and possibility of falling and getting injured to rare wildlife encounters, and hiking 14ers certainly adds to that risk. People die hiking 14ers every year.
There are a few factors that add to the risk level of hiking 14ers and the first one is the most obvious: altitude. Altitude affects everyone differently. Some people barely notice the effects beyond swollen fingers and shortness of breath, while other people are susceptible to altitude sickness which can make you disoriented and be fatal.
Next there's the question of weather, which is more unpredictable up high, and more extreme. Rain and snow storms, high winds and lightning all make for even more treacherous conditions on a 14er. Mountain tops experience colder temperatures than land at sea level and their mass can actually influence weather patterns, forcing air to move over the barrier it creates and causing meteorological instability.
Finally, it's often easier to get lost on a 14er than on a trail through the woods. Though treeline (the elevation at which trees stop growing) varies from one region to another, any 14er is bound to take you up above it. Once you leave the trees, any soft, well-maintained path tends to give way to boulder fields where you have to rely on rock cairns to navigate. This is tricky and a bit disorienting, and many unsuspecting hikers have spent an unplanned night out in the cold as a result.
How long does it take to hike 14ers?
How long it takes to hike a 14er varies drastically depending on the length and difficulty of the route. As an example, Handies Peak down in southwest Colorado requires only 5.3 miles of hiking out and back and 2,500ft of elevation gain, so a fit hiker might be able to complete it in a couple of hours. Up in Rocky Mountain National Park, however, Longs Peak is a gruelling 14.8 miles with 5,500ft of elevation gain and takes even the fittest hikers most of the day. It also has the highest failure rate of any Colorado 14er.
Regardless of the trip length, what's important to know is that you'll almost certainly hike more slowly at high altitude than on lower elevation hikes, so you'll want to plan to start earlier and leave more time.
Can a beginner climb a 14er?
Technically, there are some 14ers, particularly ones in Colorado near the Front Range, that a beginner may be able to hike. But in general, it's not recommended unless you are very fit, well acclimated to altitude, and in the company of experienced hikers or a guide familiar with the route.
The best approach is to start training at lower altitudes. By that we mean start hiking regularly on trails that don't take you up too high to build strength, confidence and endurance and get a feel for how much water, snacks and pit stops you need.
Gradually increase the length and elevation of your hikes if possible. Colorado, California and Alaska all have lots of 13ers that you can attempt before graduating to a 14er. Then, when you're ready to try a 14er, start with a more beginner-friendly one. If you're in Colorado, you can start with our list of easiest 14ers for ones that aren't too long or demanding.
All of this doesn't have to take years. In fact, a good approach would be to set a goal to hike your first 14er by the end of the summer while the weather is still nice, and spend the summer slowly training. That way you'll be amply prepared, which reduces the chances of becoming discouraged if you start out unprepared and don't make it to the top.
Hiking 14ers: what to know before you go
If after reading all of this, you're ready to set off on your first 14er, read through the following advice for tips on when to go, what to wear and how to prepare.
Acclimate to altitude first
In addition to physical fitness, you'll want to be acclimated to high altitude before you start trying to hike in it. If you already live at high elevation, this isn't a problem, but if you're visiting from a low lying area then you'll want to give yourself a minimum of several days to acclimate, and the longer the better. Many people experience shortness of breath at 8,000ft and this will only become worse as you start to climb a mountain. Read more in our article on training for hiking at high altitudes. If you only have a weekend, it's advised to find a hike that isn't a 14er.
Know your route
Every 14er has multiple routes to the summit while many trails are unmarked. Some can add many more miles or require technical climbing, so make sure you known which route you're taking up and down and have studied it in advance. It can be a good idea to write out an special markers or instructions for when you come to a crossroads.
Only hike 14ers in summer
Hiking season at high elevations is already short, often only lasting from June to September or October, while 14er season is really best kept to July and August. It's not unheard of for people to hike 14ers outside of these months, but it's also not a good idea. At that altitude, there may be snow year round while July and August are the best chances to find clear trails.
Check the weather forecast
We can't stress this enough. Conditions can deteriorate quickly above 14,000ft and you don't want to be up above treeline if there's any possibility of lightning – there is nowhere to hide. In one 2015 incident, 15 people were struck by one bolt of lightning on Mount Bierstadt in Colorado. Check the weather forecast on the mountain using a reliable source on the morning of your intended hike. If there is any possibility of rain, snow or lightning that day, do not attempt to hike.
That sounds limiting, but states like Colorado and California are known for having pretty spectacular weather, so as long as you stick to the summer-only rule, you'll have lots of opportunities to hike 14ers.
Leave ultra early
Part of hiking 14ers responsibly entails setting off spectacularly early. Not only does this help you account for the slower pace, but in states like Colorado, thunderstorms tend to roll in after 12pm in the summertime. As a general rule of thumb, you want to have summited and be back below treeline by 12pm. That means if you expect it to take you four hours to summit, you should really be on the trail no later than 6:30am to give you time to rest at the top. Often, you will be setting out in the dark so pack a headlamp for the first part of your hike. It can make for a tough start to the day, but there's nothing quite like hiking up a mountain with the rising sun.
Don't hike alone
We're definitely not advocating for clogging up the trails in a large group, but because of the added risks of hiking 14ers, it's best not to attempt one alone. Hiking with one or two other people is ideal, and while you're at it, follow the principle of No Hiker Left Behind and stick together. If one person has to turn back, everyone turns back.
You should also tell someone where you are going and agree on a time to check in with them and confirm that you are safe.
Wear appropriate footwear
Sounds obvious, but every summer there are people out on 14ers in flip flops, Converse shoes, Doc Martens, you name it. For hiking 14ers, you need sturdy hiking boots or a pair of the best hiking shoes with proper soles (look for Vibram soles) and protection from rocks and the elements.
Dress in layers
You'll need a bit more protection for standing at the top of a 14er than you might on a lower elevation hike. Only during the hottest summers can you get to the summit and not need to be pulling on a windproof layer, and even when it's warm down low you might want a hat and gloves at the top. Read our article on layering for hiking, and pack extra clothing for the summit.
Drink extra water
Hiking will dehydrate you if you're not careful even at the best of times while dry mountain air only makes it worse. It's a good idea to chug a bottle of water at the car before you even set off, then carry a full bottle or hydration pack for the hike, more if it's an especially long one.
Don't get too attached to reaching the top
Finally, don't let your ego take you into dangerous situations. We understand the disappointment that can be wrapped up in not making it to the top of a 14er after lots of careful training and planning, but not reaching the summit is not failure. There are always incredible views from many points on a 14er, and there's no shame in turning back early. You'll still get a great day out of the experience.
All the latest inspiration, tips and guides to help you plan your next Advnture!
Julia Clarke is a staff writer for Advnture.com and the author of the book Restorative Yoga for Beginners. She loves to explore mountains on foot, bike, skis and belay and then recover on the the yoga mat. Julia graduated with a degree in journalism in 2004 and spent eight years working as a radio presenter in Kansas City, Vermont, Boston and New York City before discovering the joys of the Rocky Mountains. She then detoured west to Colorado and enjoyed 11 years teaching yoga in Vail before returning to her hometown of Glasgow, Scotland in 2020 to focus on family and writing.