Scottish running club defeat 222 mountains in a single day
Hill running club race to reach the summit of 222 iconic peaks in Scotland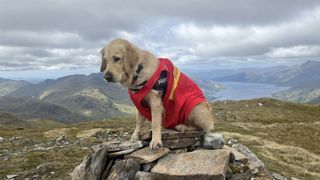 A running club has pulled off an impressive in-a-day challenge in the UK's mountains. Members of Carnethy Hill Running Club came together to reach hundreds of summits in a list of some of Scotland's tallest peaks.
The goal was all of all 222 Corbetts, which are defined as Scottish mountains between 2500ft (762m) and 3000ft (914.4m) and with a drop all around of 500ft (152.4m). The mountains are named after the list compiler, J Rooke Corbett.
On Saturday May 28, 200 runners made it to the summits of all these mountains and claimed a first-ever achievement.
In 2021, Carnethy Hill Runners, based near Edinburgh, completed a similar day challenge, reaching the summits of all 282 Munros.
A running first: Corbetts in a day
While there are more Munros, which are taller at 3000ft or more, the Corbetts are described as a tougher goal.
The Corbetts are spread geographically from two on the Isle of Rum, in the west, to Mount Battock in the region of Angus in the east, south to Merrick in the south-west in Dumfries & Galloway and north to Beinn Spionnaidh in Sutherland.
Club president Mark Hartree is very proud of the achievement. He says: "Doing all the Corbetts in one day was a much greater challenge than the Munros. It was a big task logistically and the Corbetts are spread out further across Scotland, so we needed more people to take part in the day.
"The Corbetts have far fewer paths and they often require people to run and walk over very rough terrain and vegetation. I am extremely chuffed that we were successful."
It's a first: all the Corbetts in a day
The Carnethy Hill Running Club challenge started early on May 28 when runner Ross Christie reached the summit of Meall t-Seallaidh (Tyndrum) at 1.28am.
The final Corbett Creag Mhòr was summitted by Steven Fallon at 7.43pm. This meant the total duration of the Corbetts in a day was 18 hours and 15 minutes.
Two club members Nicki Innes and Ken Fordyce were vital logistical leads. There were also regional leaders who helped to organise different "missions" and to collate ticked off Corbetts as the information came through.
Nicki, who summitted two Corbetts early in the day, before turning her talents to collating other people's results, says: "There was a lot of organising, mapping and leadership behind the scenes. It was a huge task that took about six months to organise. We also knew we would need plenty of people to reach all the Corbetts.
"We organised everyone into different missions – there were a bout 120 missions – and different regions, too. In the end we had about 200 people with a fairly even gender split."
Busy throughout the day, the logistics teams kept tabs on the Corbetts being summited. Runners sent a photo and a note from their Corbett to prove they had made it.
Nicki says: "The final two hours of the challenge were the most exciting as we checked and double-checked that all the Corbetts had been bagged – and then waited for the final summits to be called in. It was great to see it all going to plan."
The Corbett in a day baggers
The age range of the baggers extended from a baby of six months, carried by parent John Busby, to former club president Keith Burns, who is 80. For some club runners, it was their first Corbett, while others are very experienced mountain baggers.
Some outings were long and remote including:
30-mile outing to the wilderness area of the Knoydart peninsula in north-west Scotland
26-mile run to reach two Corbetts in Glen Tromie in the Highlands
26-mile adventure in the Fisherfield Forest to bag three peak
22-mile run and hike with a total of 10,500ft to reach six Corbetts in Glenfinnan, also in the Highlands region
21-mile run in the Cainrgorms to summit two Corbetts.
Mark says: "The Corbetts are well known for being a much tougher task than the Munros. There are far fewer paths and and the terrain is usually very rough.
"The Corbetts are also often single mountains and spread out and many are remote. Everyone got to experience during the challenge how rough and challenging the less trodden Corbetts are."
Eleven Carnethy runners were also at the Isle of Jura fell Race, where Finlay Wild set a new course record of 2:58:09. First female and first finisher for the club was Jasmin Paris in 04:10:35. Andy Fallas was first MV40 and fifth overall in 03:35:05, while Stewart Whitlie took first MV60 place in 04:14:28.
The race route includes the island's only Corbett, Beinn an Oir, where Stewart took a selfie photo to prove he had reached the top.
Another island outing was a 23-mile run to four Corbetts on Arran.
Mark says: "The aim of this challenge, just like the Munros round, was a club participation event. We wanted it to be inclusive and for everyone in the club to feel that they could take part. We did just this with such a wide age range and different experience and fitness levels. It was such a great day."
All the latest inspiration, tips and guides to help you plan your next Advnture!
Fiona Russell is a widely published adventure journalist and blogger, who is better known as Fiona Outdoors. She is based in Scotland and is an all-round outdoors enthusiast with favourite activities including trail running, mountain walking, mountain biking, road cycling, triathlon and skiing, both downhill and back country. Her target for 2021 is to finish the final nine summits in her first round of all 282 Munros, the Scottish mountains of more than 3,000ft high. Aside from being outdoors, Fiona's biggest aim is to inspire others to enjoy the great outdoors, especially through her writing. She is also rarely seen without a running skort! Find out more at Fiona Outdoors.