New Ramsay Round record set
Finlay Wild sets stunning new FKT on Scotland's rough-and-rugged Ramsay Round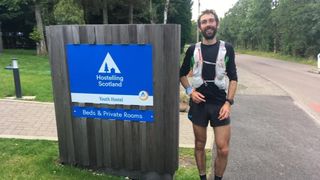 (Image credit: Finlay Wild)
Scottish trail- and mountain-runner Finlay Wild has taken a monster bite out of the previous Fastest Known Time (FKT) record for the Ramsay Round, completing the ferocious 58-mile (92km) circuit of mountains in the Scottish Highlands in just 14 hours, 42 minutes and 40 seconds.
The Ramsay Round – one of the big three rounds in Britain, along with the Paddy Buckley and the Bob Graham – sends runners to the summit of 24 major peaks in the Scottish highlands, including Ben Nevis, the Aonachs, Grey Corries and the Mamores.
On the last day of August 2020, Finlay ran the rugged round – solo, and completely unsupported – a full hour and a half faster than the previous record, set by Es Tresidder in 2019. When Ed set his record, he beat Jasmin Paris' earlier fastest known time for the Ramsay Round by just one minute.
As well as a couple of selfies captured in the midst of his amazing mountain marathon, Finlay, who posts images and stories on his highly inspirational site Go Mountain Goats, has sent us a photo of all his gear and supplies spread out on his floor – perhaps unsurprisingly, the majority of it was food.
This was the Mountain Equipment–sponsored athlete's first attempt at the Ramsay Round, but Finlay – who works as a GP when he's not running trails – is well known on the ultra-running circuit, and he has previously won the annual Ben Nevis Race multiple times.
With the vast majority of races currently on hold or cancelled for the year, Finlay – like many other elite runners – has set his sights on different challenges this year, including setting new solo fastest known times on some of his local running routes.
He recently broke his own record on the Tranter's Round, completing the 58km (36-mile) cirduit, which takes in 18 Munros (and a Munro Top, Sgurr an Lubhair) and features more than 6100m (20,000ft) of ascent, in just nine hours (and five seconds), taking 75 minutes off his 2016 time.
He also holds a long-standing records for running the Cuillin Ridge – having completed the traverse, which clambers over 11 munros and takes in several technical climbing sections – in under 3 hours in 2013.
And in 2019, Finlay ran the Welsh 3000s (a challenge that sends runners to the summit of 15 mountains in Wales over 3,000ft / 914.4 metres in height, including three peaks in the Snowdon range) in a time of 4 hours, 10 minutes and 48 seconds, beating the long-standing record set by Colin Donnelly in 1988. Not content with that, on the same escapade he also set a new record for the Snowdon Horseshoe.
All the latest inspiration, tips and guides to help you plan your next Advnture!
Author of Caving, Canyoning, Coasteering…, a recently released book about all kinds of outdoor adventures around Britain, Pat has spent 20 years pursuing stories involving boots, bikes, boats, beers and bruises. En route he's canoed Canada's Yukon River, climbed Mont Blanc and Kilimanjaro, skied and mountain biked through the Norwegian Alps, run an ultra across the roof of Mauritius, and set short-lived records for trail-running Australia's highest peaks and New Zealand's Great Walks. He's authored walking guides to Devon and Dorset, and once wrote a whole book about Toilets for Lonely Planet. Follow Pat's escapades on Strava here and instagram here.