Sabrina Verjee: the record-breaking woman who ran up 4 Everests in 5 days
A fourth attempt in less than two years ends in success for top ultra runner Sabrina Verjee on famous English fells round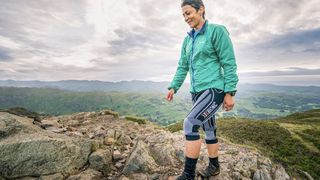 (Image credit: Steve Ashworth)
It took Alfred Wainwright 13 years to walk and produce his series of guides to what are now known as the 214 Wainwright Fells in the English Lake District.
For most people, the seven Wainwright books, called A Pictorial Guide to the Lakeland Fells, form the focus of many years of hill bagging.
Even with focus, a hiker would still expect to take 36 days to reach the summits of all the now famous Wainwrights.
Yet, this month, Sabrina Verjee, completed a non-stop round of the Wainwrights in just five days, 23 hours and 49 minutes. The ultra runner's impressive outing (see: What is ultra running?) extended to 525km (326 miles) and more than 36,000m (118,110ft) of total elevation. That is the equivalent of four ascents of the world's tallest mountain, Everest.
On June 17, Sabrina, 40, a veterinary surgeon from Cumbria, set a new record time for the fastest completion of the 214 Wainwrights, beating the previous record set by Paul Tierney in 2019 by six hours (for more on speed records for trail running, see Fastest known times: what's the big deal?
With typical modesty, Sabrina, an accomplished ultra runner, said at the finish point outside her Langdale home: "I am tired now but I am very relieved to have finally done this."
Sabrina Verjee: a gritty and determined runner
Sabrina Verjee is one of the UK's leading ultra-runners and no stranger to endurance challenges.
She has completed the five-day Dragon's Back Race in Wales – billed as "the world's toughest mountain race – three times, coming second female in 2017 and 2019. When Sabrina took part, it was a race of 315km with a total ascent figure 15,500m of ascent.
In 2019, she won the women's race in the hugely challenging non-stop Spine Race along England's 268-mile Pennine Way. She was fifth overall.
Then, last year she set a female record for the Pennine Way from north to south. Again, this route is long and includes 12,000m of ascent.
'I had become obsessed with the Wainwrights'
Despite Sabrina's obvious talent, it takes courage – and a lot of gritty determination – to set out for a record attempt of the challenging Wainwrights round. Over the past two years, Sabrina has tried three times before this attempt.
She admitted: "I confess I had become obsessed by the Wainwrights. I felt like it just had to happen. I felt I could – and should – complete a round in under six days."
Sabrina's first Wainwrights bid was halted early when Covid lockdown intervened.
In September 2020, she did complete a round. It took less than seven days but a knee injury slowed her progress in the later stages. She was also forced to accept physical assistance during some technical descents.
She set out for a third round last month. However, unseasonably difficult weather saw her battling felltop blizzards and torrential rain at lower altitudes. In addition, Sabrina's asthma flared and she abandoned the round three days in.
She said then: "The legs were fine, but I couldn't push because I couldn't breathe."
Just weeks later, feeling sure she was rested and recovered, Sabrina set out again on Friday June 11.
She said: "I spotted a weather window, asked my amazing friends if they could support me again and quietly set out for another round.
"I decided not to tell many people I was going to try for it again. I wanted to see how my body felt and I wanted to be fairly confident I would finish.
"Of course, there was a tracker that could be seen by the public but the only people I talked to about the latest round was my wonderful support team and my husband Ben Turner."
Record set on Sabrina's 4th Wainwrights bid
Sabrina said she felt "totally fine" physically during her fourth and record-breaking Wainwrights round.
She said: "I think my body has got used to this kind of challenge and I obviously know the route pretty well now. I knew what I needed to do.
"All I really had to do really was to run – and to keep running. The support people work much harder than me because they are sorting logistics, meet ups, food and water."
She added: "I knew I could keep going because I am good at endurance but I just had to hope my body would be okay. Thankfully this time it was."
Sabrina's record time is the fastest of all time. This means she has beaten previous male records on the round.
She said: "I think women are very capable of long-distance events. We might not be faster generally but we can compete on an even keel over longer distances. Then a lot of the success comes down to pacing, looking after yourself, good planning, attention to logistics and details, plus mental determination."
There were some very tough times during the Wainwrights round. Sabrina slept for only eight hours in total and she says the hardest part was the mental effect of the fatigue. She said: "The nights are much harder than the days but I have done many challenges where I am sleep deprived and I know what I have to do.
"After so many days of running in the fells and so little sleep it is obviously not going to be easy but I knew I could do it. I have a lot of experience of endurance events.
"While the weather overall was good, there were some sections that were less than ideal with very wet and windy conditions.
"As ever, I was very grateful for my friends and members of the public who turned out to support me. That really helped to keep me going. More than anything, the Wainwrights round was a brilliant way to spend even more time out on the glorious Lakeland fells in the company of good friends.
"It is always a team effort and I am grateful I won't need to ask people to support me for another round.
"After my three other attempts, I'm over the moon to have proved myself right that I could do the Wainwrights in less than six days."
Sabrina was supported by sponsors: Berghaus, La Sportiva, Petzl, Dexshell, Supernatural Fuel, Gingerbakers and Mountain Fuel.
Next on her racing agenda is the 400km eight-day Cape Wrath Ultra in the remote landscape of north-west Scotland.
All the latest inspiration, tips and guides to help you plan your next Advnture!
Fiona Russell is a widely published adventure journalist and blogger, who is better known as Fiona Outdoors. She is based in Scotland and is an all-round outdoors enthusiast with favourite activities including trail running, mountain walking, mountain biking, road cycling, triathlon and skiing, both downhill and back country. Her target for 2021 is to finish the final nine summits in her first round of all 282 Munros, the Scottish mountains of more than 3,000ft high. Aside from being outdoors, Fiona's biggest aim is to inspire others to enjoy the great outdoors, especially through her writing. She is also rarely seen without a running skort! Find out more at Fiona Outdoors.