Watch top skier jump two gnarly crevasses in a row in the Andes
Professional skier Sascha Geist effortlessly tackles an unexpected double leap during spectacular descent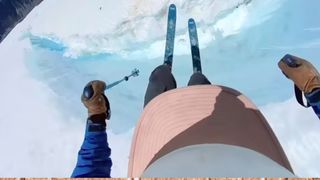 (Image credit: Powder Magazine)
You wait for ages for one crevasse, and then two come along at once. Which for most mortals would be an excuse to come to a grinding halt and give up. But top skiers are not most mortals.
Powder Magazine has captured the beautiful moment when Argentinian professional skier Sascha Geist 'billy goated' over two crevasses during a descent on the north face of Monte Tronador in the Argentinian Andes on the border with Chile. This is winter sport dialled up to 11.
'Billy goating' is one we need to add to our skiing terms for beginners: the colorful lingo of ski bros article – it's basically hopping across exposed terrain, and is slang used in MTBing as well.
According to Geist, his he began his 5am journey at Pampa Linda, ascending to the summit by 10:30am, then descended down the north face, covering 18km and gaining 2,370m in elevation on a snowy late October day in Patagonia.
To be honest, Geist's approach to the first crevasse does look a little cautious (and who can blame him?) but he makes the jump look easy when it actually happens and then the second crevasse almost immediately appears from nowhere after that… and he aces it like it's nothing.
And all in gorgeous sunlight that makes the whole thing look magical (they were presumably wearing the best ski goggles to appreciate the grandeur of mountains). So if you dream of doing descents like this, then check out our article on 3 pro tips for skiing powder confidently – we can't guarantee you'll be double jumping crevasses by Christmas, but it's a start.
All the latest inspiration, tips and guides to help you plan your next Advnture!