3 pro tips for skiing powder confidently
We went off-piste with a celebrity ski instructor and got his favorite tips for skiing powder confidently and staying in control of every turn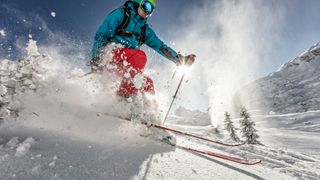 (Image credit: Jag_cz / Getty Images)
Is there anything better than a powder day? If the forecast calls for a big dump, you set that alarm early, check the report, and if there's six inches or more of fresh stuff on the ground, you're pulling your best ski jacket on and heading out the door for an epic day of face shots. At least, that's how I feel about it, but I know that skiing powder isn't everyone's cup of tea. In fact, when I lived in Vail, powder days often so a lot of east coasters scuttling for a yoga class of massage, unable to reconcile this soft, fluffy snow with their hard, icy pistes back home.
There are a few factors that make powder skiing different to skiing hardpack. First, deep snow is inconsistent and tends to obscure hazards like rocks and trees. Your skis sink into it, rather than skimming across the surface like they do on groomers, and you might find yourself accelerating out of a turn, then suddenly slowing down as you hit an area of denser snow and sitting all the way back so within minutes, your quads are on fire.
Next, in an attempt to slow down and keep control, you might end up splitting your skis much farther apart than you ordinarily would, or making more of a wedge shape with your skis. This means you can more easily lose control, and get exhausted quicker.
Finally, though it's not always the case that the two go hand-in-hand, powder days might also be accompanied by flat light, or whiteout conditions, which means you can't see what's ahead of you, or even what the snow immediately in front of you is like, especially if your ski goggles have darker lenses (switch to lighter lenses on poor visibility days). This can mean that you ski more reactively than proactively, and that can leave you lacking in confidence, which frankly is no way to go into a powder day.
All of this might sound like a pretty good argument for just going to the hotel spa until the snow stops, but I recently got to ski an extremely fresh nine inches of new snow with celebrity ski instructor Warren Smith in Verbier, Switzerland, on a press trip organized by Helly Hansen and he gave me three tips for skiing powder confidently and staying in control of every turn. They're not intended as a replacement for taking a lesson with a qualified instructor, but keep them in mind each time you ski freshies, and soon enough skiing powder might just become your favorite winter activity.
1. Recruit your adductors
Many skiers make turns with what Smith calls an "A frame" shape in their legs, which means your feet are wider than your knees leaving your skis too far apart. When you're skiing like this in powder, you increase the likelihood of awkward falls, twisting your knees, or working harder than you really need to in order to finish each turn.
"If those skis are at slightly different angles, they will go in slightly different directions. Skiing isn't golf; in golf, we've got the known. Skiing is 50% action and 50% reaction and we don't often know what we have to react to."
Pulling your skis closer together and keeping them parallel throughout the entire turn will mean you're more in control and able to react to changes in snow depth and consistency, and anything nasty that might be lurking under the surface. The muscles that you use to perform this action are your adductors, or inner thigh muscles, something Smith advises all skiers train and learn how to use in skiing.
"If you think of biomechanical symmetry in the legs, you might not become perfectly symmetrical but if you're thinking of it, it's a seed planted."
Before you get to the hill, you can work with a trainer to strengthen your adductor muscles (a good old fashioned Thighmaster isn't a bad place to start!) and when you're getting kitted out, make sure you get a professional ski boot alignment and fitting as this can be causing the problem. When you're ready to head down a pitch, start with your skis parallel and close to each other and strive to keep them that way throughout every turn.
2. Commit to the pole plant
Even the best skiers can find themselves sitting in the back seat when they hit deep powder, and as a result, you often forget about your arms – and poles – altogether and leave them trailing along behind you. Don't, says Smith. Try to stay upright through your turns and keep your arms forward of your body. If you plant your pole behind you, it's going to pull you backwards, but plant it ahead of you and lean into the turn and your skis will follow. I tried it and trust me, it takes a ton of work out of turning.
It's the same principle for skiing hardpack, of course, but Smith explains that an added bonus is that you can use your ski poles to essentially test the terrain and feel for what's about to happen under your feet.
"We can't see what's going on just ahead, but even the slight feel of a connection is going to put a split second of knowledge in your head, first as a confidence builder but also just to feel what's out there."
3. Use your core
When you're skiing deep powder in flat light, you often can't see variations in the snow ahead of you. You might be happily floating through the fluffy stuff and suddenly hit an area of much deeper snow or worse, a deep compression in the snow that you didn't see coming. You'll suddenly find your upper body pitching forward and your hips going back to counter balance your weight, which puts you in an extremely vulnerable position. However, just because you can't see these variations in the terrain, doesn't mean you can't prepare for them. The answer, according to Smith, is to properly strengthen your core before hitting the hill, and know how to engage it while you're skiing.
"Do your core work off the snow so you know how to activate it and switch it on," says Smith, who explains that this is a different sensation from what you might feel when you're holding a plank. Rather, it's your deeper core muscles such as your transversus abdominis, which you can strengthen with these core exercises.
"Have it aware and switched on and if it's working you will avoid your shoulders going forward when the pressure builds up on the front of the skis."
With your core muscles engaged, you can stay upright even when the powder feels a bit like a rollercoaster underfoot, which again will mean you're more in control, and more confident.
All the latest inspiration, tips and guides to help you plan your next Advnture!
Julia Clarke is a staff writer for Advnture.com and the author of the book Restorative Yoga for Beginners. She loves to explore mountains on foot, bike, skis and belay and then recover on the the yoga mat. Julia graduated with a degree in journalism in 2004 and spent eight years working as a radio presenter in Kansas City, Vermont, Boston and New York City before discovering the joys of the Rocky Mountains. She then detoured west to Colorado and enjoyed 11 years teaching yoga in Vail before returning to her hometown of Glasgow, Scotland in 2020 to focus on family and writing.