Skiing terms for beginners: the colorful lingo of ski bros
With our quick guide to skiing terms, we help you separate your gapers from your groomers whether you want to shred, schuss or skin on the snow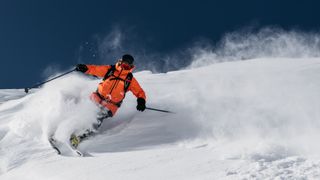 (Image credit: Craig Paterson, Justbefilms )
Skiing requires a lot of gear. You need skis, boots and bindings specific to the type of skiing you want to do, then you need a good pair of ski pants and a ski jacket to help you repel the elements plus a helmet and ski goggles for safety. Then you realistically need at least one half or full-day lesson just to get to grips with the basics of getting your skis on, stopping and turning on the hill, getting up after you've fallen down and riding the chairlift. But even with all of that, the most confounding factor of skiing has to be the lingo. What does corduroy have to do with skiing? How do you pronounce "gondola"? Why do the locals keep calling you Jerry when your name is not Jerry?!
In this quick guide, we get you up to speed on some of the basic skiing terms that you'll hear a lot around the resort, so you can separate your gapers from your groomers whether you want to shred, schuss or skin on the snow.
All mountain skis: Skis that can handle all types of conditions, from corduroy groomers to deep powder. Generally a bit wider than a racer ski and with a pronounced rockers, these skis are good for people who plan to ski all season long or in varying locations, or are just feeling a bit noncommittal.
Alpine skiing: Otherwise known as downhill skiing, alpine skiing broadly refers to all skiing that is done in a downward fashion, with fixed-heel bindings. This can include competitive events like the Giant Slalom, and just riding the chairlift up at your local ski hill and cruising down.
Après: Short for après ski, which is just French for 'after skiing', après is the common term for the after party that follows any good day of skiing and generally involves hitting a local watering hole for brewskies.
Backcountry skiing: A broad term to describe any skiing that takes place on terrain outside of a ski resort. In Europe, it is more commonly referred to as off-piste skiing. Backcountry skiing can mean hiking or skiing up a hill or mountain in order to ski – known as alpine touring – as well as riding a ski lift on a resort in order to access terrain beyond the ski area's boundary.
Black diamond: Indicates expert terrain on a ski resort, these runs will be steep, with a grade of more than 40%, and will probably be ungroomed (unless it's a race track) and may have moguls or deep snow. Beginners should give these runs a wide berth.
Blue run: Intermediate terrain, these runs will have a grade of between 25% and 40% and will usually be groomed.
Bro: Term to describe a fellow that lives for skiing and nothing else. May use the term 'rad' a lot, sport a goggle tan, and put personal hygiene and career goals on the backburner (we're not judging).
Bunny hill: A gentle slope for complete beginners and kids to get their ski legs on.
Camber: The word used to describe the arch of the middle of your skis up away from the snow. Camber distributes your weight more evenly throughout the ski and allows you to use your edges to turn properly.
Carving: A skiing technique where you cut the edges of your skis into the snow to turn, applying more pressure to the downhill ski. Feels amazing.
Catwalk: A mellow, beginner-friendly ski run that usually winds all the way down the mountain to the bottom. Typically it acts as a service road for vehicles in the summer months, and intersects blue and black diamond runs along the way giving you a chance to bail out or harder runs.
Chatter: Rattling sound and vibrating sensation your skis sometimes make. This may be caused by your skis, icy or variable conditions, or your skiing technique.
Chute: Describes a narrow sliver of snow between two rock walls that expert skiers consider an enticing proposition but is a death trap for others.
Corduroy: Freshly groomed snow, delightful to ski.
Corn snow: Common in the spring due to the freeze/that process, corn snow is formed of small grains and makes for great skiing before the day gets too warm and the snow turns sticky and heavy. Set your alarm!
Downloading: Riding the ski lift or gondola downhill instead of skiing. Common for beginners, frowned upon by rad bros, but definitely the safest option if you're exhausted.
Fall line: The most direct route down the mountain; the route a tennis ball would take if you chucked it.
First tracks: Hitting the slopes first thing, grabbing that powder and carving up the corduroy before anyone else reaches it. Some resorts charge lots of money to ride the chairlift up before it opens to the public for this privilege. Lots of ski bros just try to catch the first chair of the day to accomplish this honor.
Flat light: Snow or heavy clouds mean there is now contrast, making it difficult to see compressions and other variations on the snow in front of you. Make sure to switch to lighter lenses in your ski goggles to help with visibility when the sun isn't reaching the slopes.
Flex: Flex describes the degree of flexibility in a ski boot. Softer boots are usually preferable for beginners while expert skiers and racers tend to choose a more rigid boot.
Freeride: Skiing away from pistes or groomed terrain. Can take place off-piste at the resort or in the backcountry.
Freestyle skiing: An athletic event that is part of the Winter Olympics that entails aerials, moguls, cross, half-pipe, slopestyle and big air.
Gaper: An unkind term used by ski town locals to describe clueless skiers, usually tourists, who may overdress and underperform on the hill. Origins are disputed, may stand for 'Guaranteed Accident Prone on Every Run', refer to the gaping gap between one's ski goggles and helmet, or an overdressed skier unzipping their ski jacket, which then gapes open. To avoid being labeled a gaper, start by learning how to carry skis.
Gnar: Short for 'gnarly', describes challenging or expert conditions such as deep powder or moguls.
Gondola: Aerial transportation that gets you up the mountain in an enclosed cable car rather than an open chairlift. Pronounced 'GON-doh-la' and not 'gon-DOH-la', cabins may fit anywhere from four to 15 skiers at a time. Also called a tele-cabin in Europe.
Green run: Gentle, groomed slopes on the resort that are appropriate for beginners.
Groomers: North American terms describing ski runs that are maintained by the resort using specialized equipment on a snowcat to comb the snow. Grooming is usually done overnight to prepare the slopes for the following day. Groomers are easier to ski than powder or moguls. Called pistes in Europe.
Hard pack: Snow that has been compressed by other skiers and gravity, generally easier skiing than powder and good if you want to go zoom zoom, or stick your poles into the snow while you adjust your ski gloves or snap a pic.
In bounds: North American terms describing terrain that is managed by a ski resort, and secured by ski patrol.
Jerry: Not entirely distinct from a Gaper, a Jerry is a colloquial term describing skiers who try to pull ridiculous stunts that they're incapable of executing (this may be simply being able to stop on skis, or trying to do backflips) or even wear their ski boots on the wrong feet. Whereas the term Gaper has a hostility to it, Jerrys are seen as legends on the hill, or antiheroes, and have entire Instagram accounts dedicated to their entertaining existence.
Line: The word for your route down a slope or ski run. Learning how to pick your line is the tactical side of skiing.
Mashed potatoes: Another type of spring snow, the warmer weather gives the snow a soft, dense consistency as the day wears on. You might want waterproof ski pants for this.
Moguls: Moguls are bumps in the snow that are formed by skiers performing turns. Ski resorts leave certain runs ungroomed to allow these bumps to form to make for some challenging skiing that some consider fun. Gapers do not like moguls.
Off-piste: Any skiing that is not maintained by the resort or secured by ski patrol. In Europe, lots of off-piste skiing exists on the resorts.
Parallel turn: This technique means your skis stay parallel to each other while you turn (otherwise known as 'the French fry' in ski school) and you turn by pivoting your hips.
Park: The terrain park on a ski resort is for those rad bros who want to hit the jumps, rails, boxes, and half pipe.
Piste: European term for a ski run, or ski trail, on a resort.
Powder: More commonly referred to as 'pow', this deep, fluffy new snow that is like gold to off-piste and backcountry skiers. It can only be grabbed the day or two it falls, as after that gravity causes it to become to heavy to be called powder. Requires a drier climate such as Colorado, Utah or the Alps. Skiing powder requires fatter skis, and feels like you're floating.
Quad: A chairlift that seats four skiers at a time.
Rope tow: An old school form of cable transportation to ascend a mountain, a rope tow has no seats of gondola cabins and instead involves grabbing on to a rope that pulls you up the slope like a conveyer belt. Also referred to as the T-bar.
Run: North American term for a ski slope, called 'piste' in Europe.
Schuss: To ski straight downhill at high speed. Called 'straightlining' in North America, this technique is dangerous when there are other skiers on the resort and not recommended.
Shred: Basically slang for skiing, but usually means you're skiing hard or in challenging conditions (AKA 'shred the gnar').
Skins: Textured strips of a felt-like nylon material that you can stick onto the bottom of your skis that grip the snow so you can ski uphill. Requires an AT ski setup with free-heel bindings or telemark bindings.
Slalom: A competitive event that involves making short, fast turns between evenly spaced poles or gates.
Snowplow: Sometimes called 'the wedge' or even 'the pizza', this is pretty much the first thing you'll learn in ski school. In this technique, you push the outer edges of your skis out while turning the front tips in to create a wedge shape, or triangle, with your skis. This will definitely plow some snow, but is an effective technique for stopping quickly when the grade isn't too steep.
Tele-ing: Telemark skiing, also referred to as 'tele skiing', 'tele-ing' or 'telemarking', is a style of skiing that combines elements of both alpine skiing and Nordic skiing. Telemark ski bindings leave your heel free, which allows for both uphill travel and downhill skiing using a turning technique where one ski is forward of the other and both knees are bent, as if doing a lunge.
Touring: Also known as alpine touring, AT skiing or skinning, touring involves using special skiing equipment to climb a snow covered slope or traverse the backcountry, eschewing the lift rides of alpine skiing and using strength and endurance to get to the top of a mountain or slope.
Tracked out: Snow that has been been heavily skied on by other skiers, much to the chagrin of those seeking fresh powder.
Tree well: An area of less compacted, potentially deep snow that forms at the base of some coniferous trees. Falling into a tree well can be dangerous or even deadly.
Tuck: A technique employed by ski racers to go faster where they tuck themselves into a squatting position with their arms close to their sides.
Whiteout: Description for blizzard conditions where visibility is practically zero due to snow, fog and heavy clouds. Difficult for beginners but often accompanies fresh powder.
All the latest inspiration, tips and guides to help you plan your next Advnture!
Julia Clarke is a staff writer for Advnture.com and the author of the book Restorative Yoga for Beginners. She loves to explore mountains on foot, bike, skis and belay and then recover on the the yoga mat. Julia graduated with a degree in journalism in 2004 and spent eight years working as a radio presenter in Kansas City, Vermont, Boston and New York City before discovering the joys of the Rocky Mountains. She then detoured west to Colorado and enjoyed 11 years teaching yoga in Vail before returning to her hometown of Glasgow, Scotland in 2020 to focus on family and writing.