Cross country skiing vs downhill skiing: how do you choose?
In the quest for the perfect winter sport, we compare cross country skiing vs downhill skiing to help you decide how to spend your snow days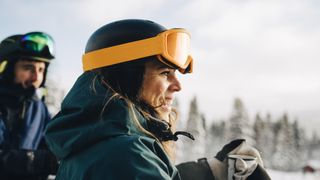 (Image credit: Maskot)
If you're lucky enough to live somewhere with lots of snow, you have options when it comes to picking a winter sport and you might be weighing up the merits of cross country skiing vs downhill skiing. Even though these two sports require moving on snow with skinny planks on your feet, they actually couldn't be more different so we're here to detail the advantages of each one to help you decide.
First, let's define the two. Downhill skiing, or alpine skiing, is the general term used for recreational skiing at resorts where you ride a chairlift to the top of a hill or mountain, ski down, rinse, lather, repeat. In cross country skiing, also known as Nordic skiing, you use your own locomotion to travel across terrain that may be flat or slightly hilly using movements like striding or skating. Cross country skiing dates back for millennia and nowadays it can be a recreational activity that takes place in the back country or at a Nordic ski resort, or it can be used as a form of transportation.
Though the debate isn't exactly heated, some purists believe that cross country skiing is the only "real" skiing, while some alpine skiers scoff at the snail-like pace of cross country skiing. But is one sport really superior to the other? Or does it just come down to what you're hoping to get out of it? We walk you through cross country skiing vs downhill skiing here to help you get the full picture.
Cross country skiing vs downhill skiing: speed
Thanks to gravity, you'll go a lot faster downhill skiing than cross country skiing. Naturally, your speed in either sport depends a bit on your skill level and technique, as well as the terrain, but in downhill skiing, your average speed is likely to be between 20 and 40mph according to NPR while in cross country skiing, you'll probably move at a more serene pace between seven and ten miles an hour.
Now, obviously faster isn't necessarily better, but if your idea of a good time is hurtling through the air at high velocity then you'll probably find cross country skiing a bit boring, and if you tend to prefer a merry-go-ride over a rollercoaster at the fair, you may find downhill skiing nauseating.
Cross country skiing vs downhill skiing: physical challenge
If you're looking for a good workout when you're skiing, look no further than cross country skiing, which has been coined the best cardiovascular exercise known to man in the book Essentials of Strength Training and Conditioning (by G Gregory Haff and N Travis Triplett) ahead of activities like long distance running, snowshoeing, cycling and rowing. Without gravity to pull you downhill, you'll have to put in some serious effort to move yourself along the trail.
Meanwhile, downhill skiing definitely strengthens your legs and is better than sitting on the couch eating chips in terms of aerobic exercise, but even on a powder day it's nowhere near as demanding as cross country skiing on your legs or lungs. In fact, once you get experienced, you can cruise green runs all day long and not really feel it. If you prefer to get your exercise in other ways like hiking and trail running and are looking for something fun to do, however, this won't be a problem for you.
Cross country skiing vs downhill skiing: terrain
In addition to the obvious distinction of slopes versus trails, when you're downhill skiing, you're limited to the terrain served by the ski lifts. Now, this terrain is often in the form of breathtaking peaks and valleys and major resorts like Vail can serve over 5,000 acres so you're not likely to feel bored on day one, and of course you can cover most of it in a day thanks to high speed chairlifts so you'll see a lot.
Because you're moving slow on cross country skis, you'll arguably see less, but you're also not reliant on ski resorts and if you have backcountry skis, you can be fairly adventurous in your exploration. That said, with classic cross country skis, steeper slopes will be mostly off limits, unless you like to do a lot of side stepping.
Cross country skiing vs downhill skiing: snow availability
All skiing relies on snow but the big ski resorts supplement nature's delivery by making their own, so even on a poor snow year, you'll be able to hit the slopes and they'll be at least okay.
Cross country skiing tends to take place at lower elevations where there may not be snow, even when the peaks are white. Now in places like Vermont, Colorado and Norway, you can always find snow worth skiing in winter so this won't be a worry, but unless you live in an area where snow is guaranteed, you may not be able to find skiable terrain for cross country skiing every day of the season.
Cross country skiing vs downhill skiing: expense
We're not here to tell you that any type of skiing is an affordable sport, especially compared to hiking and trail running. Just to get started you need skis, boots, bindings and poles, plus special clothing like ski jackets, ski gloves and goggles and all of that comes at a cost, even if you shop second hand. But with cross country skiing, the gear is definitely cheaper and once you're kitted out (our guides to the best ski jackets for men and ski jackets for women include options for all budgets) you don't have to pay to access Nordic ski centers if you don't want to. Many Nordic areas are free or come at a small cost, and you can head out into the backcountry to ski.
Resort skiing, on the other hand, requires you to buy a lift pass for every day or season that you want to ski, and these can come to the tune of hundreds of dollars a day at premium resorts. Those lifts don't run themselves so downhill skiing definitely comes with the heftier price tag.
Cross country skiing vs downhill skiing: sociability
If you're looking for a sport to enjoy with friends and family, both options are great. That said, cross country skiing really lends itself to ongoing conversation, as you and your comrades can move along the trail together at the same speed and chat, as long as you're not too out of breath to talk.
With downhill skiing, most of your social time occurs on the chairlift between runs, and the skiing itself is more of a non-verbal activity. You might enjoy the gaps in conversation and the time to yourself, however, so this isn't necessarily a disadvantage.
Cross country skiing vs downhill skiing: risk
It should go without saying that skiing is an inherently dangerous sport. Injuries common to both types of skiing are knee ligament tears, shoulder dislocations and wrist and ankle sprains, while downhill skiing also increases your risk of concussions according to Sports Health. As you can surmise, it's the velocity of downhill skiing that increases its risk. A review by Monash University in Australia estimated that cross country skiers average 0.49 injuries per thousand skier days while downhill skiers average about seven times as many injuries. If you're recovering from an injury and thinking about crossing the picket line from downhill skiing to cross country skiing, you won't be immune to injury, but your chances of injury are considerably lower.
Cross country skiing vs downhill skiing: sustainability
One last area that we think is important to consider when weighing the two sports side by side is their impact on the environment. For both sports, the purchase of all that gear puts strain on the planet and you'll want to shop sustainably and take good care of yours to make sure it lasts. But ski resorts do impose a unique environmental burden, with chairlifts that typically run on electricity, high traffic, heated streets and roofs to melt snow, never mind the environmental impact of building the infrastructure required to ship thousands of people to the resort each day.
In cross country skiing, your carbon footprint is as low as the gas it takes to get out there, and you may even be able to do it right out your front door, so it definitely wins this round.
Swipe to scroll horizontally
Cross country skiing vs downhill skiing

| Header Cell - Column 0 | Cross country skiing | Downhill skiing |
| --- | --- | --- |
| Speed | 7-10mph | 20-40 mph |
| Physical challenge | High intensity aerobic activity | Low intensity aerobic activity |
| Terrain | Flat or rolling terrain, with backcountry skis you can explore more | Mountainous terrain, but you're limited to the area served by the chairlifts |
| Snow availability | Reliant on natural snow, usually less snow at low lying areas | Ski resorts can make snow, so snow is more guaranteed |
| Expense | Gear is cheaper than for downhill skiing, no other costs involved | Gear is more expensive, plus you have to pay to ride the chairlift which is pricey |
| Sociability | Great social activity as everyone moves together | Most socializing takes place on the chairlift between runs |
| Risk | On average 0.49 injuries per thousand skier days | On average 3.56 injuries per thousand skier days |
| Sustainability | Very low carbon footprint if you take care of your gear | Resorts have a relatively high carbon footprint with heated streets and roofs, electric chairlifts and high traffic volume |
Cross country skiing vs downhill skiing: the verdict
It's clear that cross country skiing and downhill skiing are markedly different, and for the most part, which one wins really depends on what you're looking for. So perhaps the better question is, do you have to choose? Our answer is absolutely not.
Both types of skiing are a fabulous way to stay active throughout the colder months. Lots of people enjoy both of these sports and in fact, having a cross country ski set up in addition to alpine skis is a great option for the days when the resort is really busy, while having a ski pass is a life saver when there isn't much snow in low lying areas. But we will say that if you're new to skiing, don't bite off more than you can chew – pick one for your first season and focus on getting comfortable with it, then add the other type the following year.
Still undecided? If you're seeking something that has some of the merits of both types of skiing, head on over to our articles on uphill skiing and telemark skiing where you can work up a sweat in the backcountry without the lift lines.
All the latest inspiration, tips and guides to help you plan your next Advnture!
Julia Clarke is a staff writer for Advnture.com and the author of the book Restorative Yoga for Beginners. She loves to explore mountains on foot, bike, skis and belay and then recover on the the yoga mat. Julia graduated with a degree in journalism in 2004 and spent eight years working as a radio presenter in Kansas City, Vermont, Boston and New York City before discovering the joys of the Rocky Mountains. She then detoured west to Colorado and enjoyed 11 years teaching yoga in Vail before returning to her hometown of Glasgow, Scotland in 2020 to focus on family and writing.