World record pike claimed at over 58 lb!
A huge pike weighing over the International Game Fish Association record has been a major talking point across Europe.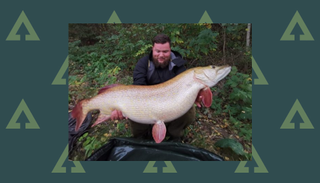 (Image credit: Angler's Mail)
Welcome to Advnture, the new home of AnglersMail.co.uk
Czech Lukas Matejka's catch is considered by many anglers – but not all – to now be the World record pike.
He caught the 133 cm-long predator, which weighed 26.7 kg (58 lb 14 oz), from a water in the Czech Republic.
It beats the previous IGFA official World record pike set by Lothar Luis, in October 1986. Lothar caught a 25 kg (55 lb 1 oz) specimen on a spoon at Lake of Greffern, in Germany.
Early this year that World record pike was beaten by Bulgarian Petar Filipov. He lured a specimen claimed to be 140 cm long with a weight of 25.3 kg.
Some UK anglers on social media thought Lukas's immense fish might have been Photoshopped or killed.
But Lukas has a video on his Facebook page that shows the immense size of the specimen, before he returned it unharmed.
Ceske Budejovice-based Lukas said: "It was a perfect morning for big fish, as it was overcast and rainy.
"I cast a rubber lure into a deeper area of the lake, and received a 'blunt chop' that made the rod crack.
"I could feel that it was a big fish, but I never imagined that it would pull the scales round to 26.7 kg. I was totally shocked.
"The fish was caught from a water in the Czech Bohemia region, and was released immediately after 'documentation'.
"The greatest joy is, of course, that the 'queen' still lives in a beautiful environment. I wish every fishermen this feeling," added Lukas.
Reactions to 'world record pike'
Pike historian Neville Fickling isn't surprised by such a World record pike claim.
Neville said: "Quite a few pike of over 50 lb have been recorded, though some have been fakes.
"It is hard to tell with this one, but it looks a very big fish, so you never know.
"Big pike are always interesting. I don't know much about the Czech Republic, but I doubt many anglers will make the journey from the UK, especially if there's just one big fish to target.
"I'm expecting the UK to produce a big pike out of the blue soon, as there hasn't been one around the 45-46 lb mark for a few years now. It wouldn't surprise me if it came from a commercial carp water.
"A lake stuffed with 2-4 lb fish is ideal feeding ground for pike, just like trout lakes.
"Besides, commercial fisheries have got a history of producing big pike, including the two 40s from Boddington Reservoir and one from Gold Valley," concluded Neville.
All the latest inspiration, tips and guides to help you plan your next Advnture!
Running from 1964 until 2020, Angler's Mail was the UK's leading weekly magazine devoted to coarse fishing, telling readers everything they needed to know about which fish to catch, where to catch them, and what kit they needed to do it. Now, loads of the magazine's expert advice can be found on Advnture.com, as a helpful resource for angling newcomers and experts alike.