Colorful, useful and great for hot, sunny running days, this visor is invaluable when you're out on exposed terrain far from shade.
Pros
+

Lightweight

+

Airy

+

Protective

+

Good color choice
Cons
-

One size

-

Low thermal qualities

-

Expensive
Dynafit React Band visor: first impressions
Made for summer running in bright conditions, the Dynafit React Band visor – which is one of choices in our best Best running hats buying guide – is a simple and lightweight product that has a flexible mesh brim, which offers protection and shelter from the direct rays of the sun.
Meanwhile, the lack of a 'top' to the hat – a half-cap design – means you can feel the wind in your hair while you're out and about. The band also wicks moisture away from your head and prevents sweat dropping into your eyes (just one of the many reasons why you should pack a hat next time you head outdoors).
The React Band visor is made with Dynadry Light Grid 90 silver fabric, which is 100% polyester and has some recycled content.
Specifications
RRP: $40 (US) / £27 (UK)
Style: Sun visor
Gender specificity: Unisex
Sizes: One size
Average weight: 28g / 1oz
Materials: Dynadry Light Grid 90 Silver – 100% Polyester (partially recycled)
Colors: Asphalt / Black Out / Cactus / Nitro / Dawn / Fluo Pink / Fluorescent Yellow / Legion / Methyl Blue / Mykonos Blue / Ocean / Silvretta / Sparta Blue
Compatibility: Summer trail running and hiking
On the trails
The Dynafit React Band visor is very easy to wear. It fits lightly around the head and I found it to be a good size. I wonder if the unisex size will fit people with particularly small or large heads but I found it to be very comfortable. There is a bit of stretch from the elastic rear of the headband.
It mostly stays in place when running, although I found my hair made it slip up my head occasionally.
Running headwear is very subjective apparel, but I really like the half-cap design of this visor. It is great to have the top of the head open to the wind and breeze, but the band also keeps sweat at bay from your forehead.
The small brim is great when running into direct sunshine or when the sun is overhead because it shields the eyes and a bit of the face. This is not a huge brim so it has a limited protection from the sun but it's still a good idea for hot and sunny days. You may want to pair with the best types of sunglasses for hiking and trail running.
The color range of Dynafit is also excellent. It's not the cheapest headwear we had on test, but it appears to have been made to last with good quality materials.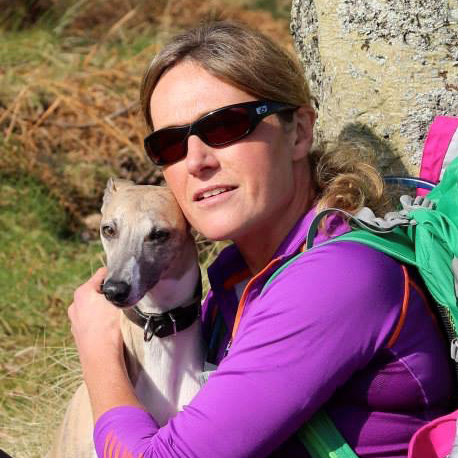 Fiona Russell is a widely published adventure journalist and blogger, better known as Fiona Outdoors. She is based in Scotland and is an all-round outdoors enthusiast with favorite activities including trail running, mountain walking, mountain biking, road cycling, triathlon and skiing (both downhill and backcountry). Aside from her own adventures, Fiona's biggest aim is to inspire others to enjoy getting outside and exploring, especially through her writing. She is also rarely seen without a running skort! Find out more at Fiona Outdoors.