Types of sunglasses for hiking and trail running
Read our guide so you can protect your eyes from potentially harmful UV rays when spending time outdoors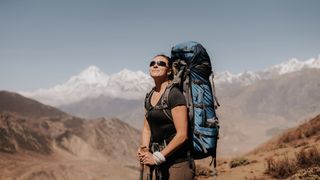 (Image credit: Getty Images)
Just like so many sports products, there are sunglasses that are designed to be best suited to hikers and trail runners.
The different types of sunglasses for hiking and trail running include features to ensure good fit, comfort, adequate protection from the sun's harmful rays and even aerodynamics.
Of course, there will be a certain amount of personal preference when choosing the best trail running sunglasses and sunglasses for hiking, too, which are based on looks and designs. You might prefer wrap-around or frameless shapes, or mirrored lenses, for example.
While style is a big selling factor, the technical performance of sunglasses is very important because you want to ensure the lenses will protect your eyes from the potentially damaging effects of ultraviolet (UV) radiation from the sun.
Too much exposure to UV light raises your risk of eye diseases and other problems, including cataracts and eye cancers.
In addition, the light conditions will change depending on where you are hiking or running. For example, the higher you climb in a sunny landscape (see: hiking in hot weather) the greater the exposure to UV rays. Meanwhile, if you plan to hike or run in areas with a lot of forestry, you may be need a lighter tint so you can see where you are going when the trails darken naturally.
Look for sunglasses with lenses that provide ultraviolet A (UVA) and ultraviolet B (UVB) protection. If you are going to be hiking and running somewhere near water or snow, polarised lenses could be a good idea to reduce glare.
Different tints of shades of lenses will provide more or less shade from the sun, but they should all offer adequate UVA and UVB protection levels. A good quality pair of sunglasses should detail what percentage they block the sun's brightness.
It could be that photochromatic lens will be your best choice if you want lenses that will adapt to sunny and cloudy conditions.
Different types of sunglasses – and fit
Fit is important, too. Sunglasses should fit comfortably on your face. Try on a few pairs before buying a pair because there are many different types and brands.
When hiking and running on trails, it's important you can see natural obstacles in your peripheral vision, which means you should be able to see all-round when wearing sunglasses. For this reason, wrap-around styles can be better for trail runners.
Look for details that will ensure the glasses stay on your face, in particular the bridge of your nose, if you get sweaty. A good nose piece that offers decent traction will stop sunglasses from falling down your face.
The weight of the frames is also a consideration. Think about whether the sunglasses are too heavy, too light or feel just right. You'll know almost immediately if the weight feels right.
Prescription sunglasses
If you are short or long-sighted, you might choose to wear contact lenses, or, alternatively, wear prescription sunglasses. Again, there are many different types of sunglasses and it will depend on your prescription level.
Many brands have information about the models that are best for prescription lenses or you can ask your local optometrist. Ask where prescription levels that can cater for – there can be limits for those that are of poorer sight – and what distortion at the edges of the lenses there might be, as well as the weight of the lenses.
Types of sunglasses – What is your budget?
Because sunglasses provide protection and are important to maintain eye health, it's worth setting aside a good budget for a high quality pair - just as you would when shopping for a pair of the best hiking boots or the best hiking backpack.
Generally, you do get what you pay for and if you already know the brand the chances are you can trust the quality of lenses and frames.
But it's worth asking hiking and running friends for their recommendations. So long as the lenses have the right quality of lenses you may find there are some less expensive brands that are sold by the usual and more famous brands.
PS. Let's think about the environment
Many outdoor brands are walking up to the damaging effects of manufacturing and material use on the climate. Look for sunglasses that have been made from recycled products or have recycled content.
After all, if climate change continues, we will all have greater need to protect ourselves from rising levels of sunshine.
All the latest inspiration, tips and guides to help you plan your next Advnture!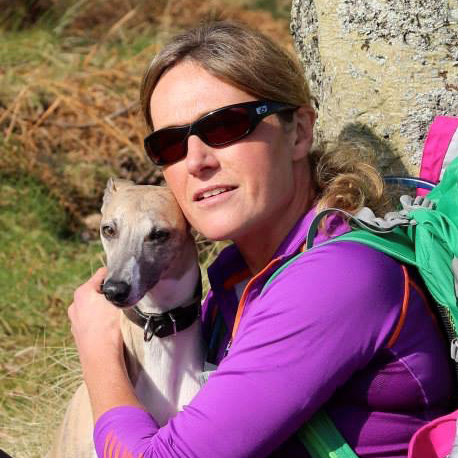 Fiona Russell is a widely published adventure journalist and blogger, better known as Fiona Outdoors. She is based in Scotland and is an all-round outdoors enthusiast with favorite activities including trail running, mountain walking, mountain biking, road cycling, triathlon and skiing (both downhill and backcountry). Aside from her own adventures, Fiona's biggest aim is to inspire others to enjoy getting outside and exploring, especially through her writing. She is also rarely seen without a running skort! Find out more at Fiona Outdoors.