Best running hats: sun hats and running headwear for adventures out on the trails
The best running hats and headwear for protecting your ears and scalp, and keeping the sun and sweat from your eyes while trail running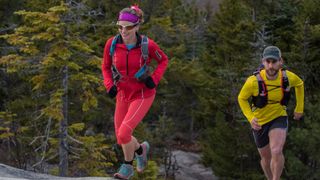 (Image credit: Getty)
There are many reasons to wear a hat, headband or buff while running. Perhaps you need to keep your head and ears warm in colder seasons, or sweat from your eyes in warmer weather. Other people like to have their forehead or neck covered to avoid the glare of the sun's rays. Another reason to use one of the best running hats is to keep your hair off of your face.
As well as being a practical item of sports apparel - as explained in Why you should pack a hat next time you head outdoors - the choice of what you wear on your head will depend on personal choice, how much hair you do or don't have, and how much of your head you like to be covered. Do you prefer a band, or a full hat, or a hat with a peak or neck coverage, or both?
Here we review the best running hats and headwear available for trail runners.
The best running caps for summer
Salomon XA cap
A lightweight and breathable cap for runners.
RRP: $25 (US) / £22 (UK) | Style: Sports cap | Gender specificity: Unisex | Sizes: S–M / M–L / L–XL | Average weight: 40g / 1.4oz | Materials: Salomon's AdvancedSkin Shield (100% Polyester) | Colors: Transcend blue / Clematis blue / Black / Papaya / Fuchsia red / Olive / White / Opal / Hawaiian Ocean / Almond cream / Pacific | Compatibility: Running and hiking in hot and sunny conditions
Lightweight
Sun blocking
Breathable
Quick drying
Peak in eye view
The Salomon XA cap is aimed at runners facing hot and sunny conditions. A long and stiff peak keeps the sun's rays out of your eyes. As well as the three sizes to choose from, the unisex cap has an adjustable buckle closure at the rear and elastic give, which all combine to keep the cap firmly in place while running. The main material is Salomon's AdvancedSkin Shield, which protects the head against wind but also offers good breathability. Mesh inserts on the top of the cap aid more air ventilation, while an integrated inner sweatband helps to absorb sweat to stop it dripping into your eyes. There is a wide color choice, and the cap can usually be found for a good price.
CimAlp Sun cap
A sun cap that supplies protection from UV rays, plus mosquitoes and other biting beasts
RRP: (US) / £32 (UK) | Style: Hiking cap | Gender specificity: Unisex | Sizes: S/M and L/XL | Average weight: 90g / 3oz ** | Materials: lightweight, solid, reinforced ripstop fabric | Colors: Grey / beige | Compatibility: Summer trail running and hiking
Sun cover
Deters biting insects
Durable
Quite bulky
Quite heavy
Quite expensive
This cap is for those occasions when you are out on the trail and you really need to keep the beating sun off your head, face and neck. It also has a EULAN treatment to see off mosquitoes and other biting monsters. The treatment is certified OEKO-TEX100, tested dermatologically, odorless and harmless to humans. The treatment is claimed to be 80% as efficient after 30 washings at 30°C. Made with a lightweight, solid and reinforced ripstop fabric, the sun cap has a stiff cap and roll-away fabric for protecting the back of the neck when required. There is a removable chinstrap, which can be shortened with a toggle.
Dynafit React Visor Band
Half-cap, half-headband, this is an innovative product.
RRP: $40 (US) / £27 (UK) | Style: Sun visor | Gender specificity: Unisex | Sizes: One size | Average weight: 28g / 1oz | Materials: Dynadry Light Grid 90 Silver - 100% Polyester (partially recycled) | Colors: Colors: Asphalt / Black out / Cactus / Nitro / Dawn / Fluo pink / Fluorescent yellow / Legion / Methyl blue / Mykonos blue / Ocean / Silvretta / Sparta blue | Compatibility: Summer trail running and hiking
Lightweight
Airy
Protective
Good color choice
One size
Low thermal qualities
Expensive
Made for summer running in bright conditions, the React visor headband is a simple and lightweight product that has a flexible mesh brim, which offers protection and shelter from the direct rays of the sun. Meanwhile, the lack of a 'top' to the hat – a half-cap design – means you can feel the wind in your hair while you're out and about. The band also wicks moisture away from your head and prevents sweat dropping into your eyes. The visor stays in place well during runs. It is made with Dynadry Light Grid 90 silver fabric, which is 100% polyester and has some recycled content.
The best running bandanas and buffs
Hygge Original Headband
Tubular headwear that can be worn in multiple ways.
RRP: $26.13 (US) / £18.89 (UK) | Style: Tubular bandana | Gender specificity: Male and female versions available | Sizes: Original / extra stretch / half size | Average weight: 30g / 1oz | Materials: Polyester microfibre | Colors: Multiple patterns and colors | Compatibility: All-season trail running and hiking
Simple and easy to wear
Multifunctional
Lots of colors and patterns
Thin fabric with low thermal properties
Pronounced 'Hoo Gah', the Scotland-based brand Hygge makes tubular headwear (you might know this style of headwear as a 'buff' or 'bandana') in a wide range of colors and designs. There are sizes to fit men, women, kids and for those with larger heads or with lots of hair. The original design can be worn as a headband, hairband, facemask, scarf and more, but for the purposes of this review we are using it as headwear for trail running and hiking. The tube is seamless and made of a lightweight polyester microfibre. It allows sweat to evaporate through the fabric and also provides protection from cold weather, wind, dust and the sun. The headband is machine washable, and comes with a lifetime guarantee.
CimAlp bandana
A tube of fabric that an be worn as a headwear or neckwear
RRP: $ (US) / £12.90 (UK) | Style: Tubular bandana | Gender specificity: Unisex | Sizes: One size | Average weight: 27g / 0.95oz | Materials: Thin microfiber polyester fabric | Colors: Navy blue / Red / Grey / Black / Green / Sky blue / Multi | Compatibility: All-season trail running and hiking
Simple
Soft
Lots of uses
Good price
Plenty of colors
Thin fabric with low thermal properties
Pattern only one sided
A bandana, also commonly called a buff, is a versatile tubular product favored by many trail runners because of its multifunctionality. The CimAlp version of this apparel is particularly lovely to wear, being lightweight, soft and breathable, as well as super soft and very stretchy. Raw edges aim to maximise the stretch, and it can be twisted and folded to be worn as headwear, a neck-warmer, a wristband or a balaclava. It is seamless, which adds to the comfort. The thin nature of the microfibre polyester fabric means it can be folded as many times as you wish, to provide more or less protection from the wind or sun. The CimAlp bandana is sold in a range of different colors and designs, all with the large CimAlp logo printed on the outside.
The best running headbands
inov-8 Race Elite Headband
A lightweight headband constructed with Meryl Hydrogen yarns
RRP: $19 (US) / £15 (UK) | Style: Headband | Gender specificity: Men's and women's versions available | Sizes: One size | Average weight: 14g / 0.5oz | Materials: Meryl Hydrogen (94%) and Elastane (6%) | Colors: Black / Blue / Pink | Compatibility: Year-round running
Lightweight
Simple
Comfortable
Price
Super soft
Single width all round
The inov-8 Race Elite headband is extremely lightweight, but it also boasts double thickness and offers protection for the ears and forehead when running on colder days. Equally, if you are out on the trails on a warm day, the fabric will catch sweat and prevent it from entering your eyes, causing pain and blurred vision. Whether it is hot or cold, the fabric has outstanding wicking and cooling properties. Although there are male and female versions available, the headband is the same size for both men and women, and the design is one width all the way around the circumference, which won't suit everyone. It is a stretchy piece of apparel, constructed using Meryl Hydrogen yarns (with 6% Elastane). The yarn is justifiably described as a luxury performance yarn, and it is very soft to the touch.
Proviz Reflect360 Running Headband
A lightweight and soft microfleece headband
RRP: $25 (US) / £15 (UK) | Style: Running headband | Gender specificity: Unisex | Sizes: One size | Average weight: 17g/0.6oz | Materials: Soft-touch, back-brushed microfleece | Colors: Black | Compatibility: Year-round running – especially useful on dark morning and evening runs
Lightweight
Simple
Comfortable
Good price
Only one size
Only one color
The Proviz Reflect360 running headband is made with a microfleece inner lining, which makes it soft and comfortable. The design is shaped to cover the ears, which means that it can be worn in early spring and well into fall, when the temperatures drop and extremities like ears can get cold, as well as in mid summer, when you need a sweatband. The headband utilises the Proviz signature REFLECT360, which is highly reflective and shines super brightly when a beam – such as vehicle lights – hits it at night, again making it an invaluable safety belt when the evenings and mornings are darker. The REFLECT360 is used in the logos at the back and front. The fabric is 'sweat wicking', however, so it is useful in the warmer months, when things get hot and sticky. There is only one size, but it is highly stretchy to fit all head sizes. The Reflect360 is only available in black, but the Proviz Classic headband ($20/£13) is available in blue, pink and yellow.
The best running hats for cold weather
Hygge Winter headband
Versatile tubular headwear for winter conditions
RRP: $30.42 (US) / £22 (UK) | Style: Tubular bandana | Gender specificity: Male and female versions available | Sizes: One size | Average weight: 66g / 2.3oz | Materials: Dual-layer polyester microfibre | Colors: Multiple patterns and colors | Compatibility: Cold-weather trail running and hiking
Simple
Warm
Versatile
Good color choice
Lots of fabric
This double-thickness buff is a long tube, which is suitable for most adults with heads sized 50cm to 58cm. It is made from polyester microfibre and has a different design on each side so it is reversible. The winter Hygge buff offers dual-layer protection and will keep out the sun, cold, wind, insects (see: How to stop midge bites and how to avoid bites and stings on the trail) and dust depending on where you are and what the season is. The tube folds neatly to form a wide headband to cover the forehead, ears and the rear of the head. The fabric is soft and silky feeling but still seems durable and hard wearing. It is suitable for a range of sporting activities, as well as running, so it is a massively versatile product. Like the lighter version, it is machine washable.
Montane Iridium Beanie Hat
A fleecy warm beanie for colder weather running
Average weight: 30g / 1.06oz | Materials: Tecnostretch | Colors: Saskatoon berry / black | Compatibility: Cold-weather trail running and hiking
Warm
Lightweight
Roomy fit
A bit long
Limited color choice
This lightweight beanie – designed for use in the colder months, or chilly morning running escapades in less temperate areas – is constructed from Montane's Bluesign-approved Tecnostretch material, which they enthusiastically report as their answer to the market request for 'fabrics with a technical outer surface, high elasticity and high thermal insulation'. The jersey fabric has four-way stretch and a smooth outer side, which means it is less likely to pile and should be more resistant to abrasion. The wide hem is double thickness and gives more protection over the ears. The aim of the jersey fabric is to be light and soft, but at the same time offer a high thermal insulation.
What to look for when buying the best running hat for you
Choosing the best running hat, like choosing a pair of the best trail running shoes, is always a very subjective matter. Many runners like to don some form of headwear year round, but of course they will be looking for different features depending on the season and the prevailing conditions. Personal factors – such as style preferences, taste and how much hair you do or don't have (and how long it is) – will also play into your decision-making process for these trail running essentials. Following are some pointers to help you choose the best running hat for you.
Protection from the elements and dangers
If you are someone who likes to use headwear while exercising, you will probably have a best running hat for hot weather and a best running hat for cold weather. If it's cold and windy, you will most likely be looking for thermal protection for your ears, and to stop heat escaping from your head. When it's hot and sunny, you'll want running headwear that keeps the sun off your face and the sweat from your eyes, as well as protecting your ears, scalp, face and neck from sunburn (see: hiking injuries and ailments, which apply equally to runners!). If you're running in areas where there is no shade, consider a cap with extended neck protection (French Foreign Legion style). Some hats will also have reflective elements, to help keep you visible to vehicles when running on roads and lanes in the dusk and darkness.
Design and Functionality
Running headwear usually comes in two types: band or full cap, although there are lots of variations on these themes, such as bands with visors. Most runners have a preference between the two basic styles. The advantages of a band, buff or bandana is multifunctional versatility and greater ventilation, while a full cap is a good choice for days when you need more protection from the sun or rain.
Fabric
Look for lightweight and breathable fabrics. Whether it's cold or warm weather, you are likely to sweat when running so the fabric choice will determine comfort levels. Fabric that allows sweat to evaporate or 'wick away' is vital in the best running headwear. Cotton should be avoided because it soaks up moisture but stays damp and cold.
Good fit
Check sizes for new running headwear because you want the item to fit neatly; not too tight, nor too big. A stretch fabric or adjustors and elastic straps will help with fit, especially if it's a one-size-fits-all product, or a unisex hat. If you know you have a small or large head, pay particular attention to the sizing of the headwear.
Extra details
Look for air vents or mesh fabrics for extra ventilation on hot days. A sweatband is also a great idea if you often find the perspiration dripping down your forehead. Some headwear brands add anti-bacterial treatments and/or DWR (What is DWR?). Another attractive detail might be mosquito repellency if you are running in areas where these biting insects live. The small details can make a big difference when it comes to comfort during trail runs.
Fiona Russell is a widely published adventure journalist and blogger, who is better known as Fiona Outdoors. She is based in Scotland and is an all-round outdoors enthusiast with favourite activities including trail running, mountain walking, mountain biking, road cycling, triathlon and skiing, both downhill and back country. Her target for 2021 is to finish the final nine summits in her first round of all 282 Munros, the Scottish mountains of more than 3,000ft high. Aside from being outdoors, Fiona's biggest aim is to inspire others to enjoy the great outdoors, especially through her writing. She is also rarely seen without a running skort! Find out more at Fiona Outdoors.
All the latest inspiration, tips and guides to help you plan your next Advnture!
Thank you for signing up to Advnture. You will receive a verification email shortly.
There was a problem. Please refresh the page and try again.