The best camping saws 2023: portable, lightweight, and effective
Foldable, packable and powerful, here are the best camping saws that add teeth to your backcountry escapades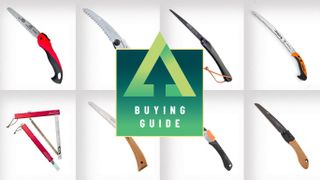 (Image credit: Future)
As well as the hardy camping axe, the best camping saws are among the most useful bits of kit you can take on a camping adventure. When it comes to cutting firewood, they're essential. However, they also earn their place via a plethora of other tasks, bestowing you with the ability to process wood quickly and make precise, clean cuts.
They also have their uses on the trail, especially if you are venturing out into wild backcountry. Their ability to slice through tangled undergrowth and thin branches as you battle through the wilderness is a real boon.
Once you're done, the best camping saws fold up neatly and slot handily into your hiking backpack. Having cleared the way ahead, your fellow hikers will be thanking you without you even knowing it.
Finally, if your trips often involve hunting game, one of the best camping saws will help you immensely when it comes to processing meat and carcass. With all these uses, it's important to choose a versatile and durable saw. So, whether it's for cutting trees into firewood, for a spot of bushcrafting, as a survival tool or for working in the yard or garden, we can point you to the best camping saw for your needs.
Folding camping saws
This well-made pruning saw is primarily designed for garden tasks but also does double duty around camp
Specifications
Blade length:
16cm/6.25in
Overall length:
35cm/14in
Blade:
Chrome-coated carbon steel
Reasons to buy
+
Very lightweight
+
Extremely compact
+
Soft and comfortable grip
Reasons to avoid
-
Relatively short blade
-
Doesn't lock in closed position
-
No lanyard, pouch or carry case supplied
Stihl is a well known manufacturer of garden tools, and the PR-16 Handycut comes from this range, but this compact yet capable tool can do far more than simply tackle tasks in your backyard – it's also ideally equipped for life around camp or on the trail, with a folding 6.25-inch chrome-coated carbon steel blade. In terms of size and weight, it's perfect to pack in a rucksack or slip into a hiking pants pocket, being among the lightest and most compact saws we tested. The bright orange colour for which the brand is known also means you're unlikely to lose it amongst long grass and undergrowth.
If you're comparing this folding saw with the Felco 600, you might be starting to notice that the specs and features seem to be identical. There's a good reason for that – colorways and branding aside, it is exactly the same tool. Stihl and Felco entered into a partnership agreement back into 2015, so that the current Stihl-branded garden tools are actually made under licence by Felco. As such, spare parts (including blades) are replaceable and interchangeable between the PR-16 and the Felco 600. If you're shopping around for this saw, buy whichever of the two products you can find at the best price – unless you particularly like Stihl orange over Felco red, or vice versa.
Just like the Felco model, the handle is nicely sculpted, with a rubber pistol-style grip that feels both secure and comfortable in the hand. A thumb indent on the back of the saw also enables better control and precision. It also has a large lanyard hole, though no lanyard is supplied. It's worth fitting a loop of paracord or similar if you're likely to be pulling this saw out of your pocket on a frequent basis.
Read our full Stihl PR16 Handycut camping saw review
With a premium Japanese steel blade, this compact folding saw delivers precision cutting power
Specifications
Blade length:
17cm / 6.5in
Overall length:
37cm / 14.5in
Closed length:
21cm / 8.25in
Blade:
Coated Japanese steel
Lanyard:
Plastic carry case
Reasons to buy
+
Compact
+
Sturdy and robust
+
Blade can be locked in two positions
+
Versatile blade profile
+
Supplied with protective hard case
Reasons to avoid
-
Fractionally heavier than its rivals
-
Finer teeth means blade can clog
-
Doesn't lock in closed position
The PocketBoy is a more compact and versatile version of Silky's bestselling Gomboy saw, while this special Outback Edition has been upgraded with a thicker saw blade made of premium Japanese steel. It folds fully into the handle and has a blade notch for use even when wearing gloves.
The handle is made of an unusual wood/plastic composite, which is warm and tactile. It's finished with a lanyard hole and comes with a hard case made from transparent plastic, with a metal belt loop.
The PocketBoy features versatile triple-ground blade toothing to rip through wood quickly, without bouncing or jumping out of the cut. It works really well on both green or seasoned timber, and the blade can be locked in two positions, which gives you some useful extra clearance when working in tight spaces or among thick, tangled branches.
This is a serious tool built for serious outdoor use, with superb build quality. If you need a dependable workhorse for camping, hunting or to add to your survival gear, the Silky is more than fit for purpose.
Read our full Silky PocketBoy 170 Outback Edition review
A bushcrafters' favorite, this compact-yet-powerful folding saw is lightweight and easy to carry, with an efficient blade profile that cuts quickly and cleanly
Specifications
Blade length:
19cm / 7.5in
Overall length:
40cm / 16in
Closed length:
23cm / 9in
Blade:
Coated Swedish Sandvik steel
Reasons to buy
+
Cuts in both directions
+
Locks open and closed
+
Supplied with leather lanyard
Reasons to avoid
-
Locking button occasionally jams
-
No pouch or carry case supplied
The Laplander is a well-built, high-quality saw, available at a very affordable price. It has a straight Sandvik steel blade, finished with a low-friction coating that helps it glide through even knotty or sappy wood. This finish also protects it from corrosion and staining.
The handle is comfortable to use, and the saw comes fitted with a handy leather lanyard, so it's easy to pull it out of a pocket or pack. The blade folds away fully into the handle, while a simple press button locks the blade in both open and closed positions.
On test, we found the Laplander's blade to be well adapted for cutting branches up to about four inches thick, whether you're dealing with freshly felled greenwood, seasoned timber or deadwood. It also saws remarkably quickly, since it cuts on the push stroke as well as the pull stroke. The curved grip gives plenty of clearance for the hand and the extended handle allows for greater leverage, especially if cutting branches at shoulder or head height.
All in all, it's one of the best camping saws for sheer versatility. A great choice for campers and bushcrafters, as well as for general pruning work in your yard or garden.
Read our full Bahco Laplander review
This well-priced folding saw has a longer blade and coarse peg teeth that are best suited to ripping through dry, seasoned wood
Specifications
Overall length:
44cm / 17.5in
Closed length:
24cm / 9.5in
Blade:
Powder-coated carbon steel
Reasons to buy
+
Long blade can handle larger branches
+
Locks in open and closed positions
+
Blade rarely clogs
+
Well priced
+
Comes with nylon storage sheath
Reasons to avoid
-
Slightly slow cutting speed
-
Coarse blade cuts less cleanly
-
Not the lightest or most compact
This is a well-priced tool that undercuts a lot of other folding saws on the market. It still feels like a quality product, though – you get an eight-inch, powder-coated carbon steel blade and a two-part handle with molded grooves for secure grip.
The long, thin blade and coarser teeth of this saw can deal with bigger pieces of seasoned timber or deadwood compared to smaller saws. It's ideal for cutting up camp firewood, though slightly less well-suited to heavy pruning work or clearing choked paths and trails.
The SOG comes with a nylon storage sheath, and unlike many folding saws, it locks in both open and closed positions for safety. The blade snaps crisply away into the handle, leaving no exposed points or teeth.
It is a little heavier and bulkier than many other folding saws, but then, it also has a longer blade length, which will enable you to deal with larger pieces of firewood.
Read our full SOG Folding Saw review
Compact camping saws
This simple and effective pull-stroke pruning saw works great around camp, but is also seriously light and extremely compact, so it stows neatly in your pack or your pocket
Specifications
Blade length:
16cm / 6.25in
Overall length:
35cm / 14in
Closed length:
21cm / 8in
Blade:
Chrome-coated carbon steel
Reasons to buy
+
Very lightweight
+
Extremely compact
+
Soft and comfortable grip
Reasons to avoid
-
Relatively short blade
-
Doesn't lock in closed position
-
No lanyard, pouch or carry case supplied
Although designed as a pruning saw, this small-but-capable tool can do far more than just tackle tasks in your backyard or garden. It's also ideally equipped for life around camp or on the trail. It is lightweight and compact, slipping easily into a backpack or pants pocket. The blade is made from chrome-coated carbon steel, while the handle is nicely sculpted, with a rubber pistol-style grip that feels both secure and comfortable. A thumb indent on the back of the saw also enables better control and precision.
The saw features triple-ground teeth designed to cut on the pull stroke, making fast work of branches up to about three inches in diameter. The coarser blade does make starting off a cut a little tricky but requires fewer strokes and rarely clogs with sap or sawdust.
The soft-touch, non-slip handle is exceptionally comfortable in use. We particularly like the top thumb indent, which aids dexterity when cutting in confined spaces, for example if working in thick tangles of brush or processing piles of deadwood. The blade locking lever is reassuringly solid too.
Overall, we were very impressed with this little saw, which delivers considerable cutting power in a very portable package.
Read our full Felco F600 review
Collapsible camping saws
This collapsible bow saw delivers considerably more cutting power than any folding saw
Specifications
List price:
15-inch saw: $42 (US) / £40; 21-inch saw: $44.99 (US) / £45
Weight:
15-inch saw: 312g / 11oz ; 21-inch saw: 388g / 13.7oz
Blade length:
38cm / 15in; 52cm / 21in
Collapsed length:
15-inch saw: 44cm / 17.25in; 21-inch saw: 58cm/23in
Blade:
Swedish carbon steel
Reasons to buy
+
Strong and robust design
+
Can handle big branches and logs
+
Cuts in both directions
+
Blade rarely jams and never clogs
+
Supplied with leather lanyard
Reasons to avoid
-
A little heavier than a folding saw
-
Requires some assembly
The Sven-Saw is a collapsible bow saw with a strong-but-lightweight, anodized aluminum frame and a high-quality Swedish steel blade. The design breaks down into a slim, compact package, with the blade completely covered and protected inside the handle.
The Sven-Saw is available in 15-inch and 21-inch sizes, whether you need maximum cutting power for larger diameter logs or prefer a slightly smaller saw for added convenience and portability. When packed away, the Sven-Saw is longer than a folding saw, but the clever collapsible design means it is also slim and compact, so it slides neatly into a hiking backpack. Assembly is easy and can be done in under a minute.
The triangular aluminum frame is lightweight yet strong, with no play. Peg and raker blade teeth rip through wet or freshly fallen wood with ease, rarely jamming or clogging. The thin blade also makes for very clean cuts, and the swift cutting action ensures less fatigue when used for extended periods. It's comfortable to work with too, so this is a great choice for processing lots of firewood quickly. It's perfect for group camps and basecamps, whether you're backpacking, canoeing, hunting or fishing.
Read our full Sven-Saw review
Swipe to scroll horizontally
Best camping saws

| | | | | | |
| --- | --- | --- | --- | --- | --- |
| Camping saw | List price | Weight | Blade length | Closed length | Teeth per inch |
| Stihl PR16 Handycut camping saw | $30 (US) / £26 (UK) | 153g/5.4oz | 16cm/6.25in | 21cm/8in | 6 |
| Silky PocketBoy 170 Outback Edition | $60 (US) / £45 (UK) | 243g / 8.6oz | 17cm / 6.5in | 21cm / 8.25in | 6 |
| Bahco Laplander | $30 (US) / £25 (UK) | 193g / 6.8oz | 19cm / 7.5in | 23cm / 9in | 7 |
| SOG folding saw | $20 (US) / £23 (UK) | 267g / 9.4oz | 20cm / 8in | 24cm / 9.5in | 5 |
| Felco F600 | $30 (US) / £26 (UK) | 153g / 5.4oz | 16cm / 6.25in | 21cm / 8in | 6 |
| Sven-Saw | 15-inch saw: $42 (US) / £40; 21-inch saw: $44.99 (US) / £45 | 15-inch saw: 312g / 11oz ; 21-inch saw: 388g / 13.7oz | 38cm / 15in; 52cm / 21in | 15-inch saw: 44cm / 17.25in; 21-inch saw: 58cm/23in | 4 |
How we test camping saws
Each of the saws featured here has been tested in the field by our expert reviewer, who put them to use in forests and around campsites and other outdoor scenarios, cutting a variety of woods for various purposes.
For more details, see how Advnture tests products.
How to choose a camping saw
Wood is a natural, renewable resource that mankind has used for millennia – but it should be used responsibly, especially in wilderness areas. Remember to follow local rules and guidance on gathering wood and building campfires, and always practice leave-no-trace principles.
However, if you're in an area where campfires are permitted, and there's a suitable stock of deadwood that you can cut up for firewood, a camping saw will be an invaluable companion. Lighter, more efficient and more portable than an ax, a camping saw will give you plenty of cutting power to process wood while being lightweight and compact enough to keep in your pack or even in your pocket.
A portable saw can also come in handy when building shelters, building camp furniture and practicing other bushcraft skills, as well as for clearing paths and trails. But which type should you go for?
Types of camping saw
Folding Saws The most popular choice for most campers, hunters and bushcrafters is a folding saw – sometimes referred to as a pruning saw or even a Japanese saw (since this type of saw was popularized by Japanese brand Silky). Typically, they have a blade length of around six to nine inches (15cm–23cm), attached to the handle via a locking pivot. The handle will have a groove into which the blade folds away, allowing for convenient and safe carry. They can be used one-handed to cut through branches up to about five inches (12cm) in diameter, and usually weigh less than 300g.
Collapsible Bow Saw If you're building a semi-permanent basecamp, going on an extended trip or camping with a larger group, you might need to process a lot of firewood. This requires more cutting power, and here a collapsible bow saw is the ideal choice. They're well suited to ripping through larger diameter branches and even small logs. The triangular frame and fixed blade of a bow saw adds strength and rigidity, making them suitable for prolonged use and hard work. They tend to be heavier and bulkier than folding saws, though, and are not so good if you need to work in confined spaces, like tangled undergrowth.
Sliding Saws With a sliding saw, the blade slides into the handle rather than folding away. The blade is locked into place via a tightening nut on the side of the handle. Sliding saws are smaller and lighter than folding saws, but not quite as user-friendly or as robust. The thin blades can bend or break, so are best suited to cutting small diameter branches. Unless you'll only be using a camping saw for light tasks, we'd generally recommend choosing a folding saw over a sliding saw.
Pocket chainsaws or wire saws Best for occasional, emergency or survival use, wire saws and pocket chainsaws are flexible lengths of metal wire or toothed chains fitted with a handle on each end. They can be wrapped around branches or logs and used to rip through wood with an alternate back and forth pulling motion. They can deliver surprising amount of cutting power in a light and portable package but do take a fair bit of effort and technique to use efficiently.
Key features of a camping saw
Size and weight A larger, heavier saw usually delivers more cutting power, but comes with added weight and bulk. If you're hiking or backpacking, look for a saw that is small, lightweight and compact so it fits easily in a pack or even a pocket. If you're canoeing or overlanding in a 4x4-type vehicle, this may be less of a consideration, which may mean you can select a more robust, heavy-duty saw.
Handle material Most camping saws have steel blades, but the rest of the tool will usually be made from lightweight materials such as aluminum, nylon or other types of plastic and composite material. Look for a saw with a curved, ergonomic handle that feels comfortable to use. Many saws feature rubber or silicon non-slip grips for added security. A bulge at the butt end of the handle can also prevent your hand from slipping when using the saw. Molded grooves or channels in the handle can help to reduce buildup of sweat and moisture, as can absorbent materials like wood fiber or cork.
Blade Look for a saw with a blade length of at least six inches (15cm). This will enable you to cut through branches of at least three inches (7.5cm) in diameter – roughly the thickness of your wrist – which is more than adequate for processing wood for a campfire. Most saws have carbon steel blades, which is a type of tool steel that balances strength, hardness and wear resistance, so they should stay reasonably sharp. However, carbon steel rusts easily, so always dry it between uses. It's also worth looking for a blade that has been treated or coated. Many coatings are also designed to reduce friction, which makes the saw cut more quickly and easily, without jamming. Blade thickness is another factor that affects cutting speed as well as how cleanly a saw cuts. Thinner blades are usually better for fast, clean cuts, but are also more liable to bend, break or wander off, making it harder to cut in a straight line.
Teeth It is actually the tooth pattern of the blade that largely dictates the cutting action and efficiency. Many saws cut on the pull stroke, which is the most efficient way to rip through wood, but some saws are bidirectional, meaning they cut on both the push and pull stroke. This can increase overall cutting speed, depending on user technique.
As a general rule, coarse or rip cut saws have fewer teeth per inch (TPI) than medium or fine blade saws. So, a blade with fewer teeth per inch will cut more quickly than a fine-toothed blade. On the other hand, it can be trickier to start off the cut, particularly on smooth wood or bone. Because you are removing more material with each stroke, the saw is also more likely to clog or jam. Thus, finer-toothed saws are typically a little slower but cut more cleanly and neatly, while being easier to use. Traditional wood saws have double ground 'peg teeth', which are good for cutting through seasoned timber and deadwood. Others have 'peg-and-raker teeth', with regularly spaced double teeth that are designed to clear out the cut. This helps to prevent sap and sawdust from building up and clogging the blade or your cut. More modern saw blades have triple ground teeth, which is a very versatile tooth pattern that cuts quickly and efficiently across a range of different woods and even other materials such as bone.
Locking mechanism Safety is essential when using sharp tools, especially in the great outdoors when you might be miles from the nearest road or hospital. A secure locking mechanism is the easiest way to ensure the safety of a tool. Some saws use lever locks, others use push buttons or even adjustable nuts and screws to hold the blade in place. Ensure the mechanism works reliably and engages fully, and cannot be accidentally depressed. A saw that locks in the closed position as well as when open is also a bonus, since this prevents the blade from partially opening in transit and catching on other pieces of equipment. Remember that the exposed teeth of a saw will soon shred the lining of your pocket or rucksack.
Camping saw tips
How to stop your camping saw from rusting The carbon steel blades of many saws will rust quickly if you don't look after them. Always clean and dry the blade after use, and ensure your saw is not stored in damp or humid conditions. If your saw blade does not have a protective coating or finish, oiling the blade with mineral oil will also help to prevent rust.
Blade sharpening and replacement Most saw blades are relatively inexpensive to replace, and replacement blades are widely available for most popular camping saws. They are generally designed to be quick and easy to change too – some don't even require a tool to do so, while others typically need only a flat-head or Phillips screwdriver. For these reasons, it is not generally worth spending a lot of time sharpening old blades. Triple ground teeth are particularly tricky to sharpen easily without a specialist file. Of course, that's not to say it can't be done with a little patience and dedication.
Cleaning and maintenance To get the most out of your camping saw, always clean the blade before you put it away. Blow out the teeth of the blade and the groove of the handle to remove sap and sawdust. When you get home, wipe the blade and the handle using soap and water and an old rag to remove any buildup of mud, sweat and grime. Dry it thoroughly and apply a little oil or similar lubricant to the pivot and hinge to ensure it operates smoothly. If the blade has no protective treatment, give it a light coating of mineral oil to help prevent corrosion.
All the latest inspiration, tips and guides to help you plan your next Advnture!
An outdoors writer and editor, Matt Jones has been testing kit in the field for nearly a decade. Having worked for both the Ramblers and the Scouts, he knows one or two things about walking and camping, and loves all things adventure, particularly long-distance backpacking, wild camping and climbing mountains – especially in Wales. He's based in Snowdonia and last year thru-hiked the Cambrian Way, which runs for 298 miles from Cardiff to Conwy, with a total ascent of 73,700 feet – that's nearly 2½ times the height of Everest. Follow Matt on Instagram and Twitter.