Best double-burner camping stoves and grills: for cooking up a storm on camping holidays, picnics and beach barbecues
When weight isn't an issue, there's no substitute for the best double-burner camping stoves or grills as an alfresco cooking system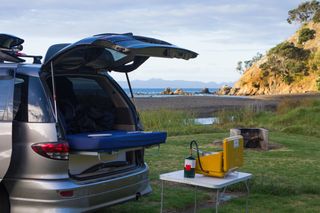 (Image credit: Getty)
If you're not travelling light, then the best double-burner camping stoves are the deluxe option for alfresco dining. While the stoves for backpackers are compact, lightweight, use a single-burner to heat water and cook simple one-pot dinners, a dual-burner is by far the better option when you're cooking for multiple friends and family. Packing one of the best camping grills should mean you don't have to survive on freeze-dried meals alone.
Clever car-, caravan-, van- and base-camping (or – whisper it – glamping) enthusiasts seek out the best double-burner camping stoves to give maximum versatility for the outdoor chef. These stoves are much larger – and much heavier – but they can prepare a meal for a hungry crew quickly. Two-burner stoves can accommodate two large pots or frying pans side-by-side on the cooking grate.
Just as with all the best camping stoves, dual-burner camping stoves are easy to operate. Just attach the fuel canister, open the fuel line, push the ignition button and turn a dial to manage the amount of heat needed to boil water for coffee or simmer a sauce for pasta at dinner.
Most current models use pressurized propane tanks as the fuel source. Butane canisters and white gas options are available too. Propane is easy to use, inexpensive, accessible at stores near most camping locations and relatively easy to use. Carefully screw on a connection between the propane bottle and the stove burner and you are ready to go.
Most stoves use the same physical configuration. A rectangular box constructed of steel with aluminum covers and adjustable wind panels on the side of the stove. When the covers are folded down and locked in place, carry handles make it easy to transport and store the stoves.
Best of all, the durable stainless steel, aluminum and brass components used in the best double-burner camping stoves will last for years. Happy cooking.
How we test the best double-burner camping stoves
At Advnture we endeavor to test every product we feature extensively in the field. That means one of our team of reviewers and writers – all experienced outdoor specialists active across the US, UK, Europe and Australasia – taking it out into the terrain and climatic conditions that it's designed for. If, for any reason, this isn't possible, we'll say so in our buying guides and reviews.
Our reviewers test double-burner camping stoves in the outdoors – car camping, garden cook-ups, base camping – assessing their value and performance against the claims of the brand in terms of heat output, fuel consumption, simmer control, weight, ease of assembly/packdown, transportation, robustness and features.
The best double-burner camping stoves
Primus Tupike Portable Stove
Turning camp cooking into an art form
Specifications
RRP:
$250 (US) / £250 (UK)
Heat output:
2 x 10,200 BTU / 3kw
Dimensions:
18.5 x 12.8 x 4in / 46.9 x 32.5 x 10.1cm
Extras:
Carry case and non-stick griddle included
Reasons to buy
+
Excellent simmer control
+
Stainless steel and brass construction
+
Easy to clean
Reasons to avoid
-
Heavy
-
Expensive compared to some models
-
Limited wind protection
The Tupike's stainless steel, oak lath and brass construction turns a utilitarian piece of outdoor equipment into a work of art. And when it's time to cook, don't worry if you left the matches at home – with the piezo ignition, the burners fire up without matches or a lighter.
Individually controlled twin 10,000 BTU burners allow the camp chef to boil water quickly for pasta, while simultaneously simmering the sauce. Folding steel legs lift the stove higher off the camp table for more comfortable cooking ergonomics. The cover and adjustable side panels shield the burners on windy days.
The Primus Tupike comes with a non-stick griddle, which enables you to add more variety to the camp menu. After dinner, a stainless steel drip tray and removable pot supports make clean-up quick and easy. When not in use, the wooden handle locks the stove cover in place. Inside, a spring-action lock holds the regulator safe and secure.
Jetboil Genesis Basecamp Stove
Folded fire
Specifications
RRP:
$260 (US) / £250 (UK)
Fuel type:
Propane canister
Heat output:
2 x 10,000 BTU / 2.93kw
Dimensions (packed):
9.8 x 4.6in / 24.9 x 11.7cm
Dimensions (open):
20.5 x 9.8in / 52.1cm x 24.9cm
Weight (stove only):
6.4lb / 2.9kg
Extras:
Carry case included
Reasons to buy
+
Compact design
+
Burner control
+
Auto-ignition levers
+
Storage bag
Reasons to avoid
-
Average boil time
-
Expensive compared to some competitive models
-
Missing wind screens
Traditionally, the best two-burner camping stoves start with a rectangular box of stainless steel or aluminum, but Jetboil's Genesis stove brings a completely different approach to camp cooking.
This neat, circular stove design stacks two burners for transport and storage. At camp, the unit unfolds, ignites easily and twin burners deliver 10,000 BTUs of heat. Three minutes is all it takes to have boiling water ready for coffee or pasta. The stove can be linked with other stoves to create a series of burners to feed a hungry crew and works efficiently paired with Jetboil's cookware system options.
Attaching the windscreen when the winds kick up keeps the cooking process in high performance mode. Compatible with a standard propane bottle, the kit includes a stuff sack with a separate pocket to protect the regulator.
Small, compact and light, the Genesis two-burner stove is a very worthy addition to a short camping trip.
Coleman Triton Propane 2-burner
A powerful double-punching twin top stove
Specifications
Heat output:
2 x 11,000 BTU / 3.22kw
Dimensions:
58 x 35 x 14.6cm / 23 x 14 x 5.74in
Reasons to buy
+
Proven design
+
Value pricing
+
Burner control
Reasons to avoid
-
No auto ignition
-
Small wind panels
The two basic components needed for a memorable camping trip are food and shelter. Feeding a gang of hungry campers requires a tasty menu, fresh ingredients and a way to bring it all to life, and Coleman's Triton tackles that job with ease.
Propane powers 22,000 BTUs through two independently controlled burners. With a 12in and 10in pans cooking side by side, there's plenty of room for variety when it comes to answering the inevitable 'what's for dinner?' question.
Coleman stoves use pressure-control technology to deliver consistent heat even in cold, windy temperatures, and when you have a half-empty fuel bottle. Adjustable wind panels help too. With enough heat to cook a feast for a hungry family, the Triton stove definitely ranks among the best double burner camping stoves you can buy.
The pinnacle of camp cooking
Specifications
Fuel type:
Propane canister
Heat output:
2 x 25,000 BTU / 7.325kw
Dimensions:
60 x 34 x 10cm / 23.5 x 13.5 x 4in
Reasons to buy
+
Fast boil times
+
Large burners
+
Three-way wind shield
+
Durable, easy to clean construction
Reasons to avoid
-
Burner flame can flare up
Hiking, climbing, paddling and even hanging out next to the campfire builds a hefty appetite. Use the Everest stove to keep those campers satisfied morning, noon and night.
Use the matchless ignition to fire up the twin 25,000 BTU burners. The temperature controls resemble the same approach used on your kitchen appliances at home so there's no confusion. The large cooking area (2,040 sq cm / 317 sq in) holds big pots and frying pans, giving you the flexibility to cook something that meets everyone's taste preferences.
Wind screens protect the burners from three sides and the 25,000 BTU burners are strong enough to overcome wind gusts. Since the stainless steel drip tray makes clean-up easy, you may not have to worry about someone volunteering to take on the after-dinner washing dishes task.
Eureka! Ignite 2-burner Camp Stove
The camp cook's best friend
Specifications
Fuel type:
Propane canister
Heat output:
2 x 10,000 BTU / 2.93kw
Dimensions:
47 x 32.5 x 10cm / 18.5 x 12.8 x 4in
Reasons to buy
+
Rugged construction
+
Jetlink system can connect multiple stoves
+
Fine simmer control
Reasons to avoid
-
Heavy compared to some models
-
Vulnerable in windy conditions
Camping trips create great memories. The scent of pine trees and campfires can trigger thoughts of wonderful adventures past. The smell of crisp bacon, sizzling hamburgers and pasta sauces cooked on an Ignite camp stove bring the same kind of happy reflections.
Eureka!'s innovative temperature controls manage the twin 10,000 BTU burners so you can fine-tune the flames. No more charred pots, burned rice and frustrating attempts at simmering sauces. The push-button ignition means you don't have to search for the old matches or lighter that might be buried in your gear kit.
Although the stove's dimensions are compact for storage, the cooking surface accommodates two 10-inch pans. Simple, efficient burners fit inside a rugged, steel case that will last for years.
Home-cooking quality chow while on camp
Specifications
RRP:
$400 (US) / £350 (UK)
Heat output:
2 x 10,200 BTU / 3kw
Dimensions:
50 x 35.5 x 35.5cm / 23 x 15 x 20in
Reasons to buy
+
Stainless steel construction
+
Large cooking surface
+
Easy to clean
Reasons to avoid
-
Expensive
-
Ignitors need attention
Simple design; durable construction; high-performance operation. That's the best way to describe the Snow Peak Double Burner camping stove. Attach two GigaPower canisters, hit the auto ignite buttons and you are ready to go.
The cooking surface holds two large pots or frying pans. Large, sturdy, adjustable windscreen panels shelter the two 10,000 burners from swirling winds. Folding legs lift the stove off of a campground table and make the cooking process easier to manage.
Built with durable stainless steel, aluminum and brass components the stove will stand up to any accidental campsite drops. The stove is compatible with Snow Peak's Iron Grill Table System.
The camp cooking standard
Specifications
Heat output:
2 x 10,000 BTU / 2.93kw
Dimensions:
55.5 x 35 x 10cm / 22 x 13.7 x 4in
Reasons to buy
+
Classic bulletproof design
+
Straightforward set-up
+
Affordable entry level stove
Reasons to avoid
-
Middle of the road boil time
-
Burner diameter smaller than some comparable models
-
Lacks auto ignition
If you are just starting out building your family camping kit, the Coleman Classic stove is a great way to start cooking outside. The matching pair of 10,000 BTU burners are independently controlled to give you a lot of flexibility. Protected by the familiar forest green cover and windscreens, the cooking grate can hold a 12-in and 10-in pan at the same time. The removable, chrome-plated cooking grate makes cleaning easy.
The Coleman Classic Gas is a proven design with millions of loyal customers, and Coleman continues to improve the components. The stove's fuel regulation technology increases performance and efficiency. That translates into a stress-free cooking experience and a well-fed, satisfied group of campers. Coleman stands by the Classic stove with a three-year limited warranty.
Best camping grills
A stove for adding more variety to your camp menu
Specifications
Heat output:
2 x 16,000 BTU / 4.68kw
Dimensions:
64 x 53 x 21cm / 25.25 x 21 x 8.25in
Reasons to buy
+
Large cooking surface
+
Auto ignition
+
Even temperature distribution
Reasons to avoid
-
Heavy
-
Expensive compared to other models
After a good night's sleep under the stars, there's nothing more motivating to get you out of the tent than the smell of hot coffee and sizzling bacon. Use the VersaTop's matchless ignition to fire up two 16,000 BTU burners and you will be cooking on the seasoned, non-stick flat top griddle quickly.
A single control knob delivers the precise amount of heat when you need it. Steaks from the cooler or fresh-caught fish for dinner. Eggs or pancakes for breakfast. If those menu options aren't enough for your family and friends, Camp Chef offers an accessory pizza oven and BBQ box for even more mouth-watering meal variety.
Adjustable legs keep the grill level so nothing rolls off. Camp Chef adds a grease management system to prevent flare-ups when cooking and makes clean-up a little easier. Compatible with standard propane tanks.
Your outdoor breakfast buddy
Specifications
Heat output:
7,250 BTU / 2.12kw
Dimensions:
42 x 29 x 12cm / 11.5 x 16.6 x 4.6in
Reasons to buy
+
Compact design
+
Large nonstick cooking surface
+
Carry case included
Two-burner camping stoves are great at cooking pasta, rice and calorie rich stews. If you want to add some variety to the camp menu, however, add a SPRK Camp Grill to your gear kit.
Small and compact, the non-stick ceramic grill helps you serve pancakes and bacon in the morning and medium-rare steaks at the end of the day. The auto-ignition delivers a quick start to meal preparation. Adjustable feet level the grill on uneven surfaces.
A single 7,250 BTU burner heats the grill surface quickly. Temperature controls let you tailor the heat to fit your food. After a good meal, no one wants to clean up. The non-stick grill and removable drip tray make that process painless.
The Camp Grill is powered by an 8oz butane canister stored in an integrated fuel compartment. At the end of the trip, a protective carry case keeps the grill ready for the next round of pancakes.
What to look for when buying the best double-burner camping stoves
The best dual-burner camping stoves are relatively simple pieces of equipment, and only a few factors are required to rustle up a satisfying meal for hungry campers: the fuel, a method of controlling the flame and a place to set the pots and pans. The collection of stoves we've had a look at here take a different approach to how those components work together. All perform admirably and will last for years. Here are some elements to consider when you are adding the best double-burner camping stoves to your gear kit.
Fuel type
Double-burner stoves are powered by one of three fuel types: propane, butane or gas.
There are advantages and disadvantages to each option, but current models primarily use propane, which is easy to use and readily accessible.
Fuel is pressurized and fed to the burners through a regulator. Higher end models offer control of each burner independently. Take a few minutes to understand how to gauge the amount of fuel remaining in your canister. Running out of fuel halfway through cooking dinner isn't the kind of camping memory you want to create.
Heat
One of the key ways to compare stove models is looking at the British Thermal Units (BTUs) or kilowatts they offer. These measure the maximum amount of heat that can be generated. The higher the number, the hotter the flame a dual-burner stove can deliver. Those numbers are a fair way to compare models, but there's more to good camp cooking than "most BTUs wins": how that heat is delivered and managed, and the amount of fuel needed to maintain those levels play a role too.
When people are clamouring for hot water in the morning to make coffee, fast boil times are appreciated. On the other hand, a stove that can't simmer leads to charred pots, crunchy rice and frustrated cooks. Look for stoves that boast about managing heat at both ends of that spectrum.
Ignition
Early camp stoves were lit with matches or a lighter – provided the matches were dry, the lighter filled with fluid and both of them not forgotten at home. In windy or wet conditions, lighting the burners could be a frustrating experience. Technology included on many of the best double-burner camping stoves solves that problem in current models. Piezo ignition and other push-button or lever operated starters take the worry away. Open the fuel line, push the button and the familiar blue flames will ring the burners. Most of these starters are durable, long-lasting and fire the burners consistently.
Cleaning up
Dinner is over. Everyone's appetite is satisfied. Cleaning up is the last task before you can sit back and enjoy the sunset, and if you've got a fancy stove you'll probably want the best camping buckets, bowls and sinks to wash up in too. Camp cooking leaves behind splashed sauces, small burned pieces of meat and a grease-splattered stove. Most two-burner stove models are designed to make the clean-up process easier. Non-stick griddle surfaces, removable grates and fuel regulators leave room for a damp cloth to wipe away all of the cooking leftovers in just a few minutes.
A journalist specializing in outdoor recreation, Lou has covered product design innovations, participation trends and environmentally sustainable manufacturing for over 20 years. On the other hand, he's had some less than successful outdoor adventures: once, completely spent after a hard day on the trail, he managed to set a vintage MSR Whisperlite stove ablaze before accidentally kicking the burning contraption into a lake. A published author, his book about invasive fish threatening the Great Lakes watershed will be published in 2021. craftedwords.com
All the latest inspiration, tips and guides to help you plan your next Advnture!
Thank you for signing up to Advnture. You will receive a verification email shortly.
There was a problem. Please refresh the page and try again.