The best camping mugs and cups: for practicality, versatility and plain pleasure in the outdoors
By Jasper Winn published
In our round up of the best camping mugs, you'll find something that's your cup of tea, whether you're backpacking, bikepacking, van-living, fishing or sailing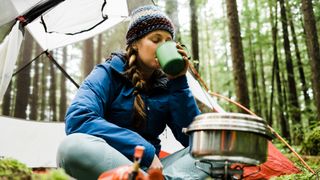 (Image credit: Getty)
Of all your kit, your best camping mug can get some heavy use, and so your choice of the best camping mug should be both practical and personal. A mug might seem like nothing more than a utensil to keep a splash of liquid in one place till you drink it down, but it can also serve as your whole home kitchen, shrunk into one single item of high-tech material, with clever design battling the laws of heat transfer on your behalf.
If you want a mug that you can fill with coffee or tea before a dawn start, knowing that it'll keep your drink hot enough to warm you up hours later, then you'll need an insulated model, like the Camelbak, the Lifeventure Flip-top or the Alpkit Kelvin.
Those aiming for super-light travel and versatility, especially if brewing and cooking whilst out on hikes, will get more use out of a single-skin, feather-light titanium mug that can be used on one of the best camping stoves. But if you regularly pick up take-away drinks, then take on the habit of carrying a light or foldable mug such as the Sea to Summit DeltaLight or the Sto-jo, so you both avoid using disposable cups and earn the generous discounts from using your own vessel.
For some of us a mug is a personal and quirky thing, and something not always chosen on the basis of pure practicality. The patina of Casstrom's traditional birchwood kuksa will deepen with every brew of coffee or shot of whiskey turning it into a treasured companion, whilst a hand-made ceramic mug can compensate for its weight by turning a brew-break (see: how to make coffee when camping) in the bleakest location into a homely and familiar ritual. And if you fail to prepare yourself with the mug you want or need… well, there's bound to be a jam-jar or old tin can you can repurpose for that touch of hobo-chic.
For tips on the ideal camping tipple, check out our best hot drinks for camping. And for the perfect pew to do your drinking in, look no further than our best camping chairs.
The best camping mugs you can buy today
Best insulated camping mugs
Lifeventure Flip-Top Thermal Mug
A handy mug with vacuum flask thermal qualities and a sealing screw-top lid that's small enough to slip into a daypack or big pocket
Specifications
Amount of liquid held:
300ml/10 fl oz
Material:
Food-grade stainless steel, copper coated, matt finish
Insulation:
Double wall, keeps liquids hot for three hours, cold for seven hours
Lid:
Screw top with integral flip-top and sipping slot
Colors:
Black, Blue, Pink, Purple
Reasons to buy
+
Will keep drinks hot or cold for extended periods
+
Mouth large enough to use for stews or soups
Reasons to avoid
-
Heavy compared to simpler mugs
The screw-top lid and the high thermal stabilising properties of the Lifeventure Flip Top add versatility, making it more than just a mug. Though I'm wary of relying on anything full of liquid not leaking in extreme circumstances, the lid has a sealed screw lid, while the flip-top access to the contoured sipping slot has a snap fastening that should more than ensure it's leak proof if knocked over or kept in a backpack's side-pocket (see: Parts of a backpack). It's easy to screw the top off and on for those who prefer sipping from a rim. Despite its tall 'tumbler' shape, its weight ensures it's stable when put down, and it fits neatly into most vehicle cup holders. As part of a camp kitchen kit it can be used as a 'slow cooker' for rice or other foods by adding boiling water and leaving for a while, (it's not a precise science; you'll need to experiment with amounts and times), leading to useful fuel savings. Though there's nothing to clip a tie-line onto, a sealed Flip-top will float as long as its lid is on making it a good choice for paddlers.
Camelbak Horizon Vacuum Insulated Tumbler (470ml/16oz size)
A heavy duty, high-insulation tumbler that retains a drink's temperature for hours
Specifications
Amount of liquid held:
470ml/16 fl oz
Material:
Powder coated stainless steel, silicone non-slip base, BPA, BPS, BPF free plastic lid
Insulation:
Vacuum insulation, keeps liquids hot for 5 hours, cold for 10 hours
Lid:
Push seal lid with tri-mode sealing sipping slot
Colors:
Black, Moss, Terracota rose, White, Larkspur
Reasons to buy
+
Keeps drinks hot or cold for long periods
+
Holds half a litre or a pint
A big mug with impressive thermal insulation. The mug's clear plastic lid is a push-on fit with tight seals to retain heat, whilst the sipping slot has a three position slider which, when fully closed, will prevent slopping if jogged or big spills if tipped over. A silicone base pad gives the Horizon good grip on smooth and even sloping surfaces, and the power-coated stainless steel body resists drops and knocks. The tumbler is also available in 300 (10 fl oz), 350 (12 fl oz), 600 (20 fl oz) and 850ml (30 fl oz) sizes – or, for those who prefer a more compact shape with a strong and comfortable handle, the mug version (350ml/12 fl oz) has the same insulation properties and lid. Though predictably good at keeping drinks piping hot for hours, and cooled for even longer, the tumbler also has potential as a 'hay box' cooker. Don't put this mug on the heat, instead pour boiling water over foods and leave to slow cook till they're ready, saving the fuel you would otherwise use in simmering. I experimented with rice, vegetable soups and even ears of sweetcorn. For more on backcountry cuisine, check out Prepared meals vs. DIY camp cooking and Best backpacking food.
Sea to Summit DeltaLight InsulMug
A feather-weight, tough mug with a slosh-proof lid that's perfect as a handy carry for take-away drinks or for weight saving in the outdoors
Specifications
Amount of liquid held:
350ml/12 fl oz
Material:
BPA-free polypropylene glass composite
Insulation:
Removable insulating sleeve
Lid:
Snap on soft silicone sipping lid
Colors:
Graphite, Pacific Blue
Reasons to buy
+
Super lightweight
+
Stable
+
Slop-proof lid
Reasons to avoid
-
Only retains warmth for short period
-
Sipping lid has awkward angles for cleaning
For saving the planet and cashing in on own-mug take-away discounts a re-usable mug makes perfect sense as a piece of everyday carry (What is everyday carry?). And the DeltaLight fits the bill. Its weight is measured in grams, and it has a silicone sipping lid – I don't like drinking through lids myself, but this one is easy to snap off and on, to allow drinking from the rim – that will stop liquids slopping over if jogged. The slip-on insulation sleeve gives good grip, protects hands and retains warmth for as long as it takes to sip the average coffee. The dimensions make it stable when put down, and ensure it fits into most cup holders. And that minimal weight makes it a useful extra add-in to even a pared down hiking kit as an additional cup to use while cooking. All the components float, so you're unlikely to lose it if you're using it whilst SUPing, canoeing or kayaking. The bottom line? Possible the best camping mug out there for buyers on a budget.
Alpkit Kelvin Double walled beaker
A stripped-back insulated beaker with a comfortable sipping lid and useful capacity
Specifications
Amount of liquid held:
450ml/15 fl oz
Insulation:
Double wall construction
Lid:
BPA-free silicone, snap-on with sipping slot
Reasons to buy
+
Simple design
+
Holds close on a pint
Reasons to avoid
-
Metal base slippy on some surfaces
The Kelvin's streamlined design brings the double-wall into a thin edge at the rim, making it comfortable to sip from if you don't like drinking through from the push-on pull-off lid's sip slot. The silicone rubber lid is BPA-free and has no taste, and helps keep drinks warm. Titanium construction makes this an exceptionally light mug despite holding nearly a pint of your favourite drink, whilst its narrow profile ensures it will fit into many cup holders despite its volume. The mouth is large enough to take a spoon so it can be used for eating thick soups from, too. As with all double-walled mugs remember that you can't use this on a stove or heat source (however tempting) without risking damage, or worse.
Best lightweight camping mugs
A light, tough and versatile mug that works equally for a quick on-trail brew or grabbing a take-away coffee
Specifications
Amount of liquid held:
400ml/13.5 floz
Insulation:
None. Single skin
Reasons to buy
+
Lightweight
+
Robust
+
Simple functionality
If you're an extreme weight-saver, the Lifeventure Titanium could well be the best camping mug out there. I used one as my only utensil on a 500-mile mid-winter walk across Europe, sleeping out every night and cooking on a tin-can spirit stove. It was a bit too small, to be honest, for that length of use on its own, but nonetheless it both worked and survived the trip in good shape. This is an easy mug to keep in your bag for picking up a take-away drink in, for brewing up on day hikes, or as your campfire mug to be replenished from a bigger pot heating on the flames. The wire handles are fine when holding a hot drink and, importantly. fold flat against the sides allowing the mug to nestle inside a larger pot or mug. A single-wall metal mug loses heat quickly but sometimes it's nice to have something warm to wrap your fingers around and you can always use a spare pair of socks as an insulation sleeve if needed. Usefully its rolled rim can be poured from without dripping.
A large mug that doubles as a one-person cooking pot for ultralight versatility
Specifications
Amount of liquid held:
850ml/28.7fl oz
Lid:
Yes, push fit with insulated fold-over handle
Reasons to buy
+
Mug, bowl and cooking pot in one
+
Holds 850 mls of liquid
+
Comes with tight fitting lid
Reasons to avoid
-
Loses heat quickly when used as a mug
This is the ideal tool for the ultra-light hiker, or someone who just likes huge amounts of campfire coffee. Not only can you boil water, brew tea or cook meals in the single-skin Titan, but, when used as a mug, you can perch it at the edge of a live fire to keep its contents warm. Filled up it's heavy, but the fold out wire handles are shaped to allow a good grip, though you might need a pot holder or glove if it's fresh off a stove or fire. The push-tight lid saves fuel when boiling water and acts to keep some heat in when the Titan is being used as a mug, and there is a drip-free spout for smooth pouring. You'll need a bag to keep the bottom of the mug from rubbing soot onto other kit if you're using on meths stoves or open fires. Big enough to boil up a meal for one person and small enough to drink from this is a one-size-fits-all solution to minimal kit multi-day hiking demands.
A minimal weight folding mug that concertinas out to full size when needed
Specifications
RRP:
from $12 (US) / £8 (UK)
Amount of liquid held:
350ml/12 fl oz
Material:
Food-grade silicone
Insulation:
Silicone has some insulation properties
Lid:
Leak-proof with sipping tab
Colors:
22 different colours from Denim to Dusty Pink, and from Quartz white to Seafoam green
Reasons to buy
+
Easy to carry anywhere
+
Leak proof lid
Reasons to avoid
-
Shape needs careful cleaning
For even the most dedicated outdoors person there are still urban areas and commutes to negotiate, and the Sto-jo is an easy, every-day carry for your daypack or even pocket, so you've got your own mug to hand wherever you end up. The innovative design allows the full height of the mug to be folded down into its own hard sleeve, taking up minimal room, while the lid keeps the last drips in a used mug from spilling out on things. As with any mug you carry, there's a double benefit in using it for take-away drinks; you don't use one of the pestilential single-use disposables and you can scoop up the 20 cent/pence or whatever the discount for using your own mug is.
Best traditional camping mugs
Classic mug styling as made famous by polar explorers, retro campers and boy scouts
Specifications
RRP:
$15 (US) / £17.35 (UK) / €20 (EU)
Amount of liquid held:
400ml/13.5 fl oz
Material:
Enamel coated steel
Colors:
Off-white and dark grey lettering, detail and graphics
Reasons to buy
+
An outdoor design classic
+
Tough
Reasons to avoid
-
Shouldn't be used for cooking or heating water
An enamel mug dangling off a heavy canvas rucksack was seemingly once the symbol of the hard-core hiker. Compared to modern drinking technology the enamel mug's appeal is mostly retro, but they're still a solid piece of kit, and there's a tactile pleasure in wrapping your hands around a mug that isn't insulated and so warms the fingers. The handle makes them useful as a scoop when cooking or bailing water, and is practical for tying the mug onto a pack, bike or kayak old-style. There are numerous classic enamel mugs available, and as many different prices, colours, and qualities. The sturdier the mug and thicker the enamel the longer it will last, though hard knocks and long drops will chip or dent the toughest enamel mug. The Hammock Mug by Norwegian hammock brand Amok is well made and has a few refinements. The mug's 'hammock calibrator' measures the optimum angle of a hammock's suspension ropes; fill the mug with coffee to a line inside the mug and then tilt the mug until the liquid is level with a second line, when the bottom of the mug will be sit at the perfect 30 degree slope. There are also internal measurements marked in American 'cups' and metric ml, useful for basic measuring out when making pancakes or the like.
Casstrom Kuksa Birch Wood Mug
Traditional Sami reindeer herder cup that improves with age and is enriched by use
Specifications
Weight:
varies, circa 140g/5oz
Amount of liquid held:
200mls/6.7 fl oz
Material:
Birch burl wood
Insulation:
Naturally insulated
Colors:
Natural wood with various natural grain and patina
Reasons to buy
+
An item of heritage craftsmanship
+
Naturally insulated
The kuksa or kåsa is the wooden cup traditionally carved in one piece from a birch tree bole by Arctic Circle Sami reindeer herders. Each kuksa is individual, with its own grain and natural quirks, which take on an ever richer patina in use. Scandinavians usually hang their mugs from a belt or the outside of a pack by a thong of rawhide, ensuring they're handy for scooping up a drink of spring water, filling with schnapps for a toast or sipping strong coffee from. The usual design has two finger holes in the wooden handle and a thumb groove on top, whilst some kuksa are decorated with brass studs, reindeer horn or etched bone inserts. Carved as strong and sturdy cup shapes they are tough and practical utensils but need to be protected from getting too dry or too wet; folk lore suggests boiling in milk, or seasoning with brandy, but experts reckon a light wipe with olive or other vegetable oil – on the outside only, so as not to taint drinks – is all that's needed. That and using them as much as possible. Leo, of Casstrom, claims that 'the wood will remember everything you do to it'. This is a mug, therefore, which will record your adventures in the outdoors every time you drink from it.
Kezia May Ceramics – Medium hand built pottery mug
A pottery mug that gives back in pleasure what it costs in weight
Specifications
Amount of liquid held:
350ml/12oz
Material:
Hand built ceramic
Colors:
Individual glazes
Reasons to buy
+
Individual
+
Proper mug to drink from
It seems perverse to take something fragile and proportionately heavy into the outdoors but when it comes to mugs there's plenty of scope for thumbing your nose at dull practicality and bringing a bit of personality to something you use every day. The pleasure in drinking from a mug you actually like and have become familiar with can off-set any weight penalty. I've met people around camp fires who have carried heavy, chipped china mugs just because they like them, and van campers, sailors and even cyclists often have their favourite non-standard heavy mug. I kayaked around Ireland using a handmade ceramic coffee bowl to drink from each morning; heavy and breakable but something pleasing to hold and a way of making the outdoors feel a bit more like home. The current favourite mug on my live-aboard boat is a Kezia May hand-built – rather than wheel-thrown – ceramic mug, with designs made by pressing sprigs of lavender into the wet clay and then glazed in rich blues and greens. I wouldn't take it on a multi-day lightweight hike, but sitting on deck or brewing tea up along the foreshore on a day walk it adds a pleasing level of ritual to any hot drink.
What to look for when choosing the best camping mug
The best camping mug is very much a personal choice, but bear the following in mind. For many people a mug is going to do most of its work keeping a drink hot on the early morning commute to some activity, so pick a size that holds a decent amount of liquid – there's no point in going short or having to make another brew – and consider a design that will fit into a standard vehicle drinks-holder. For camp use an insulated mug with a handle might contain less than a tumbler but will be wider and squatter making it more stable and comfortable to hold. On a boat, a SUP or in a kayak a handle also gives you something handy to clip a line onto which might just stop you losing the whole caboodle the Flip-top, DeltaLight and wooden kuksa will float, the other designs won't. Finally, that mug - whatever its practicalities - that goes along on every trip with you can become as comfortable as a well worn-in pair of hiking boots, and even a part of your personality.
Versatility
Coming up with containers that could hold liquids was one of humanity's earliest achievements and their importance remains in the Space Age. An ultra-light mug in plastic or titanium that you keep in your best hiking backpack is one way to help ease the planet's plight by avoiding single-use cups, and it will quickly pay for itself in discounts on every refill. For real multi-tasking, and if you're saving every ounce, a large single-skin titanium mug, like the Titan, can treble-function as a cup, bowl or cooking pot that can be used on stoves or a campfires, whilst a standard-sized, single-skin metal mug can supplement your other cooking pans. Insulated mugs can become a useful part of the cooking process, too; if you use them to soak rice, pasta or even diced vegetables in boiling water, the contents will cook without needing further heat.
Features to look for in the best camping mug
Like all outdoor kit, even the best designed and high-tech of camping mugs will steer a course between genuinely useful features and their cost in weight, bulk and cash. Sometimes the penalties and the savings aren't as obvious as they first seem. An insulated mug will weigh more and take up more space than a single-skin mug but it can save on the fuel needed to reheat drinks or avoid the wastage of a drink ending up tepid and being chucked out. Lids are not only part of the insulation package but can prevent slops and spills. Be aware that push-fit, sipping lids, even those with aperture closures, are not totally leak-proof, though they should stop you losing more than a splash if the mug's knocked over or sloshed around, and might save a map, your best hiking pants or your phone from a real soaking. Handles on uninsulated metal mugs are necessary to avoid burning your fingers when they're filled with hot liquids and can be useful as tie-points. Rubberised grip rings on a mug's base can stop sliding on smooth surfaces.
Price/Value
As always, the best value essentials on your camping checklist have the features you need and nothing else, and do their job trip after trip without falling apart. Mugs for the outdoors are no different, and because they're relatively cheap and always useful most of us end up with an arsenal of them for all situations. Most people, however, end up with a favourite mug that goes along on most trips with them. Though such faithfulness is commendable it's worth considering the options that different mug designs and qualities offer and maybe considering taking a couple or more along on all but the most pared down hiking trips. A mug's versatility, small size and relative light weight means that your camp kitchen could be based on a cooking mug-pot, and an insulated mug and still leave room for your own eccentric choice of old favourite that's just right for sitting round a campfire with whilst you sip on whatever it is you sip in those situations and stare into the flames.
After a wild childhood in west Cork, Jasper Winn began embarking on long cycles, walks, horse journeys and kayak trips across five continents – adventures he's decanted into books, magazine articles, radio and television documentaries. Keen on low-tech but good gear, Jasper is an advocate of slow adventures by paddle, pedal, saddle, boot and sail. He has circumnavigated Ireland by kayak and cycled across the Sahara. Twice. Having ridden north-to-south across Algeria he discovered the only way to get back was to turn round and pedal north again.
All the latest inspiration, tips and guides to help you plan your next Advnture!
Thank you for signing up to Advnture. You will receive a verification email shortly.
There was a problem. Please refresh the page and try again.