Best camping mugs and cups 2023: for hot drinks in the wild
Find a camping mug that's your cup of tea, whether you're trekking, bikepacking, in a van, or on a boat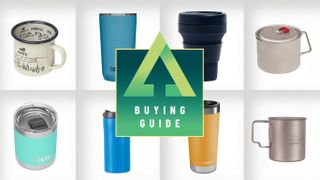 (Image credit: Future)
It's 2023 and the best camping mugs have come a long way, battling the laws of heat transfer to keep your delicious brew piping-hot. There's no coffee like the one you have by the lakeside, in the campsite or on a mountain summit, so it's fair to say a camping mug is a special thing.
There are so many innovative products to choose from, personal preference will play a large part in your decision. Do you value a lightweight mug that folds down to almost nothing in your best hiking backpack? Or are you a stickler for the old ways and are after something more traditional?
In this guide we feature the crème de la crème of insulated camping mugs, the finest lightweight options – including mugs you can use with your best camping stove – and the best traditional camping mugs too, as well as some considerations as to what to look for when selecting your optimum mug.
Insulated camping mugs
Insulated camping mugs are ideal for hot or cold beverages, keeping your drink at a consistent temperature. They also protect your hands if you're enjoying a hot tea or coffee. A lid helps prevent spills, and enhances the insulating properties.
Flask-style insulated camping mugs can also serve as 'slow cookers' for dishes like rice. Just add ingredients and boiling water, and wait. We tested these mugs with various ingredients, and had some good results. Just make sure not to place your mug over a heat source.
Yeti Rambler 10oz Lowball
Great for swilling hot and cold drinks
Weight: 267g / 9.4oz
Capacity: 295ml / 10fl oz
Material: Stainless steel
+ Great insulation
+ Reliable lid
+ Good capacity
- Large to hold
With excellent vacuum insulation, the Rambler Lowball keeps cold drinks cool for hours, and hot drinks warm for as long as you want it to, while protecting your hands from the heat/chill at the same time. The Magslider lid is kept in place with little magnets. On the downside, it's so chunky some people might find it too big for their hands.
Our rating: 4.5 out of 5 stars
A tall insulated mug for long drinks
Weight: 360g / 12.7oz
Capacity: 600ml / 20.3fl oz
Material: Stainless steel
+ Large capacity
+ Fits most cupholders
+ Robust design
- Quite heavy
This is a mug and a half, with a huge capacity that will delight those who like to glug a bucket of coffee or tea outside the tent in the morning, or while driving to a remote campsite. As well as keeping the heat in for those steamy drinks, it's also ideal for long, cold drinks, or you can load it right up with juice and ice and keep sipping for hours. Hot drinks will stay warm for six hours, and cold drinks remain chilled for 12 hours.
Our rating: 4 out of 5 stars
Handy mug that doubles as a flask
Weight: 262g / 9.25oz
Capacity: 300ml / 10fl oz
Material: Copper-coated stainless steel
+ Large mouth for soup and stew
+ Stable when put down
+ Leak resistant
- Heavier than simpler mugs
Despite its tall shape, this leak-resistant mug's weight ensures it's stable when put down, and it fits most vehicle cup holders. It also fits in your backpack's side pocket. As part of a camp kitchen kit it can be used as a 'slow cooker' for rice or other foods by adding boiling water and leaving for a while.
Our rating: 4 out of 5 stars
A big mug with impressive insulation
Weight: 295g / 10.5oz
Capacity: 470ml / 16fl oz
Material: Stainless steel, silicone, plastic
+ Maintains temperature for a long time
+ Tough design
+ Available with a handle
- Relatively heavy
This mug's clear plastic lid retains heat, while the sipping slot has a three-position slider that prevents spills. A silicone base pad gives good grip on smooth surfaces, and the power-coated stainless steel body resists drops and knocks. It keeps drinks piping hot for hours, and cooled for even longer. It also has potential as a 'hay box' cooker.
Our rating: 4 out of 5 stars
A simple beaker with a great sipping lid
Weight: 167g / 6oz
Capacity: 450ml/15fl oz
Material: Titanium
+ Tough design
+ Large capacity
+ Fits most cupholders
- Slippery metal base
The Kelvin's streamlined design has a a thin rim, making it comfortable to sip from if you don't like drinking through the lid. The silicone rubber lid is BPA-free, has no taste, and helps keep drinks warm. Its titanium construction makes it exceptionally light despite holding nearly a pint, while its narrow profile means it fits many cupholders. The mouth is large enough for soup and stews, too
Our rating: 4 out of 5 stars
A tough, featherweight camping mug
Weight: 78g / 2.7oz
Capacity: 350ml / 12fl oz
Material: Polypropylene glass composite
+ Super lightweight
+ Stable
+ Slop-proof lid
- Doesn't keep hot long
This mug is incredibly light and has a silicone sipping lid that will stop liquids slopping over if jogged. The slip-on insulation sleeve gives good grip, protects hands and retains warmth for as long as it takes to sip the average coffee. The dimensions make it stable when put down, and ensure it fits into most cup holders. And that minimal weight makes it a useful extra add-in to even a pared down hiking kit as an additional cup to use while cooking.
Our rating: 3.5 out of 5 stars
Lightweight camping mugs
A lightweight camping mug won't just serve you well on your adventures, it can also double as your day-to-day keep cup. We all know the environmental impact of all those Starbucks cups and lids going in the trash. By getting yourself one of the best camping mugs, you can do you bit by taking it along whenever you purchase a coffee.
A light, tough, and versatile mug
Weight: 73g / 2.5oz
Capacity: 400ml / 13.5fl oz
Material: Titanium
+ Lightweight
+ Robust
+ Uncomplicated
- No lid
If you're an extreme weight-saver, the Lifeventure Titanium may be the best camping mug out there. I used one as my only utensil on a 500-mile mid-winter walk across Europe, sleeping out every night and cooking on a tin-can spirit stove. It was a bit too small for that long on its own, but it worked and survived in good shape. This is an easy mug to keep in your bag for picking up a takeaway drink, brewing up on day hikes, or as your campfire mug to be replenished from a bigger pot heating on the flames.
Our rating: 4.5 out of 5 stars
A mug that doubles as a cooking pot
Weight: 118g / 4.2oz
Capacity: 850ml / 28.7fl oz
Material: Titanium
+ Mug, bowl, and pot in one
+ Holds 850ml of liquid
+ Tight-fitting lid
- Loses heat fast as a mug
Not only can you boil water, brew tea or cook meals in the single-skin Titan, but, when used as a mug, you can perch it at the edge of a live fire to keep its contents warm. Filled up it's heavy, but the fold out wire handles are shaped to allow a good grip, though you might need a pot holder or glove if it's fresh off a stove or fire. The push-tight lid saves fuel when boiling water and acts to keep some heat in when the Titan is being used as a mug, and there is a drip-free spout for smooth pouring.
Our rating: 4 out of 5 stars
Packs flat and concertinas to full size
Weight: 130g / 4oz
Capacity: 350ml / 12fl oz
Material: Food-grade silicone
+ Easy to carry anywhere
+ Leak-proof lid
+ Also comes in larger sizes
- Shape needs careful cleaning
The Stojo is an easy, everyday carry for your daypack or pocket, so you've got your own mug to hand wherever you end up. The innovative design allows the full height of the mug to be folded down into its own hard sleeve, taking up minimal room, while the lid keeps the last drips in a used mug from spilling out. As with any mug you carry, there's a double benefit in using it for take-away drinks; you don't use one of the disposables, and you can scoop up any discount for using your own mug.
Our rating: 4 out of 5 stars
Traditional camping mugs
There's a certain tactile pleasure that comes from warming your hands around a traditional camping mug when you're sitting by the campfire, whether it's an old-school enamel mug or a traditional carved wooden cup. You can't cook in these mugs, and they won't keep your drink hot as long as a double-walled vessel, but they certainly have their place.
Traditional Sami reindeer herder cup
Weight: About 140g / 5oz
Capacity: 200ml / 6.7fl oz
Material: Birch wood
+ Heritage craftsmanship
+ Naturally insulated
+ Gets better with age
- Holds a small amount
The kuksa or kåsa is the cup traditionally carved in one piece from a birch tree bole by Arctic Circle Sami reindeer herders. Each kuksa is individual, with its own grain and natural quirks, which take on an ever richer patina in use. Carved as strong and sturdy cup shapes, they are tough and practical, but need to be protected from getting too dry or too wet; folklore suggests boiling in milk or seasoning with brandy, but experts reckon a light wipe with olive or other vegetable oil – on the outside only – is all that's needed. That and using them as much as possible. Leo, of Casstrom, claims that 'the wood will remember everything you do to it'.
Our score: 4.5 out of 5 stars
Made famous by polar explorers
Weight: 135g / 4.8oz
Capacity: 400ml / 13.5fl oz
Material: Enamel-coated steel
+ Outdoor design classic
+ Tough
+ Internal measurements
- Can't be used for cooking
The enamel mug's appeal is mostly retro, but it's still a solid piece of kit, and there's a pleasure in wrapping your hands around a mug that isn't insulated and warms the fingers. The Hammock Mug by Amok is well made and has a few refinements. The 'hammock calibrator' measures the optimum angle of a hammock's suspension ropes; fill the mug with coffee to a line inside the mug and then tilt the mug until the liquid is level with a second line, when the bottom of the mug will be sit at the perfect 30 degree slope. There are internal measurement marking as well.
Our score: 3.5 out of 5 stars
Camping mugs comparison table
Swipe to scroll horizontally
| | | | | |
| --- | --- | --- | --- | --- |
| Camping mug | List price | Weight | Style | Material |
| Yeti Rambler 10oz Lowball | $20 (US) / £20 (UK) | 267g / 9.4oz | Insulated tumbler | 18/8 Stainless steel |
| Dometic TMBR 60 Thermo tumbler | £24 (UK) | 360g/12.7oz | Insulated tumbler | Stainless steel |
| Lifeventure Flip-Top Thermal Mug | £16 (UK) / €19 (EU) | 262g/9.25oz | Insulated flip top mug | Food-grade stainless steel, copper coated, matt finish |
| Camelbak Horizon Vacuum Insulated Tumbler | $22 (US) / £26 (UK) | 295g/10.5oz | Insulated tumbler | Powder coated stainless steel, silicone non-slip base, BPA, BPS, BPF free plastic lid |
| Sea to Summit DeltaLight InsulMug | $8 (US) / £7 (UK) | 78g/2.7oz | Mug with removable insulating sleeve | BPA-free polypropylene glass composite |
| Alpkit Kelvin Double walled beaker | £40 (UK) | 167g/6oz | Insulated beaker | Titanium |
| Lifeventure Titanium Mug | £25 (UK) / €28 (EU) | 73g/2.5oz | Lightweight camping mug | Titanium |
| MSR Titan Kettle | $60 (US) / £54 (UK) | 118g/4.2oz | Mug / cooking pot hybrid | Titanium |
| Stojo 12oz Folding Mug | $12 (US) / £8 (UK) | 130g/4oz | Folding mug | Food-grade silicone |
| Amok Enamel Hammock mug | $15 (US) / £17.35 (UK) / €20 (EU) | 135g/4.8oz | Traditional camping mug | Enamel coated steel |
| Casstrom Kuksa Birch Wood Mug | £58.50 (UK) | 140g/5oz | Wooden mug | Birch burl wood |
How to choose a camping mug
The best camping mug is very much a personal choice, but bear the following in mind. For many people a mug is going to do most of its work keeping a drink hot on the early morning commute to some activity, so pick a size that holds a decent amount of liquid – there's no point in going short or having to make another brew – and consider a design that will fit into a standard vehicle drinks-holder.
For camp use an insulated mug with a handle might contain less than a tumbler but will be wider and squatter making it more stable and comfortable to hold. On a boat, a SUP or in a kayak a handle also gives you something handy to clip a line onto which might just stop you losing the whole caboodle the Flip-top, DeltaLight and wooden kuksa will float, the other designs won't. Finally, that mug - whatever its practicalities - that goes along on every trip with you can become as comfortable as a well worn-in pair of hiking shoes, and even a part of your personality.
Versatility
Coming up with containers that could hold liquids was one of humanity's earliest achievements and their importance remains in the Space Age. An ultra-light mug in plastic or titanium that you keep in your daypack is one way to help ease the planet's plight by avoiding single-use cups, and it will quickly pay for itself in discounts on every refill. For real multi-tasking, and if you're saving every ounce, a large single-skin titanium mug, like the Titan, can treble-function as a cup, bowl or cooking pot that can be used on stoves or a campfires, whilst a standard-sized, single-skin metal mug can supplement your other cooking pans. Insulated mugs can become a useful part of the cooking process, too; if you use them to soak rice, pasta or even diced vegetables in boiling water, the contents will cook without needing further heat.
Features to look for in the best camping mug
Like all outdoor kit, even the best designed and high-tech of camping mugs will steer a course between genuinely useful features and their cost in weight, bulk and cash. Sometimes the penalties and the savings aren't as obvious as they first seem. An insulated mug will weigh more and take up more space than a single-skin mug but it can save on the fuel needed to reheat drinks or avoid the wastage of a drink ending up tepid and being chucked out. Lids are not only part of the insulation package but can prevent slops and spills.
Be aware that push-fit, sipping lids, even those with aperture closures, are not totally leak-proof, though they should stop you losing more than a splash if the mug's knocked over or sloshed around, and might save a map, your best hiking pants or your phone from a real soaking. Handles on uninsulated metal mugs are necessary to avoid burning your fingers when they're filled with hot liquids and can be useful as tie-points. Rubberised grip rings on a mug's base can stop sliding on smooth surfaces.
Price/Value
As always, the best value essentials on your camping checklist have the features you need and nothing else, and do their job trip after trip without falling apart. Mugs for the outdoors are no different, and because they're relatively cheap and always useful most of us end up with an arsenal of them for all situations. Most people, however, end up with a favourite mug that goes along on most trips with them. Though such faithfulness is commendable it's worth considering the options that different mug designs and qualities offer and maybe considering taking a couple or more along on all but the most pared down hiking trips. A mug's versatility, small size and relative light weight means that your camp kitchen could be based on a cooking mug-pot, and an insulated mug and still leave room for your own eccentric choice of old favourite that's just right for sitting round a campfire with whilst you sip on whatever it is you sip in those situations and stare into the flames.
All the latest inspiration, tips and guides to help you plan your next Advnture!
After a wild childhood in west Cork, Jasper Winn began embarking on long cycles, walks, horse journeys and kayak trips across five continents – adventures he's decanted into books, magazine articles, radio and television documentaries. Keen on low-tech but good gear, Jasper is an advocate of slow adventures by paddle, pedal, saddle, boot and sail. He has circumnavigated Ireland by kayak and cycled across the Sahara. Twice. Having ridden north-to-south across Algeria he discovered the only way to get back was to turn round and pedal north again.