The best running tops: for trail training, road running races and everything in between
By Pat Kinsella published
The best running tops aren't just any old t-shirts. Here's our pick of the tops that'll help make your running more comfortable, enjoyable and efficient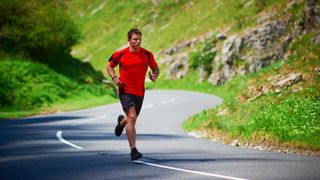 (Image credit: Getty Images)
What makes the best running tops? A t-shirt's just a t-shirt, surely? Tops are often the unsung heroes of the runner's wardrobe, with most of the attention being lavished on acquiring the best running shorts and the best trail running shoes. That's where all the sexy tech spec happens, right? All those sneaky pockets and anti-microbial magic elements incorporated into designs. Even socks get more airtime in conversations about running than tops do, but perhaps this is inevitable in a sport where, like Riverdance, most of the action appears to happen below the waist.
However, most of us wouldn't dream of going out for a run without a top on, and not just for the sake of the neighbors. The best running t-shirts quietly go about doing several things at once, to help make your running efforts enjoyable and efficient. As a next-to-skin garment, they need to allow your body to breathe as much as possible, while still supplying some level of protection from the elements (from cold winds to harmful levels of sun). And when you sweat, they need to wick moisture away. The very best running tops are designed so they won't rub, using materials that won't smell to high heaven after a few outings.
The running tops below are all designed for men, but you can also check out our guide to the best women's running tops.
How we tested the best running tops
We tested the best running t-shirts during road-running sessions, trail-scampering adventures and races in a range of climatic conditions, both with and without secondary layers and hydration packs.
The best running tops for racing
Inov-8 Base Elite Short Sleeve Base Layer
Super-breathable, lightweight, performance-running t-shirt made from recycled technical polyester yarns
Specifications
Materials:
Main body: Recycled polyester (100%); Airflow panels: Recycled polyester (88%) and elalstane (12%)
Colors:
Red / Blue / Green
Compatibility:
Trail and road running, racing and training
Reasons to buy
+
Lightweight
+
Extremely breathable
+
Made from recycled materials
+
Reflective flourishes
+
Anti-odor treatment
Reasons to avoid
-
Reflective details very small
-
Wind porous
-
Quite expensive
-
Antimicrobial technology will only last so long
The inov-8 Elite Base Layer running tee is exactly what most people are looking for when hunting for an all-purpose trail training and racing top. It's lightweight, boasts breathable mesh panels right across the back and under each arm, and has been treated with an anti-stink treatment to prevent the build-up of friend-losing aromas.
Despite being synthetic the next-to-skin comfort levels are good, and we experienced no rubbing during testing, even wearing it straight out the packet for a 20-mile race. Being entirely synthetic, it dries super quickly, doesn't get heavy when wet and still provides some level of thermal cover even when drenched – although the amount of mesh in the design does mean that this top is far from windproof, so it can be a bit breezy while you're waiting on the start line (once you're running, this turns into a real positive).
While the design is quite loose, allowing for plenty of freedom of movement, and feels aimed more towards trail runners, there are reflective flourishes that will help drivers see you if you're running on dark lanes and roads at night (although these are very small). And, of course, it's made almost entirely with recycled polyester, which each top accounting for around eight 500ml PET bottles.
It's available in both long and short-sleeve versions, and the longie has thumb loops.
Dynafit Ultra S-Tech Shirt
One of the best running t-shirts for anyone who wants to prioritize lightweight performance over everything else
Specifications
Materials:
Polyamide (73%), polyester (21%), elastane (6%)
Colors:
Nimbus / Petrol / Reef / Winter Moss
Compatibility:
Trail running races
Reasons to buy
+
Extremely light
+
Race cut
+
Quick drying
Reasons to avoid
-
Limited sizing
-
Super-tight fit not for everyone
Pulling the Ultra S-Tech Trail Running t-shirt over your head instantly puts you in a racing frame of mind – the material mix and very close-fitting cut of this dynamic tee means it clings on tight to your torso, which is perfect if you're in top fighting fitness form and want to avoid snagging on anything while running through the mountains and woods (but it leaves nowhere to hide if you're carrying a few extra rations in the belly department).
Despite the tightness, the material boasts four-way stretch, so it doesn't feel restrictive when you're hopping over rocks and tackling other trail obstacles. It's unbelievably light, and the poly material barely takes on any moisture if you get caught out in the rain, so it won't get any heavier no matter what the weather throws at you.
The breathability levels are decent, with good mesh elements employed across the back and chest, and the design is seamless, which adds to comfort levels. On the downside, there is no recycled material content in this top, and it hasn't been treated with an anti-pong/bacteria substance, so odors could accumulate after extended use. You need to be a bit careful how you wash it too – there's not much room for it to get any tighter.
A super-light, moisture-wicking base layer running top designed for speedy runners
Specifications
Materials:
Polyester (100%)
Colors:
Flag Red / Narwhal Blue / Kelp Green
Compatibility:
Trail and road running
Reasons to avoid
-
No recycled content
-
No mesh
Designed to offer a dynamic race fit, the Sabre hugs your torso and upper arms tight, so there's no excess material to flap around in the wind or get caught on brambles and bushes when you're out on the trails. It doesn't feel restrictive, however, as the material has a reasonable amount of stretch – more than expected for a 100 per cent polyester garment. Weighing in at just 105g / 3.8oz, the Sabre barely feels like you're wearing anything when you out it on.
Equally functional for on-road or off-road running adventures, the tee comes in three pleasing colors and boasts reflective flourishes on the side and back, so car lights should pick you out (although, as with many designs, these are not very big). The rounded, low-profile merrow-stitched seams don't rub or irritate during wear, and the material wicks moisture away when you sweat (and barely takes on any extra weight when it's wet).
The Apex PK fabric features polygiene permanent odor control – we will report on how this holds up after extended use. Sadly, there doesn't appear to be any recycled fabric in the material mix, which is a bit of a let down.
Karpos Moved Evo Jersey with Polartec
This lightweight, fair-weather, mesh design is one of the best running t-shirts for tearing up the trails
Specifications
Materials:
Polartec Delta (synthetic)
Colors:
Outer Space & Tangerine / Pond & Sulphur / Outer Space & Black / Flame Scarlet & Ombre Blue / Ombre Blue & Jasmine Green
Compatibility:
Trail or road running in relatively warm conditions
Reasons to buy
+
Excellent breathability
+
Superb moisture wicking
+
Body-hugging design
Reasons to avoid
-
Very little thermal protection
-
No wind protection
Firmly a running top for people who run hot, or who run regularly in warm conditions. This collaborative product, made by Italian brand Karpos with Polartec Delta as the main component, is comprised almost entirely of a mesh material, which means it breaths like an absolute dream when you're working up a sweat on the trails, and wicks moisture away from the skin like a champion, but can leave you shivering somewhat if you get caught out in less warm or more windy conditions.
However, this is exactly how it's been designed, and so long as you're aware of this and wear it in appropriate scenarios, it works really well.
It's a real body hugger this one, which most faster runners will appreciate. There's plenty of dynamic movement across the garment, but it can ride up a little bit under other layers or packs. The fabric has been treated with polygiene to reduce the accumulation of pong, and we wore this top on sweaty runs all last summer, and can happily report that it remains relatively stink free.
The best running tops for comfort
Salomon Outspeed Wool Seamless
A majority-merino, versatile running top with plenty of natural attributes
Specifications
Style:
Short-sleeved t-shirt
Materials:
Wool (59%), polyamide (41%)
Colors:
Black / Fiery Red
Compatibility:
Trail running, fast-packing, hiking, biking
Reasons to buy
+
Extremely comfortable
+
Lightweight
+
Breathable
+
Natural anti-odor properties
Reasons to avoid
-
No rear-facing reflective details
-
Expensive
-
Needs to be cold washed
Salomon have used an interesting material mix with the Outspeed, making it with almost 60 per cent merino wool, which brings so much to the table in terms of breathability, moisture wicking, next-to-skin comfort, odor control and thermal capability. Merino, being a natural product that has worked well for sheep for millennia, knows how to perform in challenging outdoor conditions, and this makes it excellent for adventure garments.
The problem with it is, if you're not re-growing and replenishing it, like those canny sheep do, it tends to wear through quite fast – especially if you're doing things like wearing running packs with abrasive harnesses and sticking safety pins through it with race numbers on. By including a hefty element of a tough man-made material like polyamide, Salomon are ensuring that you get a good bit more wear from this top – which, for the price, you will both want and expect.
It still won't last as long as an entirely synthetic top, but it's a lot more environmentally friendly, and feels a whole lot nicer to wear. As a running top, the Outspeed is very comfortable, especially because it has a seamless design. The fit is trim, so there's no material flapping about, and there's a waist hem, to stop it riding up if you're running with a pack. There is one reflective element, but it's on the front, so it's not the safest tee to run along dark lanes in.
BAM Skua Training T-shirt
A super-comfortable, bamboo-made running and active-wear tee for trail adventures
Specifications
Materials:
Bamboo viscose (68%), organic cotton (28%), elastane (4%)
Colors:
Blue & White / Charcoal & White
Compatibility:
Ideal for running, hiking and biking in dry weather
Reasons to buy
+
Exceptionally comfortable
+
Highly breathable
+
Brilliant odor control
+
High UPF protection (50+)
Reasons to avoid
-
Heavy when wet
-
Dries slowly
-
Thermal performance low when wet
-
No reflective safety details
Bamboo-made garments are typically an absolute pleasure to wear next to the skin, and the Skua training tee is no exception. It feels luxuriously soft and forgiving while you're running, and the material works hard to keep you comfortable, wicking away sweat and allowing your poor perspiring body to breath naturally.
The design of this T is especially comfortable, with single-piece side panels built in to avoid underarm seams, which can cause issues. Bamboo is, of course, a natural and fast-growing material, which is far kinder to the environment than synthetics, and it deals well with bacteria so you don't get the kind of bad odor build-up that can make man-made tops unwearable in polite company after a few extreme wears.
We like the design of this top too, with its stylish but non-flashy colorways, crew neck and tidy cut (not too tight, not too baggy). On the downside, there are no reflective flourishes to help drivers see you when running in the dark, and if you get caught out in the rain while running in this top, it will get soaked through and weigh you down quite a bit – and then take a long time to dry.
The material mix includes a big percentage of cotton, which is fine on sunny summer days, but offers no thermal properties whatsoever in wet and cold conditions (quite the opposite). As a fair-weather running, hiking or biking top, this is almost perfect, but if there's a chance of rain – go with another option.
The best running tops for versatile outdoor active use
Craghoppers Men's Dynamic Short-Sleeved T-Shirt
Attractive activewear top for running and other outdoor adventures, made with mostly recycled material
Specifications
RRP:
£30 (UK) / (Not currently available in the US)
Materials:
Polyester (61%), cotton (36%), elastane (3%)
Colors:
Magma Orange / Poseidon Blue / Ocean Blue / Sriracha red
Compatibility:
Running, hiking and biking
Reasons to buy
+
Stylish
+
Good price
+
Recycled materials
Reasons to avoid
-
No odor control
-
Cotton content heavy when wet
-
No reflective safety details
This good-looking and versatile outdoor-active top has been made using a fair chunk of recycled poly material (around four plastic bottles worth, according to Craghoppers), which is a definite step in the right direction.
It also employs Dynamic 12000 Innovative fabric, which, it is claimed, employs six natural minerals to reflect your own body's natural infrared rays, a process that advocates argue improves blood circulation (and therefore oxygen intake) and encourages cell regeneration, leading to better performance and all-round wellbeing. It is, of course, very difficult to assess the efficacy of such things after a few wears, but we will continue to assess this on our long-term test.
What we can tell you is that this is a very comfortable tee to wear for running, regardless of whether you hit the trails or the roads. The mix of cotton and synthetic gives it a smooth, cool, next-to-skin feel, although the relatively high cotton content would make us nervous about relying on it for warmth in a mountain situation; but as a spring and summer running top, it certainly cuts the mustard.
The price is reasonable, and the style is classy, with a nice cut and a crew neck. Made from a tough mix, it feels like it will last the distance too, although with no odor control treatment we wonder whether it may accumulate some sweat smells after a few tough runs. Also, a couple of reflective details (so vehicle drivers can see you running at night) would make a good addition.
The best running tops for value
Berghaus 24/7 Tech Tee Baselayer
A relatively basic, but highly reliable running t-shirt for everyday runs on any terrain
Specifications
Materials:
Polyester (100%)
Compatibility:
Trail and road running, hiking, biking
Reasons to buy
+
Good price
+
Odor-resistant fabric
+
Quick drying
Reasons to avoid
-
No recycled content
-
Synthetic feel
-
No reflective details
As we have come to expect from the British brand Berghaus, this running top is a no-nonsense garment that does exactly what you want it to do, for a very reasonable price. No bells, no whistles, just a functional tee that's ideal for running trails or roads.
It's made with entirely synthetic poly materials, which means it's light, won't absorb water (and therefore gain weight) if you're running in rain, wicks sweat away excellently, and will still provide a level of thermal protection, even when wet. It also dries very quickly.
On the downside, such materials are not great for the planet – we're pleased to see the fabric used is bluesign approved (although we're not sure why, as there doesn't appear to be any recycled content). The material has been given an anti-stink treatment, which is also a relief, since synthetics do tend to get a bit nose-wrinkly after a few good hard wears.
We found the fit to be a bit on the baggy and generous side, with quite a lot of excess material. There are no reflective flashes on the top, which would have been nice safety addition for running on roads and lanes in the dark.
What to look for when buying the best running tops
Everyone's running needs are a little bit different, but here are some things to consider when buying a top to make sure you get the the best running t-shirt to suit your needs.
Materials
Probably the single biggest factor in any of the best running tops is what material to go for. The choice is typically between synthetic (which will be lightweight, quick-drying, good in wet weather and quite cheap, but are terrible for the environment, can be more abrasive to wear, and often start to pong) and a natural material, like merino wool or bamboo – both of which offer far better comfort, breathability and thermal performance levels than synthetics, and tend to stay nicer smelling. However, they do tend to cost a bit more and don't last as long. A lot of brands use a mixture of synthetics and natural material, and this can offer the best of all worlds.
Design
A running top is a running top, right? Well, yes and no – not all tees are made equal. There are some obvious considerations to take into account, such as whether you want long or short sleeves, but other things to look at are mesh inclusions in sweaty areas (under the arms and across the back), which will really help with breathability, and extended back panels or good quality waist hems, which prevent tops riding up when you're wearing a hydration pack.
Fit
Some are looking for something baggy in the best running tops, others like their gear to be as streamlined and performance-focussed as possible – it's a completely subjective choice. Obviously, if a top is too loose, you may end up getting it snagged during trail runs.
Odor control
Synthetic tops in particular are prone to accumulating nasty sweat smells (which boils down to bacteria building up), so it's worth seeking out tees that have been treated to deal with this.
Sustainability
Natural materials like merino wool and bamboo have a much lower carbon footprint, and are far less damaging to the environment all round than synthetics, not least because garments made with natural fibers are biodegradable at the end of their useful life, while synthetics t-shirts will be hanging out with the cockroaches long after the rest of us have become extinct. Increasingly, brands are using recycled plastic to make garments such as running tops – this isn't perfect, because micro-plastics can be released during washing, but it is a step in the right direction.
Safety features
Whether you run on trail or road, or a mixture, it's likely you will find yourself jogging along a dark street or lane at some point, and a couple of reflective flourishes on the back and arms of your top can make the difference between a driver seeing you or not. These are always good inclusions.
Price
The price of seemingly quite similar tops can vary an awful lot. If a top seems expensive, drill down into what it's really offering you – including elements such as anti-odor treatments that should improve the usable lifespan of the garment – and make an informed decision.
Writer, editor and enthusiast of anything involving boots, bikes, boats, beers and bruises, Pat has spent 20 years pursuing adventure stories. En route he's canoed Canada's Yukon River, climbed Mont Blanc and Kilimanjaro, skied and mountain biked through the Norwegian Alps, run an ultra across the roof of Mauritius, and set short-lived records for trail-running Australia's highest peaks and New Zealand's Great Walks. He's authored walking guides to Devon and Dorset, and once wrote a whole book about Toilets for Lonely Planet. Follow Pat's escapades here.
All the latest inspiration, tips and guides to help you plan your next Advnture!
Thank you for signing up to Advnture. You will receive a verification email shortly.
There was a problem. Please refresh the page and try again.