Amazon Prime Day camping deals: offers on tents, sleeping bags and stoves available right now
There are already great Amazon Prime Day camping deals on offer.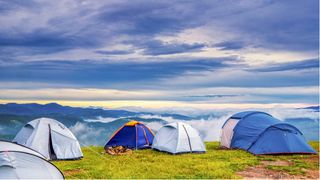 (Image credit: Image by Fabricio Macedo FGMsp from Pixabay)
Amazon Prime Day is an annual event which sees all iterations of Amazon drastically cut its prices with jaw-dropping deals. Although it usually takes place in July, Amazon Prime Day 2020 has been pushed back to October 13 and 14. So if you're after a pre-Black Friday Bargain, the event is the perfect time to buy.
We're busy scouring Amazon during Amazon Prime Day to find you the best offers on tents, sleeping bags and general camping gear that you can take advantage of right now. Along with our guide to the best Amazon Prime Day hiking deals, we'll make finding the top bargains a breeze.
Simply scroll below to see some of the offers on camping equipment that have caught our eye. We know that Amazon can be hit-and-miss when it comes to discounts, so we've taken care to only single out the deals we ourselves would be keen to snap up.
If you've seen something you like and you're about to click add to basket, make sure you have an Amazon Prime account first! Otherwise, you won't be able to take advantage of any Amazon Prime Day camping deals. As well as giving you access to a wealth of amazing discounts, Amazon Prime offers you music, streaming and free delivery, so it's worth signing up to it. And don't forget, you can take out a free trial and quit before you pay the subscription cost.
Want camping deals now?
Desperate for deals on camping equipment, don't fret. We've put together a list of retailers that are currently running offers on camping gear right now. Check them out below:
If you want to look further afield though, you're in luck. There are a plethora of online retailers who specialise in camping equipment. Here are the biggest names in the industry you'll want to check out.
UK retailers:
US retailers:
Best Amazon Prime Day camping deals
It's understandable that Amazon might not be your first choice of retailer for cheap camping gear. After all, specialist sites are already offering their own incredible deals. However Amazon Prime Day often sees the launch of discounts you won't find anywhere else.
Even if Prime Day doesn't see your favourite brand come crashing down in price, you're likely to find impressive discounts on tents, sleeping bags, sleeping mats and more. Here are some amazing deals we've already seen.
Best Amazon Prime Day camping deals UK
Best Amazon Prime Day camping deals US
Camping deals from everywhere else
Here at Advnture we're dedicated to bringing you, our readers, with the best, buying advice when it comes to all sorts of outdoor equipment, whether that's camping gear, trail running shoes, or hiking boots. When events like Amazon Prime Day and Black Friday come around, we're going to work hard to sift through all the deals to show you the top offers you can't afford to miss.
However you can still pick up a good bargain when these events aren't running. We have a range of buying guides that are packed with links to offers on the best outdoor gear.
These buying guides are broken down by product and pursuit, with brand goods making frequent appearances. And because we monitor these pages regularly, you'll always be up to date with the latest price cuts. Check them out for yourself:
How to find the best Amazon Prime Day camping deals
After the best deals on camping equipment? Simply bookmark this page then be sure to head back during Amazon Prime Day.
It's our goal to save you the time and hassle of trawling through Amazon for deals so you don't have to do any hard work. As well as highlighting the biggest discounts, we will also alert you to any vouchers that could save you big chunks of money.
But remember, even the juiciest of Amazon Prime Day deals is only up for grabs if you have an Amazon Prime account. We can't stress this enough. To avoid disappointment, why not sign up now so you're ready when the event kicks off? If you like the perks of being a member you're of course welcome to stay, but if you're just after a free trial, remember to unsubscribe right after Prime Day is over.
All the latest inspiration, tips and guides to help you plan your next Advnture!
Thank you for signing up to Advnture. You will receive a verification email shortly.
There was a problem. Please refresh the page and try again.