What is sport climbing? Its history, legendary locations and what you'll need
What is sport climbing? We delve into the development of sport climbing, the world's most popular approach to rock climbing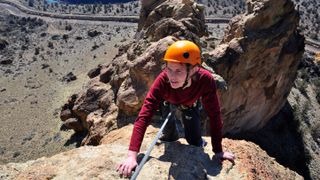 (Image credit: Getty)
What is sport climbing? Well, once upon a time, rock climbing was just rock climbing, a pursuit of climbing crags using your wits, strength, technique and protective equipment. Then, in the late 1970s and 1980s, a new movement emerged, first in Europe and then in America, that would hammer a great split through the climbing world.
In France's magnificent Verdon Gorge, climbers Stephane Troussier and Christian Guyomar started to fix permanent bolts into some of the more inaccessible sections of the cliffs, creating new routes that were up until then unimaginable. They would rappel (abseil) down from the top and equip the climb with permanent protection, thus creating routes that allowed them to scale the previously unscalable. The installation of bolts did away with the need for climbers to place their own protection, instead the focus was on the technical challenge of the climbing on the Verdon's sensationally exposed walls. Sport climbing was born.
Following on from this, similar methods were used by Alan Watts on his local Smith Rock in Oregon. Climbers in the US were now able to push the limits of what could be achieved on a rock climb, as they were able to practise difficult pitches over and over, taking multiple falls without the worry of protection popping out.
Across the globe, word was beginning to spread about this new approach to rock climbing, an approach that placed greater emphasis on technicality and technique. When top climbers started to complete difficult climbs way beyond what was then achievable by traditional methods, the sport climbing approach fast became the most desirable way to rock climb and venues sprung up all over the world. This development most recently culminated in the first ever climbing event at the Tokyo 2020 Olympic Games.
What is sport climbing and how is it different to trad climbing?
What is sport climbing? To put it simply, sport climbing is climbing that takes place on routes that are already protected by pre-installed bolts. The lead climber attaches quickdraws to the bolts as they climb, clipping the rope in as they go.
This is different to trad climbing, where the climber has to place their own protective gear – such as nuts, hexes, cams or slings – onto features in the crag as they progress. Without all of this gear, a sport climber's harness is not as weighed down as one worn by their trad climbing counterpart. A sport climber also doesn't have to worry about gear placement and can focus more fully on the intricacies of the climbing.
When the sport climbing approach first emerged, it drew criticism from traditionalists, with some saying it removed the spirit and purity of the climb and others going as far to say it was cheating. However, as time progressed, the rock climbing world embraced both sport and trad pursuits and the unique joys and challenges they bring.
The advantages of sport climbing are that there are fewer objective hazards, making it a less committing way into rock climbing for beginners; it's cheaper to acquire the necessary equipment; and it opens up a whole world of technical routes that would be incredibly difficult to climb in a trad style. Of course, the downside is that, unlike with trad climbing, you can't go climbing on any crag you choose, only on those set up for sport climbing. Which brings us to...
Where can you go sport climbing?
While the sport climbing approach is replicated in climbing gyms, making for an accessible place to train for climbing, there's nothing like sport climbing outdoors. There are venues throughout the world and there's a very strong chance there will be sport crags near you. A quick internet search will reveal the best venues in your region, while a great way to get involved is to join your local climbing or mountaineering club.
Sport climbing afficionados may choose to make a pilgrimage to the Verdon Gorge or to Smith Rock to soak up the history, atmosphere and immense climbing found at the places where it all began. The list of legendary other climbing spots that have been bolted into existence is longer than any rope. From the drama of Morocco's Atlas Mountains and the seemingly endless sunshine of the Greek island of Kalymnos to the many venues in Californias National Parks and the glorious sandstone at Nevada's Red Rocks, there's a whole world of sport climbing adventure to be had.
What equipment do you need for sport climbing?
Helmet – Head protection from a fall and from rockfall. Should be replaced immediately if damaged.
Harness – A padded harness is most comfortable and a model with at least four gear loops and a central belay loop is recommended.
Rock boots – Tight fitting with sticky rubber soles that allow maximum precision and grip on the crag. Don't be surprised if they're uncomfortable to walk in, it's not what they're designed for.
Rope – For sport climbing, you should be looking at 60 meters of rope in order to lower yourself from the vast majority of routes
Belay device – Either a manual breaking device or an assisted braking device that the rope is fed through the create friction. Assisted braking devices are preferable if your partner is expecting to take many falls.
Quickdraws – Usually between 10 and 25 cm in length, these consist of two snap-link karabiners linked by a tape sling.
Sling – Used alongside a screwgate carabiner as a cow's tail for attaching to the lower-off.
Carabiner – Used alongside a sling to at the lower-off.
Number of pitches
Sport climbing routes can either be single or multi-pitch. A single pitch route is one that only takes one rope length to complete. On a single pitch climb, the leader can set a up an anchor at the top, allowing others to take on the climb without having to clip quickdraws in as they go, as they are protected from above. This is called top roping, an approach that's popular with instructors when introducing novices to the sport.
A multi-pitch climb is one that requires more than one rope length and therefore entails multiple pitches. The leader climbs, clipping in quickdraws into the bolts, until they reach an anchor at the end of a pitch. They secure themselves to the anchor before belaying the second, who climbs up and removes the quickdraws as they go. Then whole process is then repeated for the next pitch. Some multi-pitch routes 'top out', reaching a point where the climbers can walk off the back of the route, while others involve rappelling (abseiling) in stages back down to the ground.
Sport climbing grades
As with trad climbing, sport climbing routes are given difficulty grades and often bestowed with climbing ratings in guidebooks and on websites, thus indicating their quality. The French sport grade is used internationally, while sport climbs are also often graded with the US Yosemite Decimal System. Both systems are numeric and increase alongside the difficulty of a climb, while both use a, b and c to represent nuances within the grade.
To make matters slightly more confusing, there's also the UIAA grading system of the International Climbing and Mountaineering Federation, which is primarily used in Germany and other Eastern European countries. This time the level of challenge is indicated with ascending Roman numerals, with intricacies within the grade indicated by a plus or minus sign.
Clear as mud? Hopefully the comparison table below will help you make sense of how the grades measure up to each other. The caveat here is that any such grading system is subjective and the perceived difficulty of a climb is reliant on numerous factors, from the weather and conditions to the equipment and the person making the difficulty judgement.
Swipe to scroll horizontally
Sport climbing grades compared

| | | |
| --- | --- | --- |
| French sport grade | UIAA (alpine) grade | US grade |
| 1 | I / II | 5.1 / 5.2 |
| 1 / 2 / 2+ | II / III | 5.2 / 5.3 |
| 2 / 2+ / 3- | III / III+ | 5.2 / 5.3 / 5.4 |
| 2+ / 3- / 3 / 3+ | III+ / IV / IV+ | 5.4 / 5.5 / 5.6 |
| 3- / 3 / 3+ | IV / IV+ | 5.5 / 5.6 |
| 3 / 3+ / 4 | IV / IV+ / V- | 5.5 / 5.6 / 5.7 |
| 3 / 3+ / 4 / 4+ | IV+ / V- / V | 5.6 / 5.7 |
| 3+ / 4 / 4+ | IV+ / V- / V | 5.6 / 5.7 |
| 4 / 4+ / 5 | V- / V / V+ | 5.7 / 5.8 |
| 4+ / 5 / 5+ / 6a | V+ / VI- / VI | 5.8 / 5.9 |
| 5+ / 6a / 6a+ | VI / VI+ | 5.9 / 5.10a |
| 6a+ / 6b / 6b+ | VI+ / VII- / VII | 5.10b / 5.10c |
| 6b / 6b+ / 6c | VII / VII+ | 5.10d / 5.11a / 5.11b |
| 6c / 6c+ / 7a | VII+ / VIII- / VIII | 5.11b / 5.11c / 5.11d |
| 7a / 7a+ / 7b | VIII / VIII+ / IX- | 5.11d / 5.12a / 5.12b |
| 7b / 7b+ / 7c / 7c+ | IX- / IX / IX+ | 5.12b / 5.12c / 5.12d / 5.13a |
| 7c+ / 8a / 8a+ | IX+ / X- / X | 5.13a / 5.13b / 5.13c |
| 8a+ / 8b / 8b+ | X / X+ | 5.13c / 5.13d / 5.14a |
All the latest inspiration, tips and guides to help you plan your next Advnture!
Alex is a freelance adventure writer and mountain leader with an insatiable passion for the mountains. A Cumbrian born and bred, his native English Lake District has a special place in his heart, though he is at least equally happy in North Wales, the Scottish Highlands or the European Alps. Through his hiking, mountaineering, climbing and trail running adventures, Alex aims to inspire others to get outdoors. He is currently President of the London Mountaineering Club, training to become a winter mountain leader, looking to finally finish bagging all the Wainwright fells of the Lake District and hoping to scale more Alpine 4000ers when circumstances allow. Find out more at www.alexfoxfield.com