The best wood-burning stoves 2023: for cooking up campsite cuisine with natural fuel
The best wood-burning stoves are great fun to cook with, and represent a natural alternative to canister gas and liquid fuel stoves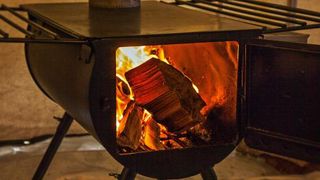 (Image credit: Camp Chef)
The best wood-burning stoves will change the way you think about campsite meals. When cooked over an open flame, food tastes deliciously different, while using fire to serve up some sustenance when you're eating outside is undoubtedly exciting.
It's not always possible, practical or safe to build and cook on a campfire, however, and even when you can light one, it can take a while to build the blaze, prepare the embers and get a grill, tripod or camp oven arranged over them. The best wood-burning stoves are designed so you can start cooking quickly, while retaining all the good bits about using natural materials as free fuel.
The best wood-burning stoves offer a very effective alternative to more traditional gas canister and liquid-fuel camping stove models. They are typically more straightforward in design, often with just a few pieces to assemble, so there's less to go wrong. Few things are more infuriating than a broken connection on your camping stove that means you can't access your fuel. Better still, with a wood-burning stove you don't need to stress about running out fo gas.
The following are some of the best wood-burning stoves in the world, with designs that that have originated from all around the planet – including the USA, Japan, India and Ireland. Some are intended for backpackers, travelling light, while others are for car camping adventures, but all are powered by the original fuel humans used to cook with: wood. Most importantly, all will have you cooking up the best camping meals in no time.
The best wood-burning stoves
The best wood-burning stoves for versatility
A five-inch folding fireplace for alfresco flame-grilled food
Specifications
Dimensions:
12.7 x 19cm / 5 x 7.5in
Materials:
Stainless steel
Extras:
Ash tray, firesticks, canvas storage bag
Reasons to buy
+
Stainless steel
+
Takes any fuel
+
Good airflow
+
Stable cooking base
Reasons to avoid
-
Needs to be put together and dismantled before and after use
There's something magical about experiencing the basic elements of wind, earth and water when you are backpacking. The Firebox adds the missing element, fire. The stainless steel folding stove sets up in seconds. When open, sturdy barrel style hinges create a solid stainless steel box that lets you add fuel from the bottom, top or side feed ports. In terms of fuel, the Firebox accommodates sticks from around the campsite, wood pellets, alcohol burners, and even charcoal briquettes. It's your choice. Airflow through open ports keeps the flames burning hot. Put your cooking pot on the top of the stable Firebox and dinner is ready in just a few minutes. After dinner, let the stove cool, fold it down and you are ready to go. All the critical pieces are attached to the hinges so there's no chance of leaving an important component half-buried in a pile of campsite pine needles.
From folded flat to fire in 30 seconds
Specifications
Dimensions (packed):
34.2 x 25.4 x 2.8cm / 13.5 x 10 x 1.1in
Dimensions (open):
34.2 x 25.4 x 27.9 / 13.5 x 10 x 11in
Materials:
Stainless steel
Extras:
canvas storage bag
Reasons to buy
+
Quick set-up
+
Relatively lightweight
+
Easy to transport
Reasons to avoid
-
Not as durable as other models
Only just over an inch thick when folded flat, the stainless steel two-piece Flatpack set-ups up in 30 seconds. Add wood or charcoal briquettes, start the fire and place your favorite camp food on the wire grill grate. There's enough room on the grill to feed two or three hungry campers. The sturdy legs keep the grill steady on a sandy beach or rugged backcountry campsite. Side panels shield the flames from gusty winds. A pattern of small holes on each panel allows air in to support combustion and keep the wood fuel burning hot. After dinner, lift the grill off, add wood and the Flatpack serves as a firepit in the center of a circle of friends. After the fire pit cools, fold it flat and slide it into the canvas storage bag. The portable grill doesn't take much room in your backpack. Some longer term users have questioned durability of hinges, but the model is covered by a one-year warranty. A larger Flatpack model serves six to eight people.
An efficient stove, with a unique double wall design that enhances combustion
Specifications
Dimensions (packed):
height 6.7in/17cm, diameter 7in/17.5cm
Materials:
Stainless steel, with nichrome wire grate
Extras:
Integrated heat shield
Reasons to buy
+
Uses Natural Convention for efficient burning
+
Stainless steel construction
+
Heat shield prevents scorching the ground under the stove
+
Stuff sack included
In addition to burning wood, this smart stove removes the smoke that brings tears to your eyes with most campfires. Pulling air from the bottom of the stove and through double wall channels, before feeding the air back into the firebox for a second round of combustion, reduces smoke and burns fuel very effectively. The campfire will boil a liter of water in 2 to 4 minutes.
An integrated heat shield separates the stove's heat from the ground below, preventing burned or scorched grass and earth. While heavier than other wood-burning stoves designed for one to two people, the Solo Campfire is definitely well-suited for car campers who may not be as weight conscious.
4. Kelly Kettle Scout Kettle (1.2L) & Hobo Stove
Ingenious lightweight water-heating and cooking set-up that you can use almost anywhere using just free, readily available natural fuel
Specifications
Weight:
1kg/35.3oz (Stainless steel kettle); 700g/25oz (aluminium kettle) + 160g/5.6oz (stove)
Capacity:
kettle boils 1.2L/41 fl oz liquids
Packed dimensions (H x W):
26.5 x 15.5cm/10.4 x 7.3in
Materials:
Stainless steel/ Anodised aluminium
Extras:
Whistle, fire base & drawstring carrying bag
Reasons to buy
+
Simple
+
Lightweight
+
Packs into itself
+
Reasonably priced
Reasons to avoid
-
Stove is basic
-
Kettle quite large for payload
This water-heating and cooking system is made and shipped worldwide by a family run company, born and based on the west coast of Ireland, where it is very popular with campers, amblers and anglers. The beauty of the system lies in its stripped-back simplicity: grab some kindle (twigs, sticks pinecones, even dried animal dung) light a blaze in the well-aerated stainless-steel fire base, stick the kettle or stove on top and feed the flames through the hole in the middle. In just a few minutes you will have boiling water or embers fit for frying food on, and the kettle/stove acts as a windbreak. Available in anodised aluminium or stainless steel versions, the kettle is cylindrical in design (with the fire in the middle), so it's large for the payload delivered (1.2L water), but the nifty set packs into itself, Russian Doll style, and fits tidily into a carry bag. It's also available in smaller (Trekker, 0.6L capacity) and larger (Base Camp, 1.6L capacity) iterations. Note: in older versions, the kettle has an orange stopper instead of a green whistle, and if you have this version it's imperative you remove the plug before placing on the heat.
The best wood-burning stoves for lightweight expeditions
5. Patagonia Untethered wood-burning stove
Elegant design delivers heat for hungry backpackers
Specifications
Height (packed):
4.2in/10.5cm
Materials:
Stainless steel
Reasons to buy
+
3-piece construction
+
Intuitive assembly
+
Can be stored in nested pot
+
Stuff-sack included
Reasons to avoid
-
Top pot holder is small
-
Limited space between pot and stove add fuel
-
Relatively expensive for such a simple set up
Yvon Chouinard, Patagonia's founder, asked his team to create a simple, minimalist wood-burning stove. They responded with the Untethered: a three-piece stove that meets Patagonia's self-imposed design instructions to 'go simple and go deep'.
Untethered from gas canisters or liquid-fuel requirements, the stove functions efficiently with small pieces of wood, sticks and biomass. In terms of performance, it boils 1 liter of water in an average of 16 minutes.
Intuitive assembly is as simple as stacking together three components: a base with a raised wire grate for the fuel, a cone to contain the flames and a cap that holds a pot in place securely. Constructed of stainless steel, heat will discolor the metal over time and add a patina that inspires storytelling. It is a little tricky to keep the stove fuelled while cooking, as the space between the pot and the stove to wedge more pieces of wood into. This is a simple system, with no bells and whistles or features for doing things like simmering, but this will suit some people perfectly.
6. TOAKS Titanium Backpacking Wood Burning Stove
Simple, lightweight, award-winning design
Specifications
Weight:
Small 5.2/150g; Large 7.9oz/225g
Dimensions (packed):
Small height 3.75in/9.4cm, diameter 3.75in/9.4cm; Large height 4.2in/10.7cm , diameter 4.2in/10.7cm
Reasons to buy
+
Compact, three-piece construction
+
Pieces stacks into each other
+
Ultra lightweight titanium
+
Durable nylon stuff/store sack included
+
High efficiency fuel burning
Reasons to avoid
-
Small opening for adding fuel
This featherweight three-piece wood-burning stove assembles to create a layered inferno of efficient heat. Two air intakes at the top and bottom of the stove enhance combustion efficiency. Stacking sticks and twigs vertically in the stove delivers heat to boil water for early morning coffee or an end of the day meal in a few minutes.
The gray matte surface reinforces a message of quality and durability. The rolled edge on the top section of the stove that helps to support a small pot shows the designers attention to the smallest details. Offered in two sizes, both models can be nested together in pots and stored in sturdy stuff sacks. For a minimalist backpacker, this rugged stove will last a lifetime.
The best wood-burning stoves for campsite perfection
7. Camp Chef Alpine Heavy Duty
Gourmet basecamp cooking system
Specifications
Dimensions (D x W x H):
60.9 x 50.8 x 56.5cm / 24 x 20 x 22¼in
Materials:
Stainless steel
Extras:
Internal log grate, spark arrestor, wire grates, chimney damper
Reasons to buy
+
Robust
+
All-weather use
+
Cooks up a feast
If you invite friends for a weeklong base camp expedition, it's best if you have a cooking system that can handle hungry appetites when they return from a day in the woods. Camp Chef's Alpine Cooking System's large cooking surface can quickly bring water to boil and heat several pots and pans. Open the damper door to add more wood or control the amount of heat. The kit includes a damper, spark arrestor, internal log grate and a pair of wire grates to expand the working area of the cooking surface. Adjustable legs help stabilize the stove on uneven terrain. Although very much intended for base camping, semi-permanent camps and garden set-ups, rather than use on the regular move, the Alpine Cooking System features a five-piece nesting pipe to vent smoke and exhaust nests inside the cycling for easy transport and storage between trips. The burly stainless steel cylinder will turn a canvas wall tent toasty warm on cool autumn nights. Start the day's adventures with a pot of hot coffee and hot pancakes from the stovetop.
Grill first, campfire second, energy generator third. Invite your friends for a flaming good evening with this high-tech set up
Specifications
Dimensions in use (LxWxH):
27 x 13 x 15.8in/68.5 x 33 x 40cm
Height (packed):
10.5in/26.7cm
Extras:
Free Bluetooth app
Reasons to buy
+
Portable USB power part charges electronics
+
Bluetooth app controls size of flames
+
Full line of cooking accessories
+
Holds 4 standard firewood logs
Reasons to avoid
-
Some users report rust on some pieces
-
Lots of parts to clean before storing
-
On high the fan can be noisy
The recipe for a campfire hasn't changed in thousands of years. Mix fuel, spark and oxygen, then sit back and relax. BioLite's Fire Pit adds modern technology to make that process more efficient. A manual or Bluetooth enabled app controls a four-speed fan that pushes oxygen through 51 air jets to promote combustion. Push a button to bring the fan speed back down. In addition, as energy is created, the USB unit/cable can be used to charge electronic gadgets, including your phone.
Better suited as a hibachi style grill, the mesh sides offer a glimpse of the fires glow, but the view isn't as mesmerizing as an open fire. Boasting that the Fire Pit removes campfire smoke is a bit optimistic. The type and size of the wood used, placement in the pit and size of the coal bed all influence the presence of smoke.
9. Primus Kamoto Open Fire Pit
A portable design that takes just a minute to unfold and put into use to cook up a storm
Specifications
Weight:
small 13.9lb/6.3kg; large 15.4lb/7kg
Dimensions (L x W):
small 20.8 x 15.3 / 53 x 39; large 25.5 x 18.5in/65 x 47cm
Height (folded):
2.4in/6cm
Height (assembled):
12.8in/32.5cm
Materials:
Powder-coated steel
Reasons to buy
+
Folds flat
+
Powder coated steel
+
Two size options
+
Lightweight Wind Panels
Reasons to avoid
-
No carrying bag included
Primus has been building stoves since 1892. Early models accompanied famed explorers to the South Pole and Mount Everest base camp. The Kamoto is designed for more modern adventures. Part portable campfire, part mobile cooking platform, this stove serves both purposes well. Transported flat, the legs scissor open above an ashtray. Once started, lightweight wind panels on the sides protect the flames. Supported by the sturdy legs, a grill at the top provides a convenient cooking surface to serve up a proper feed to your friends.
Available in two sizes, neither or which are suitable for backpacking, the Kamoto is best for canoe trips, car camping, garden cooking or a celebration at the beach. Constructed of stainless steel and powder coated steel, this is a rugged, durable, easy to use, modern portable campfire.
What to look for when buying the best wood-burning stoves
Different people turn to alfresco cooking systems for different reasons – from boiling water and bringing freeze-dried meals to life food packages during wilderness backpacking adventures through to flame-grilling major meals on big family camping escapades. But once you've decided a wood-burning stove is what you want, here are a few important considerations to bear in mind.
Purpose
What is a wood-burning stove? There are essentially two types. The first is designed for backpackers using a single stove to cook meals. Wood-burning backpacking stoves are usually constructed with featherweight titanium or rugged stainless steel and come with just a few parts to put together. Once a stash of small pieces of wood, sticks and twigs has been collected, boiling water in a small pot balanced on the top of the stove is a straightforward operation.
The second type of stove is much larger and more appropriate for small groups of people in a car camping or picnic scenario. Much heavier than backpacking models, these fire pits usually come with grills to support cooking a much wider variety of foods – they are basically portable barbecues. The portable fire pit style camping stoves burn much larger pieces of wood, requiring less foraging for sticks and twigs. Most fire pits also work with charcoal briquets as a fuel source. After cooking is finished, the fire pit style wood-burning camping stoves can serve as a portable campfire for sitting around chatting to friends deep into the night.
You can learn how to use a wood-burning stove with our handy guide.
Weight
For obvious reasons, the best wood-burning stoves for backpacking are usually very lightweight, designed for tasks like heating water for a hiking flask coffee. Often sold in combination with a nested pot and stuff sack, these stoves can be much lighter than traditional canister and liquid fuel stoves, and of course you don't need to carry fuel.
On the other hand, wood-burning fire pit style stoves are heavy and require larger, sturdier carrying bags. These are great for car camping escapades.
Durability
The best wood-burning stoves are generally constructed from titanium, stainless steel, chromed stainless steel or anodised aluminium.
Backpacking stoves focus on the lightest construction materials and use just a few pieces to create a cooking platform. Larger firepit models come with more complicated construction instructions, more pieces and a range of construction materials.
Under certain conditions it's possible for some pieces of wood-burning camping stoves to discolor from high heat, and if left outside some parts can rust. Many of the best wood-burning stoves come with lifetime warranties.
All the latest inspiration, tips and guides to help you plan your next Advnture!
A journalist specializing in outdoor recreation, Lou has covered product design innovations, participation trends and environmentally sustainable manufacturing for over 20 years. On the other hand, he's had some less than successful outdoor adventures: once, completely spent after a hard day on the trail, he managed to set a vintage MSR Whisperlite stove ablaze before accidentally kicking the burning contraption into a lake. A published author, his book about invasive fish threatening the Great Lakes watershed will be published in 2021. craftedwords.com