The best freeze-dried meals 2023: lightweight food for backpacking
Freeze-dried meals that are quick and easy to prepare, tasty, nutritious, and make dining in the backcountry a pleasure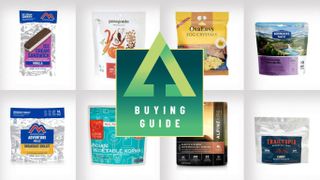 (Image credit: Future)
The best freeze-dried meals really come into their own when you go hiking into the backcountry for a multi-night camping trip. You will inevitably work up a wild appetite by the time you've pitched your tent and settled down for the night.
The weight and perishability of fresh food make it difficult to pack the meals you'd prepare if you were car camping with a huge camping cooler on hand. Basically, it's impossible to haul your favorite meat and raw potatoes or even cooked chicken and pasta into the backcountry, because it's too darn heavy.
Fortunately, there are dozens of varieties of featherweight dehydrated and freeze-dried meal packets that come to life with a small amount of boiling water, allowing you to feast like the famished adventure seeker you are. All you need a camping stove, your camping cutlery, and a camping mug or bowl.
The best freeze-dried meals
1. Peak 2 Refuel Homestyle Chicken & Rice
Best for hungry adventurers with big appetites
Specifications
Weight:
5.15oz / 146g (2 servings)
Calories (per serving):
370
Reasons to buy
+
A hearty, calorie and protein-rich meal
+
Delicious cream sauce, best with slightly less water
Reasons to avoid
-
A bit pricey for a backcountry meal
Peak Refuel is a new brand centered on great-tasting, high-protein freeze-dried meals with key nutrients like calcium, iron and potassium. The Homestyle Chicken & Rice packet cooks up to a hearty casserole in a creamy sauce with chunky vegetables with a cup of boiling water. It's one of the most robust camping meals I've ever cooked, equally tasty as it is filling. There are two servings per pouch, and I am often hungry enough to eat double at night on the trail, but it was so rich and hearty I struggled to finish it. Each packet contains 740 total calories, 61g of carbohydrates, 40g of protein, 37g of fat and 1230mg of sodium.
2. Mountain House Breakfast Skillet
Best full breakfast for meat-eaters
Specifications
Weight:
3.7oz / 106g (2 servings)
Calories (per serving):
260
Reasons to buy
+
Great, zesty flavors and hearty consistency
+
Protein-rich, gluten-free meal
Reasons to avoid
-
High in sodium compared to other meals
It's amazing how much hearty breakfast food is jammed into this freeze-dried packet of savory goodness. There are tasty pork sausages, zesty hash browns, flavorful vegetables and scrambled eggs, a protein-packed combination that will give you the energy to start your day out on the trails. What's more, there are no artificial flavors or colors, and it's a certified gluten-free meal. It's easy to prepare and eat right in the bowl-like pouch, and it will be ready in just 10 minutes after adding 300ml of boiling water. I cooked up this skillet in a pinch to get warmed up one morning on a winter camping trip, and it did the trick. There are 510 total calories per package with 46g of carbohydrates, 28g of protein, 24g of fat and 1580mg of sodium.
3. Alpine Aire Bandito Scramble
Best veggie breakfast with eggs for protein
Specifications
Weight:
3.5oz / 99g (1 serving)
Calories (per serving):
240
Reasons to buy
+
Robust flavor, chunky consistency
+
High in protein, low in sodium
When you're hiking and backpacking, breakfast is an especially important meal. This tasty egg scramble includes diced potatoes, carrots, chili peppers, bell peppers and onions with sour cream, cheddar cheese and seasonings. A hearty single serving that will fuel your morning adventures without holding you back. Easy to prepare in the pouch with one cup (237ml) of boiling water, each packet provides 240 calories with 20g of carbohydrates, 14g of protein, 11g of fat and 350mg of sodium. I do suggest using slightly less water than recommended, to avoid it being too watery. I ate this before an early morning hike up Colorado's Mt Sherman, a 14,035-foot peak that includes two miles of steep hiking in each direction.
4. RX Bar Chocolate Oats
Best instant oatmeal with natural ingredients
Specifications
Weight:
2.18oz / 62g (1 serving)
Calories (per serving):
250
Reasons to buy
+
Easy preparation in the cup
+
Rich chocolate flavor
Reasons to avoid
-
A bit bland, could be sweeter
RX Bar makes healthy protein bars, nut butters and other energy snacks for active people on the go. But breakfast? There are a lot of ways to enjoy oats for breakfast out in the wild, but this is one of the easiest and cleanest. RX Bar's portable instant oatmeal cups are made from many of the same natural ingredients as its energy snacks: oats, almonds, dates, egg whites, chocolate and sea salt with no added sugars. Each cup serves up 250 calories with 34g of carbohydrates, 12g of protein, 9g of fat and 95mg of sodium. Simply add hot water to the fill line, let it stand for 2 minutes and enjoy a warm, scrumptious oatmeal. I've often eaten these oats while camping, but I've also cooked them up in my kitchen before long trail runs.
5. Backpacker's Pantry Peanut Butter & Raisin Oatmeal
Best instant oatmeal for extra calories
Specifications
Weight:
4.6oz / 130g (1 serving)
Calories (per serving):
550
Reasons to buy
+
Quick, high-protein snack or morning meal
+
A lot of calories in a small package
Reasons to avoid
-
Over-saturating can result in watery, oatmeal soup
This yummy all-natural concoction is so good, it's a wonder that it was ever discontinued. After enough long-time customers requested it Backpacker's Pantry brought it back and suffice to say it will never go away again. Made with all-natural peanut butter, organic oats, organic raisins and organic cane sugar, it's a high-protein, dairy-free, vegan hot cereal that is perfect any time of the day. Just squeeze in the packet of creamy peanut butter, pour in a cup (237ml) of hot water and you have a tasty breakfast (or mid-day snack) in about a minute. Each packet serves up 550 calories with 42g of carbohydrates, 16g of protein, 20g of fat and 340mg of sodium.
6. OvaEasy Egg Crystals
Best for recreating home-cooked eggs
Specifications
Weight:
2oz / 56.7g (5 servings)
Calories (per serving):
70
Reasons to buy
+
Cooks up to same consistency as eggs out of the shell
+
Easy to carry, easy to prepare
Reasons to avoid
-
Freeze-dried powder looks, smells a bit awkward
The idea of carrying eggs into the backcountry is a double-edged challenge. Having fresh eggs for breakfast can be a mouth-watering prospect when you're packing, but keeping those eggs intact in your pack isn't easy – even with one of those plastic egg caddies. OvaEasy has solved that problem for you with its packets of all-natural, dried whole eggs that just need cold water to come to life. Mix three parts water for 2 parts OvaEggs, whisk until mixed and cook them as you would scrambled eggs or an omelet. The 2.0-ounce (56.7g) pouch is the equivalent of 5.3 eggs or five servings and requires no refrigeration, even after opening. Glucose is removed during the drying process, but otherwise the OvaEasy is nothing but dried egg whites and egg yolks. Each serving size (about 1/8 cup or 50g) provides 70 calories, 5g of protein and 70mg of sodium. I've eaten OvaEggs plain with salt and pepper and with chopped veggies and some grated cheese wrapped in a tortilla. They're scrumptious and tasty like the eggs you'd make in your own kitchen because they're just like the eggs you'd make in your own kitchen.
7. Stowaway Gourmet Los Pollos Hermanas
Best for flavor, if you can handle the price
Specifications
Weight:
4.4oz / 124g (2 servings)
Calories (per serving):
229
Reasons to buy
+
Best-in-class flavor, mixture, consistency
+
High in protein, relatively low in sodium
Reasons to avoid
-
Expensive compared to others
A relatively new brand, Stowaway Gourmet debuted recently with a wide menu of eclectic entrée dishes and a few breakfast dishes that are big on flavor, quality ingredients and protein. The brand's intent is to provide nourishing packable meals worthy of big adventures without excessive sodium or unnecessary additives. What is Los Pollos Hermanas? Well, it translates to 'The Chicken Sisters' (and is also a neat Breaking Bad reference), and it tastes like a homemade batch of peppery Southwestern stew from an old family recipe. It's a mildly spicey and fully zesty gluten-free brew that's full of chicken, hominy, a variety of vegetables and a touch of cream. The two-serving pouch is brought to life with 1.5 cups (350ml) of boiling water and contains 458 total calories, 32g of carbohydrates, 38g of protein, 20g of fat and 615mg of sodium. I devoured the whole packet as one meal – with two slices of bread and a touch of Tabasco sauce – after a long day of hiking 14ers in Colorado, and it really hit the spot!
8. Patagonia Provisions Organic Red Bean Chili
Best ethically sourced and organic meal for hikers
Specifications
Weight:
6.1oz / 174g (2.5 servings)
Calories (per serving):
240
Reasons to buy
+
Protein-rich, easy to prepare meal
+
Relatively inexpensive
Reasons to avoid
-
Not as calorie-rich as some meals, higher in sodium
Patagonia is mostly known for its smartly designed outdoor apparel, but it launched a limited line of camping food back in 2012 as an alternative to 'industrial agriculture' and chemically-enhanced processed foods. The line includes a range of nutritious, ethically sourced, and shelf-stable snack bars, jerky and single-serving meals, including this delicious Organic Red Bean Chili. The chili's list of ingredients includes a cornucopia of all-natural, organic stuff: pre-cooked red beans and pinto beans, diced tomatoes, ground red chili, carrots, red bell peppers, chipotle peppers and a variety of seasonings. It's an easy camp stove meal that requires 2 cups (475ml) of boiling water and about 10 minutes of simmering. It was the ideal evening meal with a splash of hot sauce and a dozen crackers. This packet contains 2.5 servings per container with 600 total calories, 107g of carbohydrates, 36g of protein, 5g of fat and 1010mg of sodium.
9. Trailtopia Curry
Best snack or side for hungry ramblers
Specifications
Weight:
2.8oz / 79g (1 serving)
Calories (per serving):
276
Reasons to buy
+
Vegetable-rich meal high in carbohydrates, low in sodium
+
Affordable, lightweight meal option
Sometimes the best pick-me-up on the trail is a warm cup of ramen noodles. It hits the spot, warms you up and provides a bit of sodium to replace what you've lost. This 2.8-ounce package is the ideal portion for a snack or it can be part of a bigger meal. It's made with traditional Thai Curry noodles, red and green peppers, onions and a moderately spicy curry sauce. I devoured this on a mid-day break before I set up camp, eating it directly from the bag after boiling water softened the noodles. It packs 276 calories with 57g of carbohydrates, 9g protein, 2g of fat and 119mg of sodium.
10. Good to Go Indian Vegetable Korma
Best light vegetarian curry
Specifications
Weight:
3.4oz / 95g (1 serving)
Calories (per serving):
390
Reasons to buy
+
Great flavor and chunky consistency
+
Smooth, tasty sauce
Reasons to avoid
-
Relatively high in sodium
Whether or not you adhere to a vegetarian diet, this scrumptious dish made from creamy tomato and braised vegetables will fill you up. It's basically a packet of dehydrated vegetable goodness, chock full of carrots, parsnips, green beans, dried chickpeas, onions, peas (and more) in a low-fat yogurt sauce plus a variety of seasonings. Each packet includes 390 calories of tasty goodness with 52g of carbohydrates, 15g of protein, 16g of fat and 690mg of sodium. You can make it right in the pouch with 250ml of boiling water (or just beyond the recommended fill line). I seasoned it with a splash of hot sauce and ate it with a slice of sourdough bread for a full dinner, but it could suffice on its own as an ideal lunchtime meal.
11. Backpacker's Pantry Dark Chocolate Cheesecake Mix
Best indulgent freeze dried dessert
Specifications
Weight:
6.1oz / 174g (2 servings)
Calories (per serving):
150
Reasons to buy
+
A truly delectable backcountry dessert
+
Amazing chocolate flavor
Who doesn't like something sweet to finish off their evening meal? Backpacker's Pantry has developed this scrumptious dessert with fair-trade dark chocolate and a packet of chocolate cookie crumbs to top it off. Yes, this yummy treat is full of sugar and corn syrup and a few artificial additives, but there are also plenty of natural and wholesome ingredients. And no, scooping your spoon into this pouch of gooey, chocolatey warmth isn't the same exquisite experience as eating a slice of crisp, precisely formed cheesecake with a fork at a deli in New York City, it sure tastes good when you're deep into the trail. There are two servings in each package so you can share with someone or indulge on your own. And with 300 calories per serving and 45g of carbohydrates, 6g of protein, 15g of fat and 410mg of sodium, it can actually add to your body's recovery after a long day on the trail.
12. Mountain House Ice Cream Sandwich
Best dessert to enjoy hot or cold
Specifications
Weight:
1.13oz / 32g (1 serving)
Calories (per serving):
150
Reasons to buy
+
Sweet, sugar-intensive flavors
+
Easy to eat, no preparation required
Reasons to avoid
-
Doesn't resemble ice cream consistency
-
Includes artificial flavoring
There's nothing more satisfying after a long day carrying a big pack than to settle down with a tasty meal, enjoy a quiet moment at a campfire and break out an ice cream sandwich. Sure, it's not a real ice cream sandwich, but this Mountain House delicacy is the next best thing. It's essentially a slab of freeze-dried vanilla ice cream two chocolatey cookie wafers but no drip and no mess. It's a mere 150 calories with 23g of carbohydrates, 2g of protein, 5g of fat and 105mg of sodium. Served dry, it's a crunchy, messy mouthful after one bite if you eat it dry, but it's still a sweet, lip-smacking snack. You can add hot water, but then it becomes a bit of a gooey treat that requires a spoon.
How to choose a freeze dried meal
Mealtimes are important when you're backpacking – it tends to be the evening's entertainment as well as the major meal of the day, and if you've been working hard while walking the trails, you will need a good feed.
The following are some tips on what to look for before purchasing the best freeze-dried meals:
Plan your meals ahead
Give yourself plenty of variety if possible – even with the best freeze-dried meals, there's nothing worse than eating the same old mush every evening on a multiday trip.
Pack meals with a mix of foods and flavors
Bring along dried herbs (which weigh next to nothing), a few sachets of your favorite sauces or even a cheeky bottle of Tabasco – the extra flavors can make all the difference to the best freeze-dried meals.
Read the ingredients before purchasing
However good the best freeze-dried meals taste, you really do not want to be dealing with an allergic reaction when you're out in the wilds.
Make a note of the nutritional value of the foods you're going to be eating
You will be burning calories aplenty on the trail, so make sure you're refueling properly at the end of the day. Compare serving size, calories, carbohydrates, protein and sodium content. Too much salt will, of course, dehydrate you.
Stay hydrated
Some of the best freeze-dried meals are quite salty. Also, dehydrated food can cause constipation – make sure you keep drinking fluids.
Q&A
How does freeze-drying work?
Food is completely frozen, then exposed to a vacuum that turns the frozen water straight to gas rather than letting it return to a liquid state (a process called sublimation). Dehydrating food this way inhibits growth of bacteria, yeast and mold that would cause the food to spoil.
Are freeze-dried foods nutritious?
Yes, the freeze-drying process retains nutrients and phytochemicals, including important vitamins like vitamin C.
All the latest inspiration, tips and guides to help you plan your next Advnture!
Brian is an award-winning journalist, photographer and podcaster who has written for Runner's World, The Times, Outside, Men's Journal, Trail Runner, Triathlete and Red Bulletin. He's also the author of several books, including Kicksology: The Hype, Science, Culture and Cool of Running Shoes. He lives in Boulder, Colorado, and loves to run, bike, hike, camp, ski and climb mountains. He has wear-tested more than 1,500 pairs of running shoes, completed four Ironman triathlons, as well as numerous marathons and ultra-distance running races.