What is GPS and how does it work?
What is GPS and how does it work? We take a look at the technology that helps you plan, navigate and review your adventures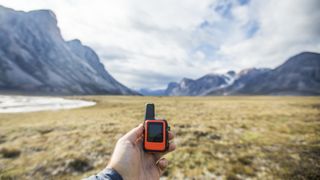 (Image credit: Cavan Images)
Even the best hiking boots only get you so far if you don't know where you're going, and that's why navigation is still the number one hiking skill you need to know. These days, we largely rely on GPS for navigation, whether you're on the hiking trail, driving to the trailhead, or even trying to locate the nearest gear store for a new pair of trekking poles. GPS seems to keep the whole world running these days, but what is GPS and how does it work? Let's take a look at this handy system for hiking and trail running.
What is GPS?
Standing for Global Positioning System, GPS is a US government-owned space-based radionavigation utility. The system involves more than 30 satellites, which are orbiting the earth as you read this, and a system of ground stations.
Today's system started out in the 1960s as part of an experiment by the navy to track submarines carrying nuclear missiles. The Department of Defense took over the system in the 1970s with the intention of using the technology to create a 24-hour navigation system. This system became fully operational in 1993 and today, GPS is operated by the air force and has both Precise Positioning Service, used by the government and military, and Standard Positioning Service, which can be utilized for commercial and scientific purposes. Every time you pull up Google Maps on your phone, it uses GPS to figure out where you are in the world, so it can help you get to where you want to go.
How does GPS work?
Using GPS sounds super high-tech, but in essence, it's not so different from the way our ancestors used the position of the stars for navigation. As we've explained, GPS is made up of those navigation satellites which circle the earth twice a day in a very precise orbit. The navigation satellites are constantly sending out signals which are picked up by the radars from the ground stations to confirm that the satellites are where they're meant to be.
Just like knowing where the stars are tells you where you are if you know what to look for, knowing where the satellites are in space gives you information about where you are on the ground. All that's needed to tap into this stream of communication between earth and sky is a device with a GPS receiver – a smartphone, a GPS watch, a drone, the sat-nav in your car, your dog's collar. When you turn this receiver on, once it has calculated how far it is from at least four satellites, it can pinpoint your location to within a few feet, or even inches with a high end receiver. Knowing your location can help you navigate to your destination and communicate it to mountain rescue if you are lost and in trouble.
How to use a GPS for hiking
In hiking, for better or worse, GPS technology has largely replaced the traditionally required skills of knowing how to read a map and use a compass to navigate. GPS handheld units enjoyed a brief period of rule in the world of hiking navigation, but are quickly being usurped by GPS watches, smartphones and route-planning apps like Komoot which all use GPS technology. This particular technology is changing rapidly, so it's difficult to say that one device is better than the other, but initially, handheld GPS devices were more reliable than using a phone, both in their accuracy and ruggedness. That may change soon, but for now, a GPS device is still thought to be a useful tool to carry with you on hikes where you could get lost (though no replacement for the ancient arts of map and compass reading!).
Each GPS device operates differently and should come with instructions as to how to use it, but you can usually rely on it having the following features:
Current location: it will tell you where you are by providing map coordinates as show your location on a digital map.
Tracking: tracking can usually be turned on or off, and when on it digitally tracks your movements so that you can review them later, or retrace your footsteps.
Navigation: allows you to enter your desired destination and any waymarks to map out your route.
Trip data: Stats such as distance traveled and elevation gained can be used for training purposes or general interest.
Essentially, once you arrive at the trailhead and turn your GPS device on, you'll want to make sure tracking is on, let it pinpoint your location then enter your destination to create a route.
There have been lots of high profile stories about people following their GPS navigation over cliffs and into rivers, but when used in conjunction with your senses and not as a replacement for eyes, ears and common sense, GPS is an amazing technology for navigation that is getting more accurate by the day. As of right now, it always relies on a battery, and that doesn't show any signs of changing yet, so it's always good to have a paper backup for your journey, but GPS can certainly add a lot of value, and fun, to your adventures.
All the latest inspiration, tips and guides to help you plan your next Advnture!
Julia Clarke is a staff writer for Advnture.com and the author of the book Restorative Yoga for Beginners. She loves to explore mountains on foot, bike, skis and belay and then recover on the the yoga mat. Julia graduated with a degree in journalism in 2004 and spent eight years working as a radio presenter in Kansas City, Vermont, Boston and New York City before discovering the joys of the Rocky Mountains. She then detoured west to Colorado and enjoyed 11 years teaching yoga in Vail before returning to her hometown of Glasgow, Scotland in 2020 to focus on family and writing.