Ankle support for trail runners: just how important is it?
Tips and advice for trail runners on how to support your ankle, whether injured or prone to injury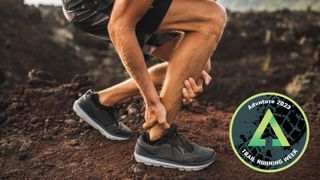 (Image credit: Getty / Future)
A common complaint from trail runners is ankle niggles or ankle injuries, such as a sprained ankle or Achilles tendon issues. That's why ankle support for runners – and whether or not you need it – is an important thing to consider.
The nature of running on trails and uneven terrain means that the joints of the legs are subjected to extra twists, turns, jumps and bumps compared to the more repetitive motion of running on tarmac.
When trail running, leg ligaments, muscles, tendons and bones have to work hard to keep your ankle stable. But we all have different running gaits, for example, some people have feet and ankles that over-pronate or under-pronate.
While, in the long-term, trail running is an excellent way to improve lower body and leg strength, including those pesky ankles, in the short term, or if you have suffered an unexpected twist or turn, ankles can need a bit of support.
Trail running ankle support can be a good idea if the injury is fairly mild and if, while wearing the support, you do not feel any excessive pain.
Do I need ankle support for running on trails?
There are two reasons for wearing an ankle support for trail running: You might be prone to ankle niggles or sprains, or recovering from an ankle injury.
As the name suggests, an ankle support helps to support or stabilise your ankle while you are trail running.
Depending on the type of support, you might choose to wear it every time you run, or when you think your ankle requires more support, such as on very uneven terrain or long-distance runs.
However, since the overall aim is to strengthen the ankle in the longer term, it's not a good idea to wear an ankle support all the time. If you do this, you may well cause your body to become dependent on it.
How to choose the right trail running ankle support
There are a few factors to consider when choosing the right ankle support for trail runners.
Good fit
This might sound obvious but you need the ankle support to fit neatly. It should be a neat fit but not so tight that it constricts all movement. Yet, it also needs to be supportive. Try on a few different types and sizes to see which one fits best.
Adjustability
Can you adjust the ankle support? For example, can you tighten or loosen it depending on need? Will it fit over or under your socks and inside most of your running shoes? A bit of adjustment is a good idea.
Compression
If you're recovering from an injury, you would be wise to look for running ankle support that includes compression. A compression support will increase the blood flow to the ankle area, which means it should increase the recovery process in between runs and while running, too.
Keep it light
A lightweight trail running ankle support will make it easier to wear and it will interfere less with your best trail running shoes.
Wicking
Your ankle will sweat when wearing a trail running ankle support, especially during your run, so it's useful if the fabric of the support allows sweat to evaporate. Most products will state that they are wickable, or wicking, if they are.
Washability
Because of where you will wear the ankle support and if you plan to use it while trail running, it is useful if you can wash the support easily.
Extra straps
Some ankle supports will have extra straps, usually velcro straps, to offer more stability.
What types of trail running ankle support do I need?
There are a variety of different trail running ankle supports available, from in-shoe support, to tape to ankle braces.
Some running footwear designs offer built-in support for feet and ankles. These shoes are most likely to be suggested for runners who need good overall stability for gait and ankle. The features might be a higher ankle on the shoe or a supportive sock included in the footwear.
An increasingly popular ankle support technique, especially for preventing an ankle injury recurring or when you need a lighter support, is "taping". The common name for the tape is kinesiology tape.
There are different ways to "tape" your ankle for support, depending on the injury or area of injury, and you can seek the advice of a sports / medical expert, or look up the best way to do this on-line. There are plenty of useful tutorials for kinesiology taping.
Other forms of ankle support include a stretchy tube, which might be made of a neoprene, latex or spandex or a mix of all these. Most supports that your "wear" will look like a tube / toeless sock. Some have extra adjustable straps or a gel pad addition to support the Achilles tendon.
You may see ankle braces with lightweight plastic or metal sides. These will provide more robust support although not everyone finds them so comfortable for running.
The best ankle support for running will be one that is well-fitting but also comfortable and suitable for the injury. If in doubt, seek the advice of a sports injury specialist.
It may also be worth thinking about ankle support for hiking.
This article is part of Advnture's Trail Running Week 2023 (running from Monday 27 March to Sunday 2 April), our in-depth look at how to train smarter, choose the right gear, and have fun when things get muddy.
All the latest inspiration, tips and guides to help you plan your next Advnture!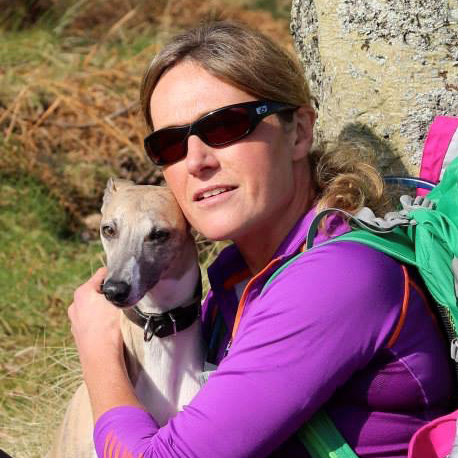 Fiona Russell is a widely published adventure journalist and blogger, better known as Fiona Outdoors. She is based in Scotland and is an all-round outdoors enthusiast with favorite activities including trail running, mountain walking, mountain biking, road cycling, triathlon and skiing (both downhill and backcountry). Aside from her own adventures, Fiona's biggest aim is to inspire others to enjoy getting outside and exploring, especially through her writing. She is also rarely seen without a running skort! Find out more at Fiona Outdoors.