Bikepacking repair kit – emergency essentials you need to carry
This list could be the difference between cycling on and a long walk to a bike shop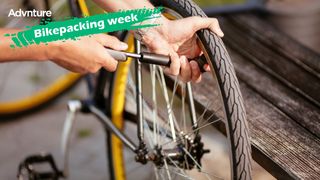 (Image credit: Getty)
Bikepacking is a great way to explore your own country – or new countries – on two wheels. With some basic kit, including different bikepacking bags, and a bit of knowhow, you can enjoy anything from an overnight trip to many weeks or even months on the road. Just make sure you are carrying the right bikepacking repair kit first. No one wants to become stranded because of a puncture or a mechanical issue, especially when riding a remote route miles from a bike shop.
First, it's important to point out that cyclists should be able to carry out basic repairs at the roadside. Before setting off for a long-distance cycling adventure, it's a good idea to learn how to fix a puncture, mend a broken chain, and tackle issues such as sticky gears, a loose pedal, a broken spoke, or a seat post that moves.
Most of these mechanical problems can be repaired temporarily until you reach a bike shop. There are plenty of guidebooks to bike repairs, as well as online tutorials. Some bike shops also offer courses and sessions so cyclists can learn the basics of bike mechanics. Now onto your repair kit...
Bikepacking repair kit
At the most basic level, you should have repair items for a puncture. The items you carry will depend on whether you have tubeless or tubed tyres.
For tubeless tyres, make sure you have a 'slug' kit. Slugs are plugs that are applied to a hole in a tyre with a special tool. This provides a tyre repair so that you can pump up the tyre again. There are different types of slug repair kits and these can be bought from most bike shops.
For traditional tires, make sure you carry a small puncture repair kit, including a patch, so you can repair a punctured inner tube on the spot. You should also carry at least two spare inner tubes so you don't wind up stranded if you have to use one, then suffer a second puncture (which can easily happen if you haven't spotted something like a thorn stuck in your tire).
You'll need tire levers so the you can remove the tire from the wheel, and a bike pump is essential so the you can re-inflate a tire that has suffered a puncture.
More useful bike repair kit
There are a few more useful items just in case you suffer a bicycle mechanical issue.
Chain tool and a spare link. If your chain snaps on a bikepacking ride, it will be the end of your adventure unless you can fix it. A chain tool and spare link will allow you to do a repair job.
Bike multi-tool. Cycling multi-tools come in a range of sizes. Basically, they are lightweight tool kits and should include a number of Allen wrenches. They might include a chain tool, screwdriver and pliers as well.
Brake pads. It's a good idea to check your bike pads before you set off for a bikepacking expedition. If they are looking worn, replace them before a trip. Long-distance bikepackers, for example a trip of many months, will require spare bike pads if you are not gong to have easy access to a bike shop.
Gear cable. Again, a gear cable could mean the difference between the end of a trip, or cycling onwards. A snapped cable is easy to repair if you know how and carrying a spare cable won't take up much room or add weight to your bags.
Chain lube. For longer bike packing trips, a good tip is to keep your chain oiled so that it doesn't grind and wear.
Hanger. The hanger is what the chain runs through on your bike, and it can break mid-ride. It's easy enough to pop a spare one in one of your bikepacking bags just in case this happens.
A few spare bolts. You never know when a bolt might break, such as on your seat, seat post, handlebars etc. If you carry a small selection of spare bolts, you won't be caught out on a long bikepacking adventure.
Other useful bits and pieces for bikepacking trips
There are a couple of useful items that might be the difference between cycling and a long walk to the nearest bike shop.
Duct tape and zip ties can be used to fix all sorts of mechanical issues. You just need to use your imagination when you are faced with a problem with your bike.
Duct tape and zip ties could also be a great assistance if something goes wrong with your bike packing bags and they tear or you can fix them to your bike as they normally should.
You also need a useful bikepacking bag in which to pack your bike repair kit.
This article is part of Advnture's Bikepacking Week 2023 (running from Monday 22 to Sunday 28 May), our ultimate guide to adventuring on two wheels including essential advice, gear, and features to help you plan the perfect expedition.
All the latest inspiration, tips and guides to help you plan your next Advnture!
Fiona Russell is a widely published adventure journalist and blogger, who is better known as Fiona Outdoors. She is based in Scotland and is an all-round outdoors enthusiast with favourite activities including trail running, mountain walking, mountain biking, road cycling, triathlon and skiing, both downhill and back country. Her target for 2021 is to finish the final nine summits in her first round of all 282 Munros, the Scottish mountains of more than 3,000ft high. Aside from being outdoors, Fiona's biggest aim is to inspire others to enjoy the great outdoors, especially through her writing. She is also rarely seen without a running skort! Find out more at Fiona Outdoors.