Your guide to bikepacking bags: all the different ways to stash essential gear
What do you pack – and where – in frame bags, saddle bags, cockpit bags and handlebar bags?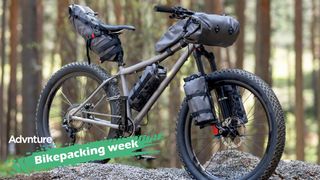 (Image credit: Getty)
Bikepacking gives you the freedom to explore further than you could by backpacking, and camp in new places, but how are you going to carry all that gear? The answer is bikepacking bags, which are specially designed to fit around the frame of the bike. They are different to more traditional panniers, which fix to racks on the bike. There is a range of different bike packing bags and this guide takes a look at each to suggest what to pack and why.
Before we get started, bear in mind that not all bikepacking bags are made equal, and some withstand the weather better than others. Look for waterproof bikepacking bags, or pack your belongings into a lightweight dry bag so you don't wind up with soggy camping gear.
Handlebar bags
As you might expect, handlebar bags attach to your bike's handlebars. They fit in front of the bars and above the front wheel. These bags are best for carrying lightweight yet bulky items, such as a sleeping bag, sleeping pad or air mattress, the fabric part of your tent, or a down jacket.
The best way to pack a handlebar bag, especially if it's a roll-top design, is to stuff in loose items to fill the bag space.
If the handlebar bag has more of a solid and square construction, this might be the place for carrying lightweight items that are essential while you pedal, such as snacks, map and a phone. A hard-sided or sturdier handlebar bag will offer protection to items such as tablets and small laptops, too.
Saddle bags or seatpost packs
Saddlebags or seatpost packs fix to the seat stem, under the rear of the saddle. They stick out at the back of the bike, and are usually the largest pack you will carry as a bikepacker. These bags come in a variety of volume sizes to suit different lengths and types of bikepacking trips.
This is where you will carry spare clothes and other important items, such as a camping stove, fuel, food and parts of the tent if you have not stashed it all in the handlebar bag and frame bag.
The saddlebag can hold a lot of weight because it's strapped firmly in place close to the bike's center of gravity. Look for bikepacking setups that have a harness system that makes them easier to attach and detach, as well as support bars for stability.
Pack the items that you won't need to access regularly at the base of the saddlebag and other items closer to the top that you are likely to want to get to throughout the day. This saves you from fully unpacking the saddlebag every time you need something.
Frame bags for bike packing
Frame bags usually sit under the top tube, and you'll find that they come in various sizes to suit different types of frame.
By necessity, the bags are long and thin so that you don't catch your legs or knees when cycling. This means you should stash items that are smaller, long or thin. This is the ideal bag for tent pegs and poles if you are carrying a tent. Many people also place puncture repair items and a pump in a frame bag. The weight of the items doesn't matter too much because this bag's low position means it's unlikely to affect the balance of the bike.
Cockpit bags
These are smaller packs that sit on top of the top tube and close to the handlebar. This is the ideal place for a phone, snacks and small items, such as spare batteries or a small bike light. This bag is the handiest for bits and pieces of kit.
Front fork packs
Depending on your bike and the clearance between front fork and the wheel, you may be able to use a front fork pack. Again, this is useful for lighter items, such as a sleeping bag or insulated jacket. You do not want this bag to be too heavy because it will upset the bike's balance if it is.
Backpacks for bikepacking
Some bikepackers will also carry a small backpack or hydration pack. If you don't have back pockets on a cycling jersey or jacket, or you prefer to carry a pack on your back, this is the place for a hydration bladder and items that you need quick access to, such as a map, waterproof jacket and spare clothing. Try not to load up this pack because you will end up with sore shoulders over days of carrying it on your back.
These tips should guide you to buying the right packs for a bikepacking trip. You will not need all of them, but you should select enough to allow you to distribute the weight of your kit and clothing across your bike.
This article is part of Advnture's Bikepacking Week 2023 (running from Monday 22 to Sunday 28 May), our ultimate guide to adventuring on two wheels including essential advice, gear, and features to help you plan the perfect expedition.
All the latest inspiration, tips and guides to help you plan your next Advnture!
Fiona Russell is a widely published adventure journalist and blogger, who is better known as Fiona Outdoors. She is based in Scotland and is an all-round outdoors enthusiast with favourite activities including trail running, mountain walking, mountain biking, road cycling, triathlon and skiing, both downhill and back country. Her target for 2021 is to finish the final nine summits in her first round of all 282 Munros, the Scottish mountains of more than 3,000ft high. Aside from being outdoors, Fiona's biggest aim is to inspire others to enjoy the great outdoors, especially through her writing. She is also rarely seen without a running skort! Find out more at Fiona Outdoors.